Two Harvard Students Invent Spray Cake, Cake in a Can
Baking made easy by two Harvard undergrads.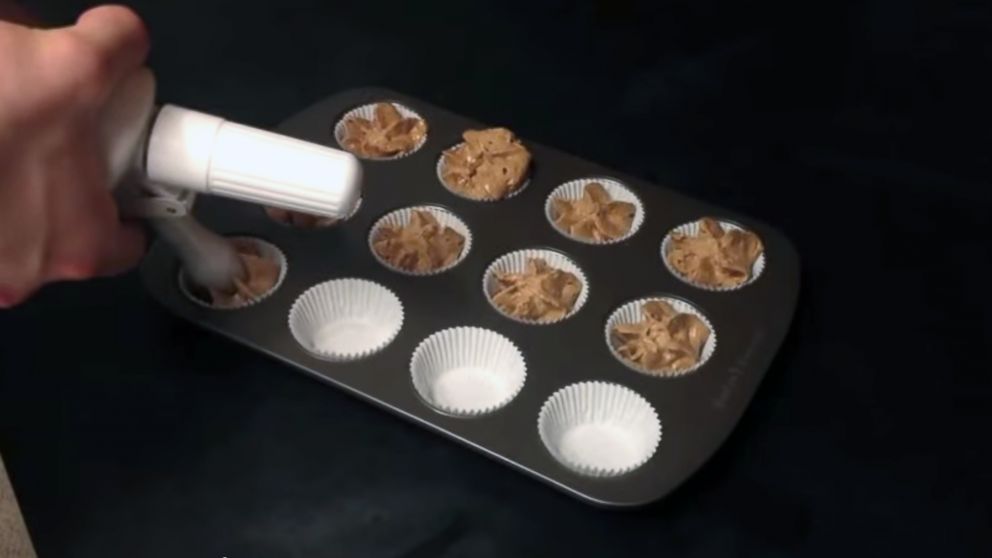 — -- No longer worry about the hassle associated with baking a cake, for Spray Cake is here! Thanks to two Harvard undergrads, cake-cravers can forgo the typical baking process for ready-to-go batter right from a nozzle.
The patent-pending technology of Spray Cake makes fresh cake available to anyone, no baking skills required. Simply spray the batter out of the nozzle into the pan, and place the pan in a microwave for sixty seconds.
John McCallum, a 20-year-old from Farmerville, Louisiana, first had the idea in his freshman year during his "Science of Cooking" class.
"We had a final required with the course," McCallum told ABC News, "and we wanted an excuse to eat a lot of cake. Spray Cake is the excuse I came up with."
A Scientifically Smarter Way to Cut Cake
Brides Crave 'Naked' Cakes for Summer Weddings
By combining whipped cream technology with cake batter, McCallum realized that he could replicate the leavening process, making Spray Cake a reality.
McCallum joined forces with fellow Harvard student Brooke Nowakowski and the two enrolled in a course called "Startup R&D" last semester, where they worked to develop their startup idea for Spray Cake. The pair ultimately entered the 2014 Harvard Innovation challenge, walking away with first place and a $10,000 prize.
The next step for the Spray Cake team is getting it out onto the shelves.
"It's a very old-fashioned process," said McCallum, who reports making a lot of cold calls in an effort to find a manufacturer for the product.
Though McCallum hopes to get Spray Cake available to the public as soon as possible, he says he will be "choosey" as to which company manufactures the product.
"We want the batter to be organic and kosher certified," said McCallum. "We want fresh cake batter, not some overly processed food."
Though the easy cake making technology may be new to the public, Chef Jurgen David, the International Culinary Center's Senior Coordinator of Pastry Arts, told ABC News that bakeries frequently use the same type of process. If a quick cake is needed, the chefs will simply put the cake batter into a whipped cream style container and dispense it into a paper cup. In 30 to 45 seconds the cake is done, much like the Spray Cake Process.
Chef David also confirmed that this simple cake-baking style does not compromise the taste.
"It doesn't taste weird," he said. "It still has the cake-like texture."
Though the process may simplify baking, David said he does not see inventions like Spray Cake replacing the art of baking from scratch.
"The basics of cake baking will never be replaced," he said.
Still, Spray Cake is sure to get a lot of takers who would prefer to skip a few steps.
When Spray Cake does make it to shelves, the initial two flavors will be a classic choice of vanilla or chocolate, McCallum said.
McCallum reported that, though he may be biased, he really enjoys the taste of Spray Cake.
"I love it," said McCallum. "Though there is an argument over which flavor is better, I prefer vanilla but Brooke prefers chocolate, which is fair."
For now, McCallum, a social studies major, and Nowakowski, an East Asian studies major, will continue to advocate for their product and will be entering their junior year at Harvard this fall.