— -- When Paul Tateosian and Jason Burnside showed up to an empty house in Bradenton, Florida, for a home inspection, the last thing they expected to find was somebody still living there. But that's exactly what happened when Tateosian, a real estate agent assistant, stumbled upon a little orange furball with a particularly grumpy face.
"I was walking around the around looking at the roof and when I got around to the back and this little guy was just sitting there," Tateosian told ABC News of the extremely thin, matted Persian kitten he immediately nicknamed Garfield. "His face, he just looked so upset, like he was so bent out of shape. I just went up to him and I bent down and even though he looked really upset, he was really happy to see us."
The kitten was so skinny you could see its ribs.
"He looked pretty hungry so I cut him a mango from a mango tree next door. But he hated it," he said.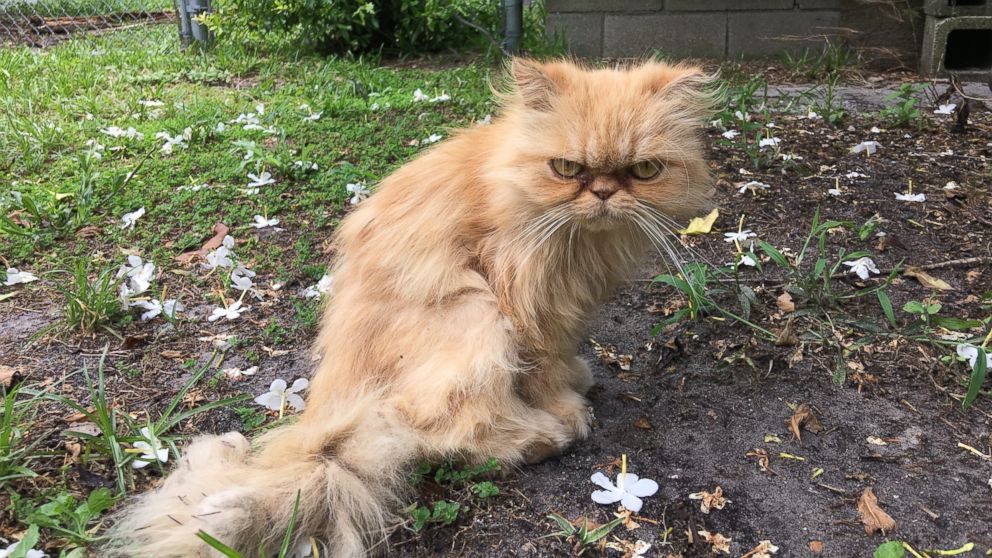 Burnside, a home inspector, had been inside examining the house with the future buyers as Tateosian and Garfield were outside making fast friends. Once he walked back out though, he, too, was immediately drawn to the affectionate kitten and knew he needed to help.
Burnside believes the cat was left behind by the previous renters, but hasn't yet taken it to the vet to check for a chip.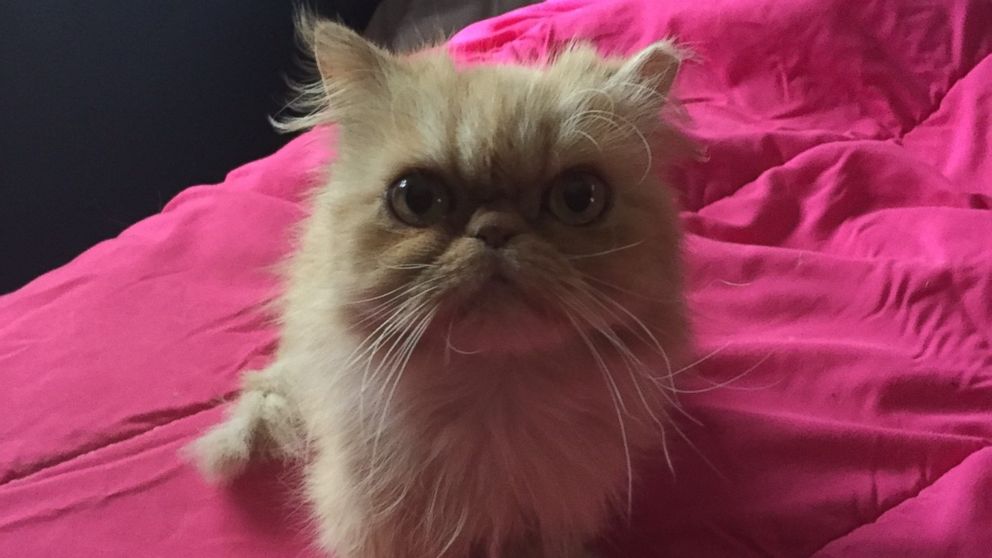 Although extremely grumpy-looking, the kitten couldn't have been friendlier with the two men.
"I set the backseat down in the truck and set a towel down and she just went to sleep," Burnside explained. "I got her home and my girlfriend and her friend, who works at a vet's office in town, helped clean her up because her tail was all matted. Her tail was so mangled she couldn't even pick it up. We got her in the house and wrapped her in a towel and shaved her tail and cut all the nastiness away from her, and she was just happy as can be. It took her about a day to start eating again."
Burnside's mother just recently lost her pet cat, so she is now thrilled to be adopting Garfield, who is now named Girdy because they've discovered she's actually a female.
"She has an appointment at the vet's office the beginning of next week to get all checked out to make sure she's good to go," said Burnside. "We got her all cleaned up and taken care of. She's in good hands now."