— -- Kick off 2015 with a fresh start for your home! The New Year is the perfect time to take a second look at your home and come up with some resolutions to make it a more beautiful, clean and green place.
Jillian Harris, the co-host of HGTV'S "Love It or List It, Too," stopped by "Good Morning America" to share five suggestions for easy New Year's home improvement resolutions and how to achieve them.
The former "Bachelorette" has easy ways to cut the clutter, to get ready to entertain with pillows and plants, to save money by cutting your bills, among other tips.
1. Streamline the Clutter.
Each year most of us acquire a mountain of stuff, Harris says. Go room-by-room and clear anything you don't have. Clear your counters of everything you don't use on a regular basis.
One way Harris suggests to streamline the clutter is by using decorative baskets. Stash useful, but not beautiful items such as DVDs and remotes in woven decorative baskets. It's easy to add stripes and patterns to existing basket to brighten the space and make your house look less messy.
Follow these step-by-step instructions to make the baskets and spruce by your space.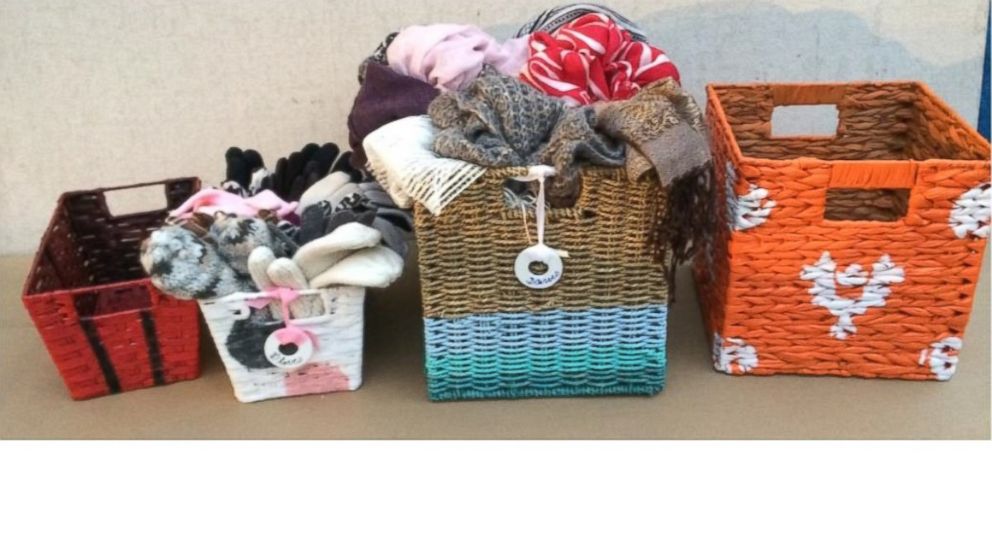 Items Needed:
Wooden baskets – natural or painted
Spray paint
All-purpose construction paper
Tape
Ribbon
Scissors
Paint
Wallpaper for stenciling
Paint brush
Weather stripping
Washers
Items to use for stenciling (HVAC fittings pictured above)
Hobby knife
Colored Marker
Card Stock
Steps
1. After choosing basket and desired design, mask areas to paint the first color. Apply multiple coats and allow to dry.
2. Remove tape and mask areas for the second color. Follow step one until all areas have been painted.
3. Use denatured alcohol to clean any residue off the washers and prime.
4. Label washer with a colored marker and tie it onto the basket with a piece of ribbon.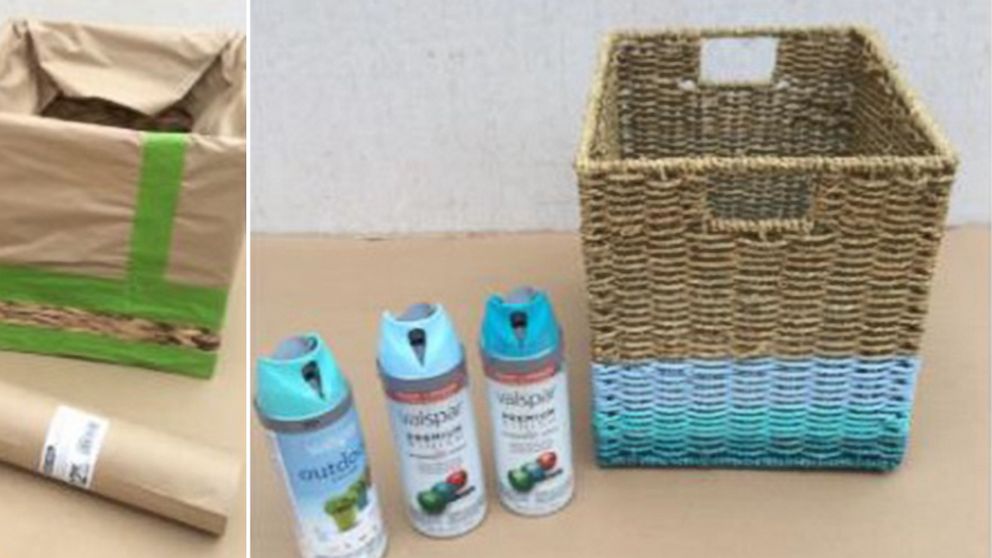 Stenciling
1. Find the desired pattern on the wallpaper to stencil.
2. Cut into individual pieces leaving 2- to 3-inch space around object.
3. Use spray adhesive to attach wallpaper to card stock.
4. Remove pattern with a hobby knife.
5. Use a paintbrush or spray paint with the stencil.
6. Label washer and attach with ribbon.
Note: Paint can be applied to basket (white space) if overspray occurs. Weather stripping can be used for curved or other intricate patterns.
2. Make your home safer in 2015.
There are a few things that every homeowner should do to ensure that they're not living with a potential health hazard or fire risk, Harris suggests. Check your home for radon. Install a carbon monoxide detector on every bedroom floor. And don't neglect the lint in the dryer vent -- lint is highly combustible, accounting for more than 15,000 building fires each year, according to U.S. EPA. Cleaning your dryer vent removes dangerous build-up, reduces drying time which can also save money.
3. Ways to be a better hostess in 2015.
Make your New Year's resolution to be the hostess with the mostest and give the areas you entertain in your home a little update. Rearrange your furniture so its oriented in conversation groups and not just facing the television. Plants are an easy, budget-friendly way to make your home look more finished, Harris says. Add a bright ceramic planter that compliments your color scheme. Decorative pillows or throws are another way to update your look.
4. How to reduce your bills. Start by cutting energy usage in your home with old-fashioned common sense, Harris suggests: turn off lights when you leave the room.Install compact fluorescent bulbs and low-flow shower heads. Dry your clothes on a line. Turn off your air conditioner when you leave the house. Dial your heater down to 55 degrees at night. Turn off power strips.Set your home computer to revert to sleep mode when not in use.
5. Create a weekly system to keep your home clean.
Harris "secretly loves cleaning," she says, and suggests working out a weekly system for keeping your house clean instead of letting the mess pile up and waiting until spring cleaning time.
Enlist everyone in the family to help and divide the jobs. It's a tip she picked up from her mom. One person can do the dusting/vacuuming and changing the beds, the other can clean bathrooms, and this way you can get the whole house done in 45 minutes.
Even more cleaning tips: Keep all cleaners in a portable carryall that moves with you from room to room; stash cleaning implements such as toothbrush, scraper, sponge, cleaning cloths and plastic bags in a builder's apron that you wear while you clean. Hook glass cleaners and all-purpose cleaners on the loops; focus on one type of cleaning at a time. Wipe down all fingerprints on cabinets before spraying and wiping down counters. Move to windows, mirrors and appliances. Then move on to sweeping and mopping floors.