— -- An orange tabby cat who ran away from his South Carolina home and was found 18 months later in a trailer in California has been reunited with his owner.
"When I got him out of the kennel at the airport he was like he'd never been gone," the cat's owner, Cheryl Walls, told ABC News today. "He was nuzzling me under my neck and purring away."
Walls, 44, of Anderson, South Carolina, adopted the cat, named Kevin, from a local shelter in June 2013 at the urging of her now 13-year-old nephew.
"My fiance passed away on June 5, 2013, and his name was Kevin," Walls said. "I was going through this depressed, shocked, mourning stage and my nephew wanted a cat so I took him up there and he picked a cat and it just so happened his name was Kevin."
"So he got called Kevin the cat," she said.
A few months later, in the fall of 2013, Kevin escaped from Walls' home and she thought the cat was gone for good.
"Honestly, I thought somebody had picked him up," she said.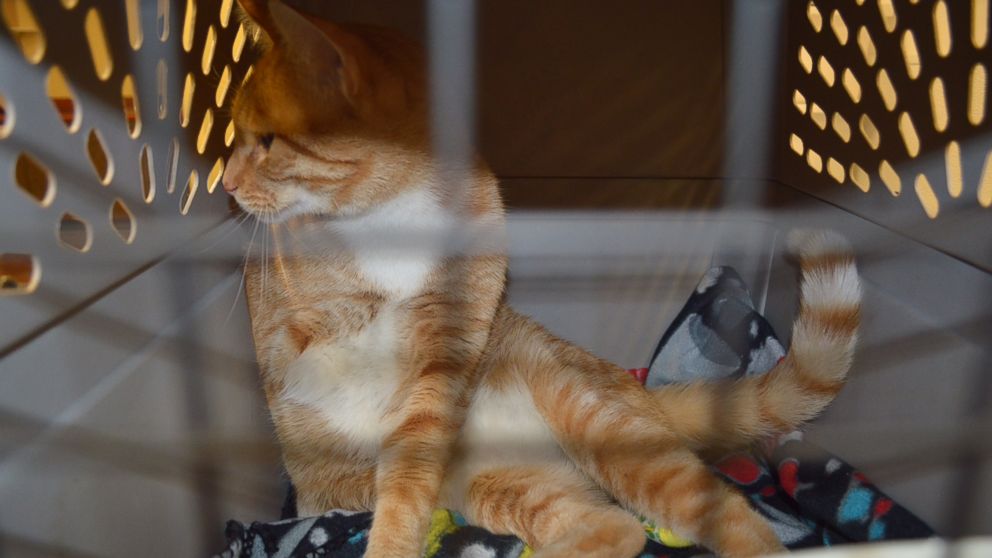 Fast-forward to the first week of March of this year and Walls received an email from an animal shelter in California asking whether Kevin is her cat.
"I called them and, sure enough, they had my cat," Walls said. "I couldn't believe it."
Kevin had been brought to the Riverside County Department of Animal Services' shelter in Blythe, California, in early March after a Food & Agriculture inspector heard him meowing during a routine inspection of a U-Haul trailer at the Arizona-California border.
"The driver of the U-Haul told the officer she didn't own a cat so they came to the conclusion that the cat was a stowaway," said John Welsh, spokesman for Riverside County Animal Services.
"We suspect that, as this lady was loading up her stuff, the cat probably wandered in there," Welsh said of the U-Haul driver who made the cross-country trek. "There was probably a box inside that was a nice warm spot and he took a nap and next thing you know he's going for about a 2,300-mile drive."
Because Walls had adopted Kevin from an animal shelter, the cat had a microchip in him that led Animal Services officials to connect him back to Walls.
"She was blown away," Welsh said of Kevin's owner. "She said, I'd love him back but I don't have the means to get him back.'"
Welsh sought help from a local nonprofit, START Rescue, among others, to raise the funds for a $295 plane ticket for Kevin from California to South Carolina.
On Wednesday, Kevin left Palm Springs International Airport on a morning United Airlines flight. He flew from Palm Springs to Denver, Denver to Chicago and, finally, Chicago to Spartanburg, South Carolina, arriving at the airport there around 8:30 p.m., ET.
Kevin is now back at home "adjusting," according to Walls, to life with her other pets, two cats and two dogs.
Walls' 13-year-old nephew who picked Kevin out is "excited" to have him back but the whole family is keeping a close eye on their well-traveled cat.
"He's indoors right now," Walls said. "He's also a very mischievous cat and he tries to shoot out when you open the door, so we're keeping an eye on him."