Hello Kitty Fruit-Flavored Beer Hits China
The latest in the iconic cat's line of products includes ales for adults.
September 6, 2013, 2:07 AM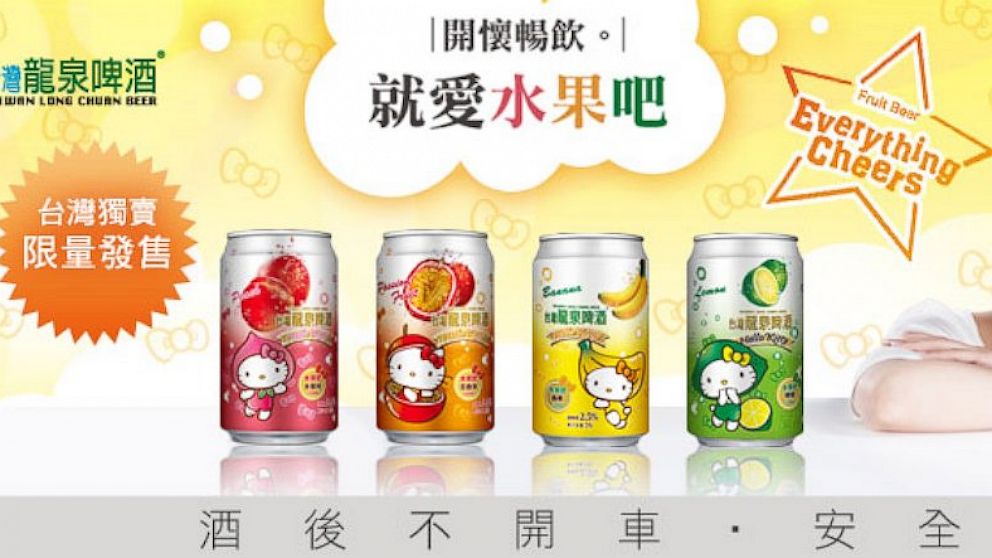 Sept. 6, 2013— -- She may not have a mouth, but that's not stopping Sanrio's celebrity mascot Hello Kitty from pitching a limited-edition line of fruit-flavored beer.
Suds lovers in the Far East can now enjoy a collection of Hello Kitty brews in six tropical flavors, including passion fruit, peach, banana and lemon lime, among others. The beer, which was introduced in Taiwan and is now available in China, is licensed by Shanghai KT trading company and produced by Taiwanese beer maker Long Quan.
The new fruit-flavored cans mark Hello Kitty's second entry into the world of alcohol. Previously, Hello Kitty wines were licensed in Asia, Europe and the United States.
Those who have tried the new beers describe them as smooth and sweet, with comparisons being made to Belgian ales combined with fruit juice.
"These beers are closest to Chimay but with stronger fruit flavorings," wrote one reviewer on Kotaku.com. "The fruit isn't a note or a sense in these beverages but instead the overpowering star of it all."
Despite the cute packaging on the cans, the Long Quan Facebook page clearly discourages under-aged drinking since launching the product. The beverages are marketed toward adult fans who grew up with the cartoon cat, which will turn 40 next year.
While Hello Kitty beer may seem unusual to some American consumers, in Asia many adults embrace products that are cute or "kawaii." From Hanky Panky underwear to jewelry at Neiman Marcus, Hello Kitty-wrapped Smart cars to credit cards, the brand has expanded far beyond plush dolls and playthings in recent years to appeal to an aging audience.
Sanrio declined to comment on the fruit-flavored beer to ABC News other than to confirm that there are no plans to offer the beverage in markets outside of China.