— -- One girl in Cumberland, Maine, got the surprise of a lifetime when she heard from a fisherman in Spain who had found her message in a bottle that she tossed into the Atlantic Ocean three years ago.
Terra Gallo, now 14, was visiting her aunt who lives on the secluded Monhegan Island in June 2013 when they decided to release about 10 bottles with messages enclosed into the water to see where they'd turn up.
"In Monhegan, it's a community of about 70 year-round residents and it's totally isolated so everyone knows everyone," Terra's mom, Susan Gallo, told ABC News. "You have a little over an hour ferry ride to get out there. That was the reason for doing the bottles out there, because it was out in the middle of the currents."
The handwritten notes inside contained her aunt's P.O. Box address in case it wound up in the hands of a friendly person willing to reply.
"We thought there was slight possibility that someone would find them, but it was just a fun little experiment," said Terra. "I don't think we were expecting something this big to come out of it."
Years had passed and the family had forgotten about their bottles until an unfamiliar letter arrived in the mail this past weekend.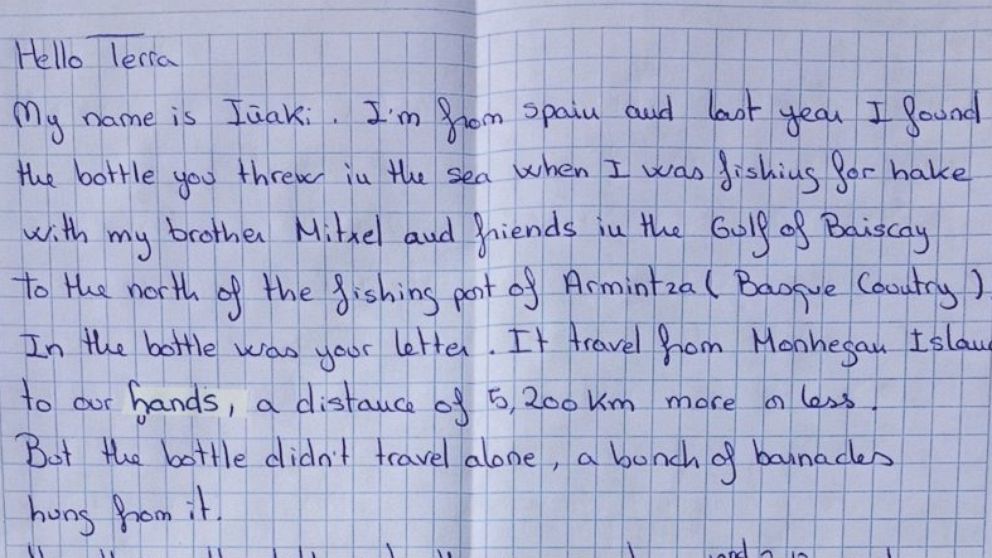 "My aunt texted us a picture of the envelope and the return address from Spain and asked, 'Can I open this?' And we were like, 'Yes of course,'" Terra recalled of the exciting moment. "Then she texted us a picture of the letter and sent it to us in the mail so now we have it."
The carefully penned note read, in part, "I hope you are as thrilled to receive this letter as I was when I found your bottle and I hope we'll receive more answers when I return the bottle to the sea."
"The only thing I could think was, 'Wow, that is really far away,'" said Terra. "It just amazed me how far it had gone and that it was just floating around in the ocean."
The fisherman said the bottle had traveled about more than 3,200 miles to him.
"We were shocked. We were just really surprised," her mom added. "And he was out fishing on the water so it didn't wash up on the beach. The chances of him encountering it is just awesome."
Terra wrote the initial letter on June 12, 2013, and the fisherman said he found the bottle covered in barnacles on May 28, 2015.
"I'm sorry for not having written this letter before," he wrote. "This year [is] the first day we go fishing for hake, I'll throw the bottle into the sea with your letter and my answer, and maybe someone else finds the bottle in another part of the world and contacts us."
That idea excites Terra, who was thrilled to have found a more entertaining way to communicate with people around the world than the typical texting or social media.
"We all rely on internet and phones to communicate, but there are really cool ways you can reach to talk people and communicate with people," she said.
"If you think about how many messages in bottles go in the Atlantic each year, I think we're just really lucky," said Gallo.
And for anyone concerned that the bottles were littering, Gallo, a wildlife biologist, said her daughter was simply "creating habitat."
"If you see the picture, it was covered in barnacles and mussels, so we gave them a place to live," she explained.