The Super Bowl is just days away, but it's not too late to make a game day dish that will wow New England Patriots and Atlanta Falcons fans alike.
The team at Delish appeared on "Good Morning America" today to share their tips for building the ultimate, edible snack football stadium.
Pick either a Falcons-themed or Patriots-themed stadium and follow the tips from Delish below to start building!
Atlanta Falcons Stadium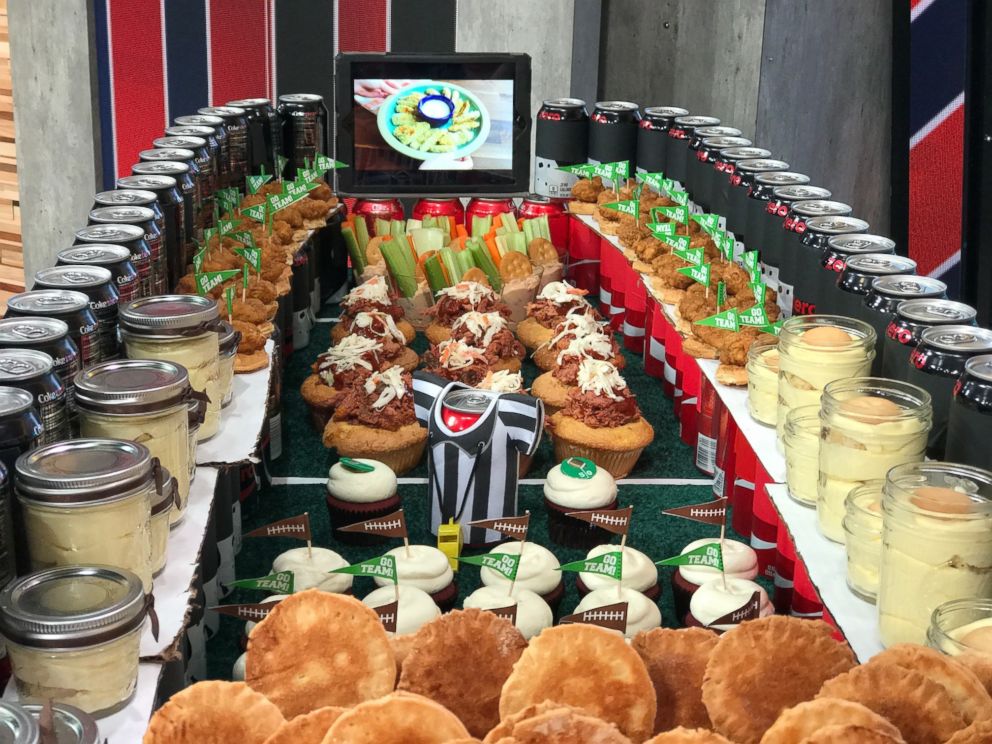 1) Lay down a rectangle of turf for the center (tip: available at your Home Depot!).
2) You don't need to buy or build an elaborate structure. You need to serve beverages anyway, so make them work for you! We made our stadiums walls with cans of soda affiliated with the team's city, layering in red and black stripes to represent the Falcons. (**Note: The stadium will be 5-feet long by 3-feet wide, or four cans high on the long end and two cans high on the short ends.)
3) Create a shorter platforms out of cans (or small bottles of water) around the end zone areas and down the length of the field.
4) Cut sheets of cardboard or use trays for food to sit on. Place them on top of the shorter soda cans.
5) Line one half of the field with savory foods: Pimiento Cheese cups in the end zone, chicken and waffle sliders halfway down the length of field on both sides.
6) Fill that half of the field with savory cupcakes in a player formation: We made pulled pork cornbread bites assembled from store-bought ingredients, to make things easy!
7) Line one half of the field with sweets: Banana pudding parfaits in the end zone, peach pie hand pies halfway down the length of field on both sides
8) Fill that half of the field with sweet cupcakes -- we used red velvet -- in a player formation, with one chocolate football cupcake.
9) Add soda can referees (We used referee cozies from Party City) throughout the field.
New England Patriots Stadium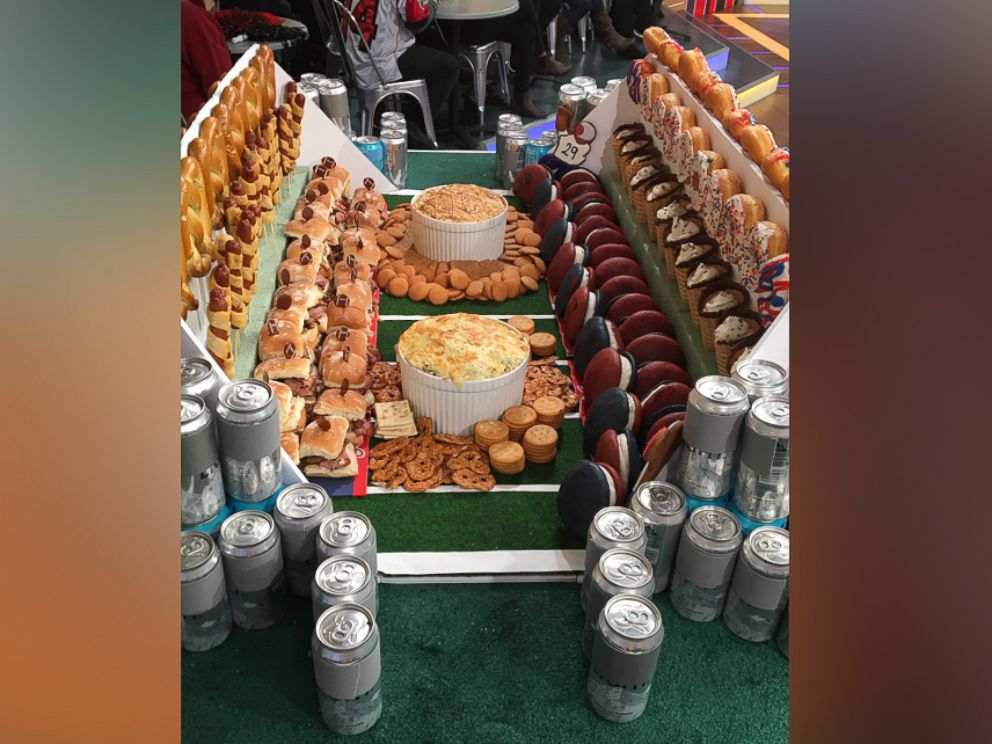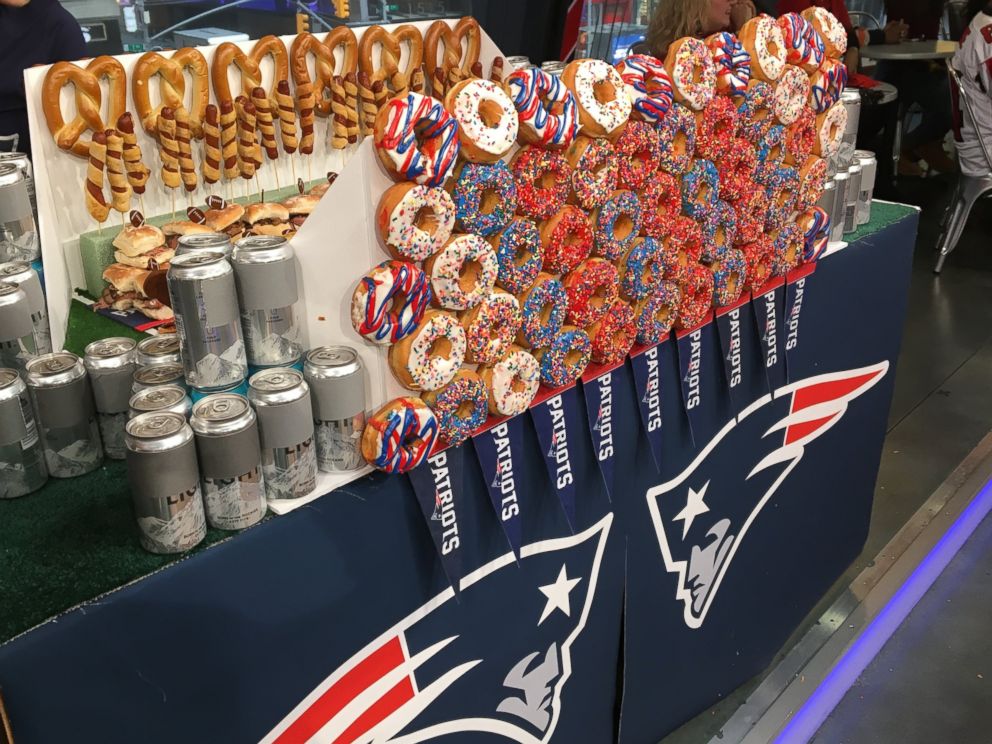 1) Create the donut and soft pretzel walls that will flank both sides of the field: We used pre-made foam core presentation boards available at Staples/office supply store, cut them in half across the top, then taped them together to make them a little sturdy (you'll need four presentation boards total).
2) Use push pins to create hangers for the soft pretzels and donuts. We used donuts because they're affiliated with the team's home city.
3) Lay down a patch of turf.
4) Add a row of foam blocks down the length of both sides of the field. On the donut side, these will display cannoli cones; on the pretzel side, these will be hot dog skewers.
5) In front of the foam, stack sliders. The sweet side will get red, white and blue whoopee pies which were made famous in New England! The savory side will get roast beef sliders, also a favorite in Boston.
6) Fill the field with dips and dippers: one savory and one sweet (both dips, fluffernutter and crab dip, have affiliations to the area). Use football shaped bowls to hold both dips and arrange the dippers around them artfully).
7) Line the sides with cookie cheerleaders. You do NOT need to make these yourself -- you can easily use store bought cookies.
8) Create two beverage pyramids at each end of the field -- one of beer, a beeramid, and one of seltzer. The beer is loca, and the seltzer is the team color, but feel free to pick your favorites!
General Tips:
Split up your stadiums Savory vs. Sweet—you'll have people at the party we love both and you don't want to intermingle the two sides.
Portion everything out individually. It's easier to keep the food fresh, especially after it's been sitting out for long periods of time (the length of a 4 hour game, for example).
Both stadiums are a mix of purchased food and homemade food, sometimes it's the amazing way you display something store-bought that makes a great impact, like the donut and pretzel walls on the New England stadium.
Chips and guacamole are great, but don't be afraid to get creative. These ideas are all really easy to make at home but are so much more fun than your standard snack fare.
Pick foods that have a close meaning to each location.