— -- When Karis Farish's husband, Micah, asked her to walk outside of their Springdale, Arkansas, home earlier this month as he covered her eyes, she had no idea how heartwarming of a surprise would be waiting for her.
"I was in complete shock. I had no idea that he was doing anything," Karis told ABC News of seeing the surprise of a lifetime parked on their street. "I haven't seen it since I was 12. Honestly, there's no other words other than just shock."
Unbeknownst to Karis, Micah had spent two months painstakingly tracking down her late father's beloved camping RV, which Karis had spent all her favorite childhood memories traveling cross-country in with her family.
"This was her dad's prized possession," Micah explained. "He bought this about three years before he passed away. That's what he wanted to do with his family. He took them all over the country. They saw all the fun stuff like the Grand Canyon, they went on a four-week American tour to see all the landmarks. That's the man he was. Most of Karis' great childhood memories were with this camper."
When Karis' father, Tom Craig, a well-respected Arkansas State Police captain, died unexpectedly on Dec. 14, 2000 while assisting an overturned vehicle, the family decided to pass along the camper to other relatives who had young children for them to now enjoy.
"It was a pretty hard time for them and they obviously weren't going camping anymore," Micah said. "They weren't using it but wanted to keep it in the family."
However, somewhere along the way the camper was sold or donated, eventually ending up in Laguna Woods, California, where Kathy Eiler and Patti Clarkson found and purchased it on Craigslist.
"When we got it, it was in pretty bad shape," Eiler recalled of buying it in March. "The floor in the bathroom was awful. The cabinets all needed to be replaced. We thought, 'Ok, we're going to commit to this thing and we're going to fix it up. We actually took it Burning Man. We put a lot of time and love and energy into it."
Now that Micah and Karis' children are old enough to go camping, Karis contacted the relative she believed was still in possession of the camper. She was devastated to learn it was no longer in their possession.
"If you knew my wife, you knew how special this was to her," Micah said. "She's not much of a crier but she literally sobbed for about an hour. She felt like this was the last piece of her dad. This was his prized possession in his life. It was really heartbreaking. What made it worse was there was no hope of getting it back."
Unable to ask his wife about details of the camper without revealing his surprise, he had no information to work with to try to locate it. After Karis' mom did some digging through old paperwork, she was able to track down the VIN number to provide a lead.
"We took the VIN number and tracked it and found out that it had been registered in California this past summer," Micah explained. "I was able to find the name of who it was registered to and I just start Googling the name and looked it up on Facebook."
After reaching out for about a week over social media, he finally got a response from Eiler and Clarkson, who were at first a bit skeptical about Micah's story.
"I read Micah's email and did some background research on my own and saw where he worked what he did, and I said, 'This guy's legit. Let's do this,'" Eiler recalled. "I said, 'It's okay, this is for a really good cause. He has gone through all this trouble. Let's just sell it to him."
Even after all the hard work they put into the camper, they were willing to entertain the idea of selling it back to him because the story of Karis' late father really hit home with Eiler.
"It tugged at my heartstrings because I lost my father when I was 13 and it was over the holidays," she said. "We had a holiday's house fire and my father was about the same age as Karis' dad. And I know what it was like to have those memories and spend time camping with my family. That was so meaningful to me. We had to do it. We had to let the camper go home."
Micah and his mother-in-law flew out to California to see the long-lost camper in person, and hired a towing company to get it back home to Arkansas. The whole time Karis thought Micah was gone camping for a bachelor party with little cell service. He hid the camper in the parking lot at his work until it was time to unveil all his hard work.
"I grabbed Karis and put my hands over her eyes and said, 'Come outside.' And that was it," said Micah. "It was really hard for her to even process. She was in shock the whole weekend."
All of the original paperwork from when her dad purchased the camper was still in a drawer inside with his signature proudly displayed.
"I'm just overwhelmed with the fact my husband loves and cares about me so much that he put forth all this effort to do this for me," Karis said. "Having it back, I'm really excited to do for my kids what my dad did for me. It's the best Christmas gift I've ever gotten. It could never be topped."
The Farishes already put the camper to good use last weekend, taking a family trip to a camp ground about 40 minutes from their house.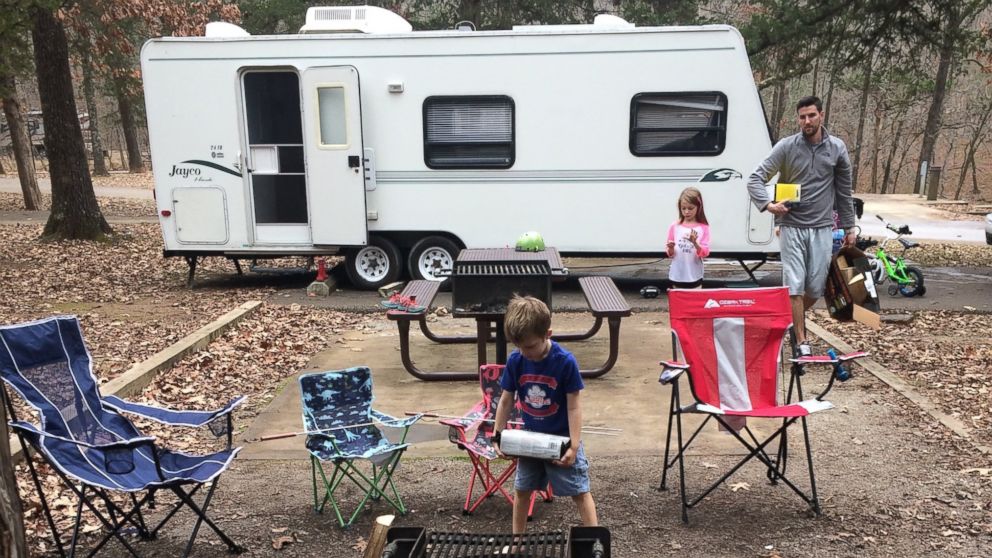 As for their relationship with their newfound friends who sold them back the camper, "It's pretty special," Micah said of Eiler and Clarkson. "In some way I feel like we're connected to them forever now."
"It's just the coolest thing. Everything lined up. I just felt like it was just meant to be," Eiler agreed. "I'm hoping that one day our families can camp together."