— -- A Colorado man took his marriage proposal to new heights by climbing a mountain and filming footage with a drone and GoPro camera to create a music video for his wife-to-be.
Michael Baker, 23, of Colorado Springs, was inspired to create the illusion of walking hundreds of miles to propose to Tracie Wyson after he got the song "I'm Gonna Be (500 Miles)" by The Proclaimers stuck in his head.
"I sat down with my dad to brainstorm and that was the song I had stuck in my head," Baker said of the song whose lyrics include, "But I would walk five hundred miles...And I would walk five hundred more...Just to be the man who walks a thousand miles...To fall down at your door."
He added, "It sparked the idea that I could walk 500 miles to propose."
Baker, who said he was known in high school for his elaborate prom and homecoming proposals, covered more than 150 miles filming the video over the course of one day with his dad.
Harland Baker filmed his son doing everything from walking into a lake to climbing Pike's Peak in the Rocky Mountains. Baker spent the next day and a half editing the video himself before flying to Utah, where Wyson lives, with his mom and dad.
Wyson, 20, a nursing student, was in the Provo area taking a certification class and thought she was going out to eat with her aunt and uncle.
When her aunt and uncle, Ed and Alyse Jones, said they wanted to stop at a local garden on the way to dinner, Wyson still had no idea of the marriage proposal that was to come.
"The whole time I was trying to get out of going because I had a really early morning clinical the next morning, but they weren't having it," she said.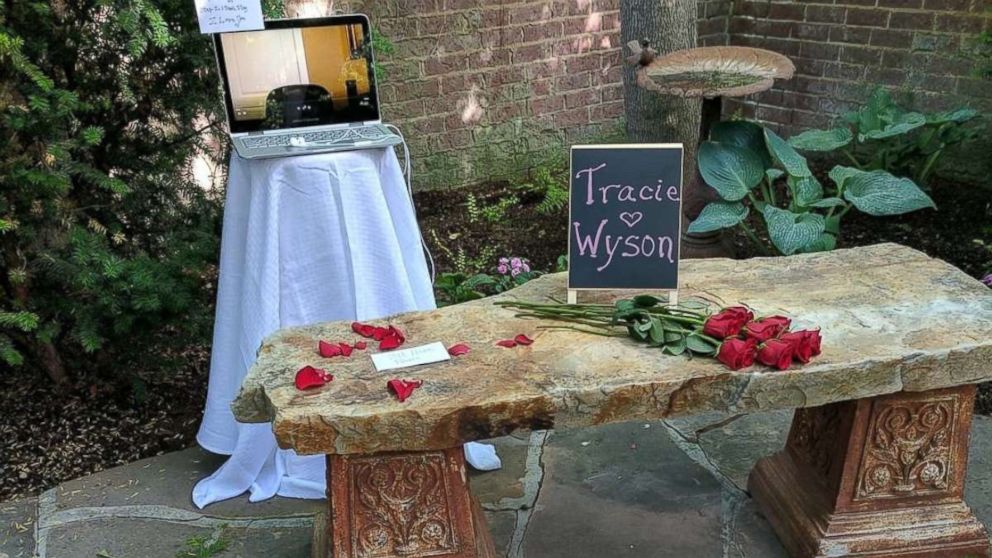 "When we got to the garden we rented a golf cart and went through sprinklers and I got a little wet," Wyson recalled. "My aunt and uncle were so worried and I realized later why."
Wyson's relatives took her to a spot in the garden where Baker had set up a chalkboard with her name on it and a laptop on a stool. Wyson followed the instructions to watch the video on the laptop and then had a moment of panic when she thought Baker might be proposing over video.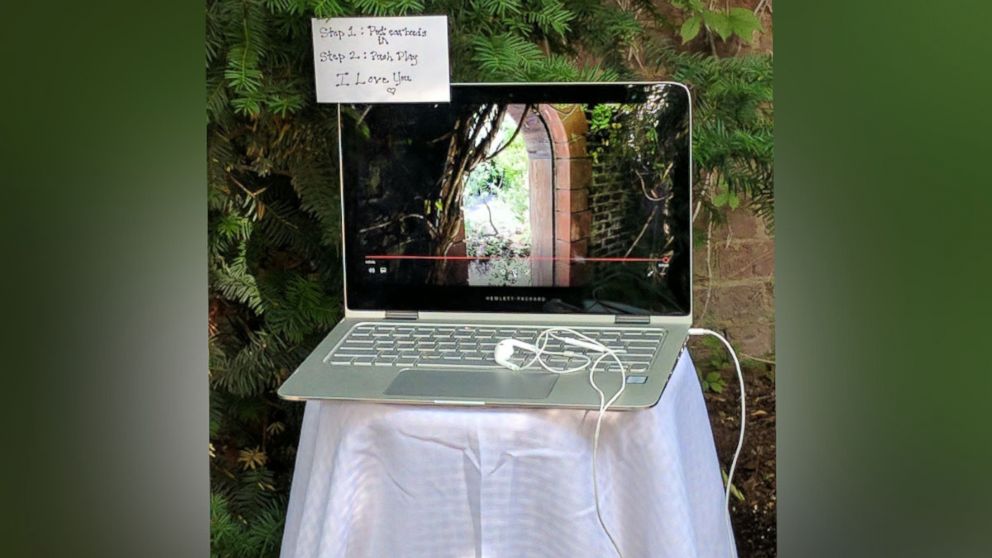 "I thought is he going to propose to me over Skype? There is no way Michael would do that," Wyson said. "At the end of watching the video, I saw his reflection coming up behind me and that's when I realized he was there at the very moment."
Baker proposed to Wyson, who said yes. In addition to Wyson's aunt and uncle, Baker's parents were hiding in the garden watching the proposal unfold.
Wyson said she was surprised about the proposal, but not shocked that Baker went to such creative lengths for her. She is also planning to expect the unexpected when it comes to their wedding this August in Wyson's hometown of St. George, Utah.
"You know, I'm always on my toes with this guy," she said.