— -- A Minnesota woman has upped the cubicle decoration game for office workers everywhere by transforming her desk space into a log cabin Christmas wonderland.
Angela Westfield, 29, entered work to a standing ovation Monday from coworkers who had walked into their office surprised by the sight of Westfield's desk as a cozy log cabin, complete with fake snow, white lights, stockings, at least one Christmas tree and a Christmas village inside.
"They couldn't believe it," Westfield said of her fellow sales team members at the W Hotel Minneapolis, coworkers who also admitted to using swear words to express their shock and awe.
Westfield had been planning for that moment for the past month, when her sales division announced that they would hold a first-ever cubicle decorating competition in the office.
"I came up with the log cabin and just kept googling to see what I could make logs out of," she said.
Westfield recruited her husband, Alex, who works in construction and loves DIY projects as much as his wife, to help. Together they found a carpet store that had enough empty carpet rolls to make a cubicle log cabin.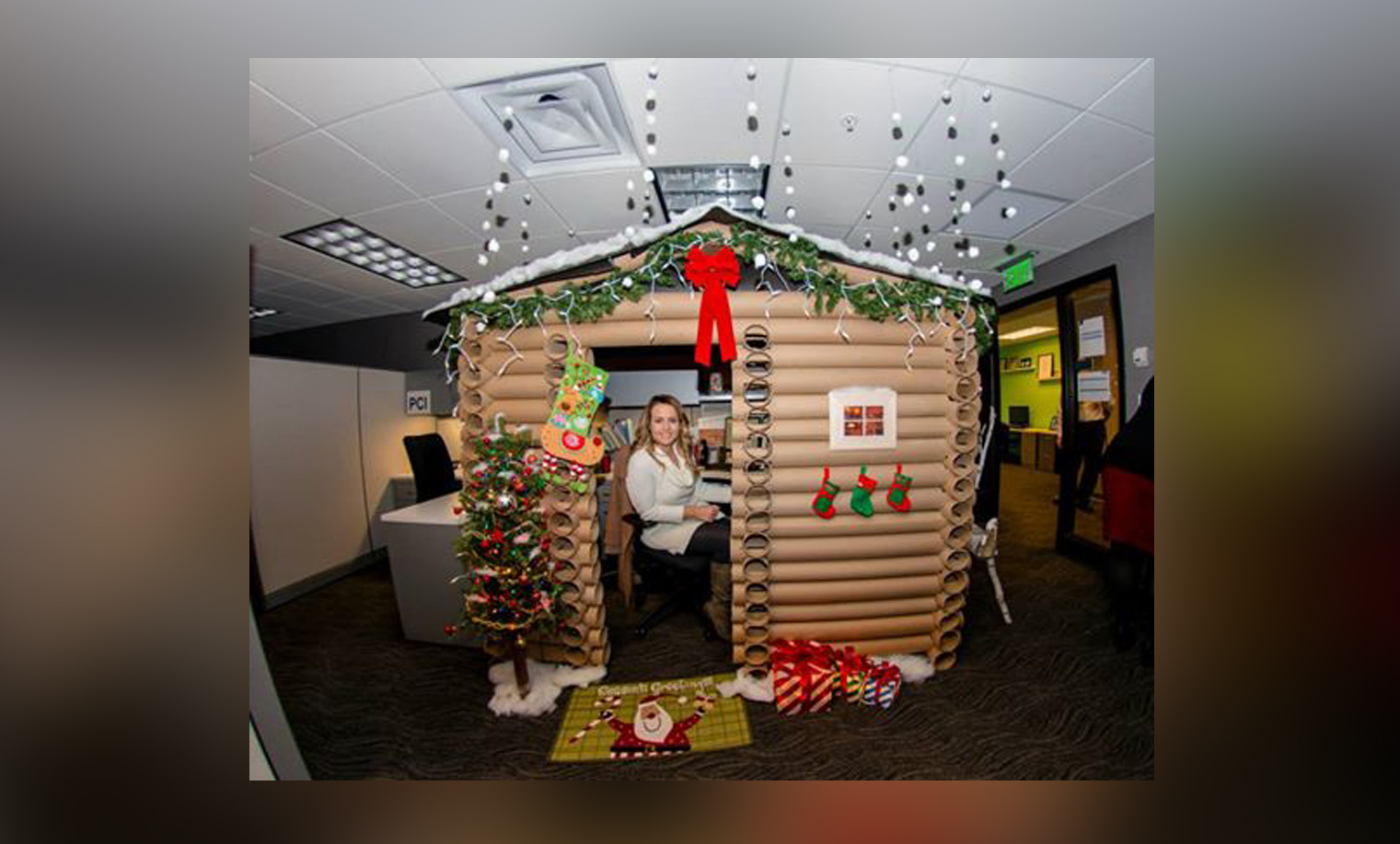 With those in hand, the Maple Grove, Minn., couple set up shop in the garage of Westfield's uncle, after they quickly learned their apartment would not have the space needed.
"We had to use a saw to cut the carpet rolls down, they were about 15 feet originally," said Westfield. "We had measured the cubicle so we made a template and the cut notches out of the top and bottom of each roll."
When Westfield's mother, described by her daughter as a Christmas fanatic, heard of her daughter's plans, she contributed leftover family decorations like the Christmas village and tree that decorate the cabin's inside, and the stockings that decorate the outside.
"We did it all pretty much for free," Westfield said. "The roof is tar paper that my husband had left over from a construction site."
"The only thing we bought was the fake snow for the top and I bought a picture frame that I turned into a window," she said.
Westfield describes her working space inside the log as "cozy" and "fun" and surprisingly well-lit thanks to the lights of the Christmas village, the tree and the yule log fire screen saver on one of her two computer screens.
"It feels pretty legit," she said.
The deadline for the cubicle competition was originally set for Monday but was extended two days so that Westfield's now-inspired colleagues could give it another shot.
"We have a Candyland theme and a cubicle decorated as a present," Westfield said of her competition. "There's also one that has fake stairway on the back wall with stockings and another that turned a large-screen TV into a mantle."
The winner, and surprise prize, will be announced on Dec. 22. Each of the hotel's roughly 100 employees is eligible to vote.
Westfield's cubicle has proven so popular among employees that the hotel is now allowing guests to go into the sales offices to view it.
"We're so happy that we've been able to spread the Christmas cheer," she said.
Westfield, whose own home is decorated a bit less extravagantly with just the usual tree and stockings, said her bosses at the W Hotel have already announced the cubicle decorating competition will become an annual event.
"It's brought our team closer together and been a ton of fun for the whole hotel," Westfield said.