— -- A mother who attended every class with her quadriplegic son so he could pursue his Master of Business Administration (MBA) was surprised with her own honorary degree at her son's graduation.
"I was just blown away," Judy O'Connor said of the honor. "I'd been in the trenches with his fellow grad students for two years and gotten to know them so it was really special."
Judy O'Connor, a retired elementary school teacher, relocated from Florida to California in 2013 to care for her son, Marty O'Connor, who was paralyzed a year earlier after falling down a flight of stairs.
Marty O'Connor was a former competitive athlete who had a promising career in sales at the time of his accident. After spending nearly two years focused on his physical recovery, Marty O'Connor said he was ready for a new challenge.
"After a certain point I realized that physical therapy wasn't going to be the end all answer," Marty O'Connor, 29, told ABC News. "I was ready to take on another mental challenge."
When Marty O'Connor decided to pursue an MBA degree at Chapman University, in Orange, California, his mom was right by his side.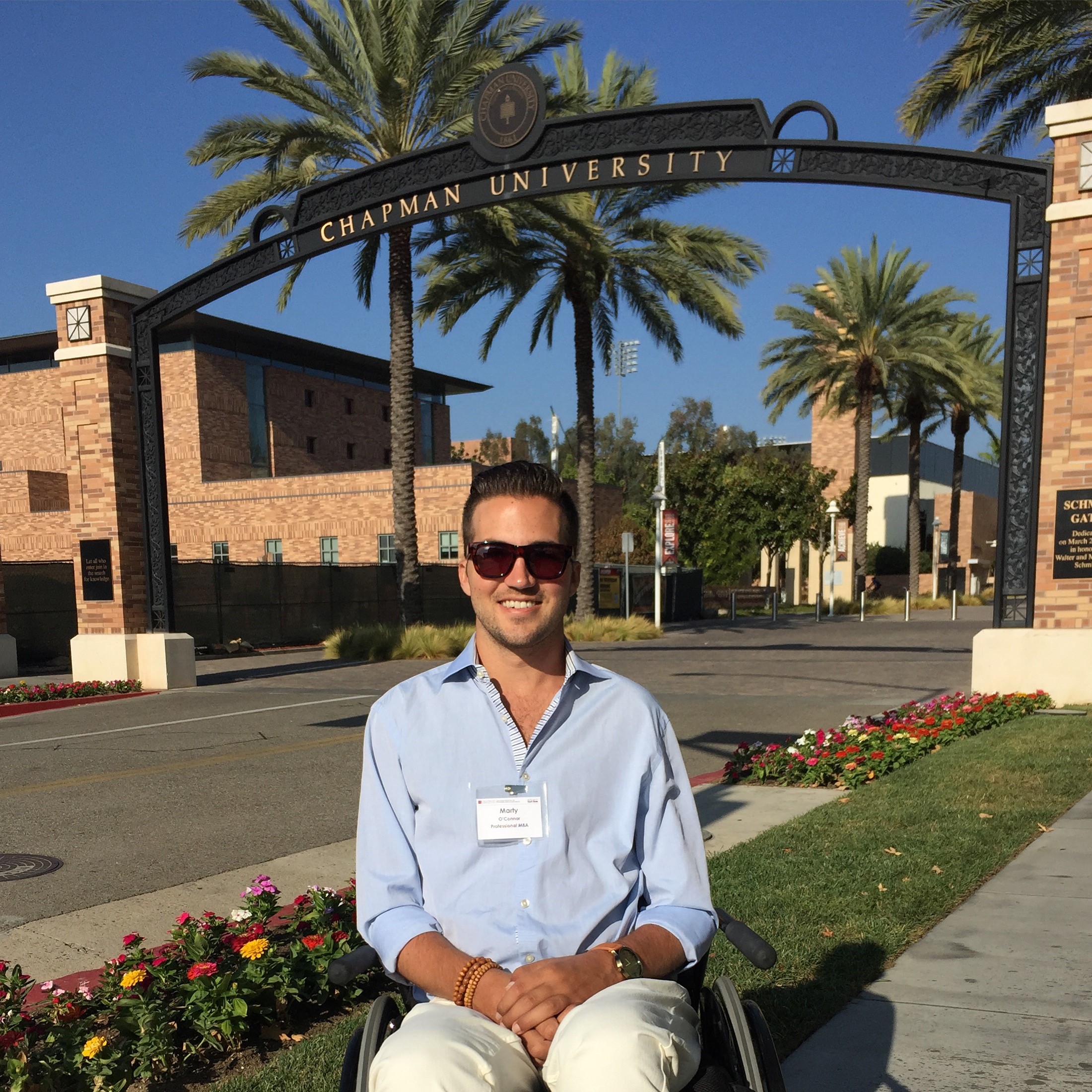 Judy O'Connor attended every class, tutoring session, group study session and more with her son over the course of his two-year MBA program. When Marty O'Connor had a question in class, it was his mother who raised her hand for him.
Judy O'Connor also took notes and wrote test answers for her son, who uses an iPad, laptop, voice recognition software and a mouth stick to communicate.
"I did it willingly," said Judy O'Connor, who has an undergraduate degree from Notre Dame. "When a spinal cord injury happens, you want to swoop in and make everything better and you can't."
She continued, "This was something that I could do for my son and I was really happy that I was able to help him in that way."
Judy O'Connor said she watched a "total transformation" of her son as he redefined his future through his education. Marty O'Connor excelled in the MBA program, making it into the Beta Gamma Sigma honor society and receiving the business school's nomination for Chapman's outstanding graduate student award.
While being recognized for his accomplishments earlier this year, Marty O'Connor had the chance to meet with Chapman University president Daniele Struppa. During that meeting, he made a formal nomination for his mom to receive an honorary MBA.
"When Marty came to me asking if Chapman could present an honorary degree to his mom – and to keep it a surprise – there was no hesitation to make this happen," Struppa said in a statement to ABC News. "The provost, the dean and the faculty senate immediately approved my request. The dedication from both Marty and his mother in his pursuit for a Master's in Business Administration is nothing short of admirable. We were more than happy to make this happen."
After months of planning in secret with school officials, Marty O'Connor watched as his mom was surprised at his graduation last Saturday.
O'Connor stood behind her son's wheelchair until a school official pulled her to the front and handed her an honorary degree.
The graduation announcer choked up while describing why O'Connor deserved the award. Afterward Judy O'Connor blew a kiss to the crowd that gave her a standing ovation.
"I was so touched that my son would do that," she said. "It was therapeutic for me to do what I did."
Marty O'Connor has already secured a job as the head of corporate sponsorships for a youth action sports startup called DIVERTcity. He is still working out the logistics but plans to have a professional assistant help him in his new career.
O'Connor will continue as her son's primary caregiver and may start tutoring again.
Both mother and son say their graduate school journey changed their lives for the better.
"We really formed such a great bond," Marty O'Connor said. "I learned to be patient, more thoughtful and to ask for help."
He continued, "We were able to accomplish so much more together than if I had just tried to muscle through it on my own. We were just able to do some great things together."