— -- Navy seaman Chris Daugherty came home from deployment on June 23 to hugs from his children, but he got a bigger surprise when he saw his wife, Natasha. She had a baby bump.
Natasha Daugherty, of Temecula, California, had hidden her pregnancy from her husband for six months while he was aboard the USS Carl Vinson.
"I found out about a week after he left. I didn't believe it," Natasha, 28 told ABC News. "I took the pregnancy test again and I was like, 'Oh no way.' I was excited about it and I emailed him and I told him to call me as soon as he gets a chance but then I thought about it for a few minutes and I was like, 'You know, this isn't how I want to tell him – in an email.' I emailed him back and said, 'I just miss your voice.' That's when I decided I'm going to document it with weekly belly pictures for him so he wouldn't miss it."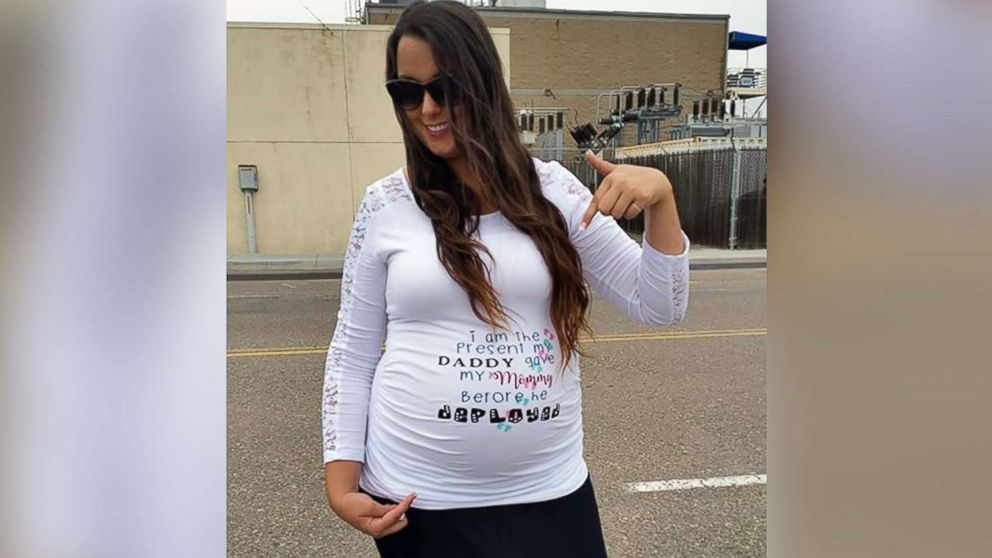 As Chris was approaching his family in the large crowds welcoming home their sailors in San Diego, Natasha still kept her "Welcome Home" sign perfectly positioned in front of her stomach so he wouldn't see.
"My heart was racing," she recalled. "I stood back and let the kids run to him. I hung back for a minute, and then he reached into me to give me a hug and then I dropped it. He just stood there in shock. He didn't know what was going on."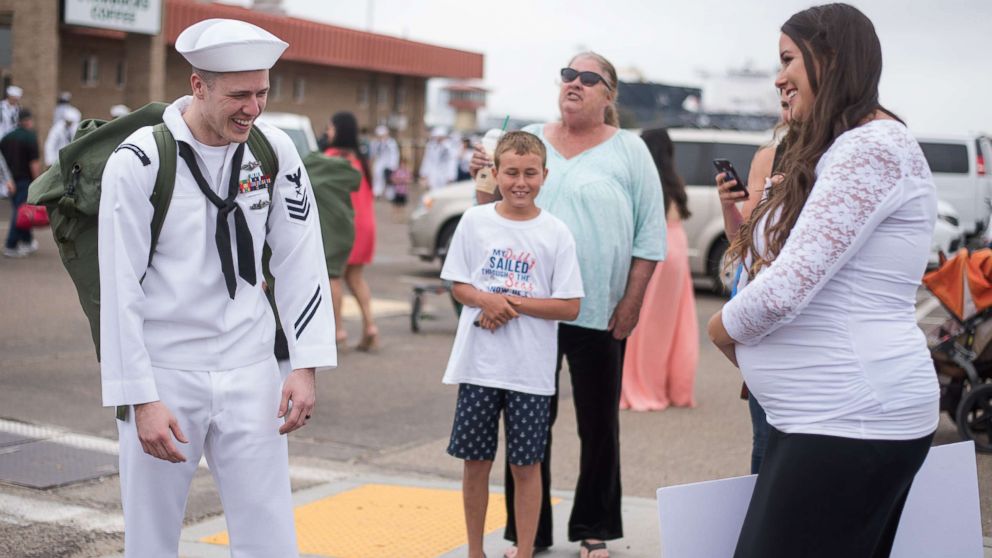 Chris was so taken aback by his wife's growing belly that he didn't know if she was joking or not.
"There were a lot of thoughts going through my mind," he said with a laugh. "The first was confusion, then I thought she was joking with me so I poked it to make sure it was real. When it was real I was extremely confused so I asked, 'Is that real?' to be sure, then hugged her because it was the only thing I could think to do."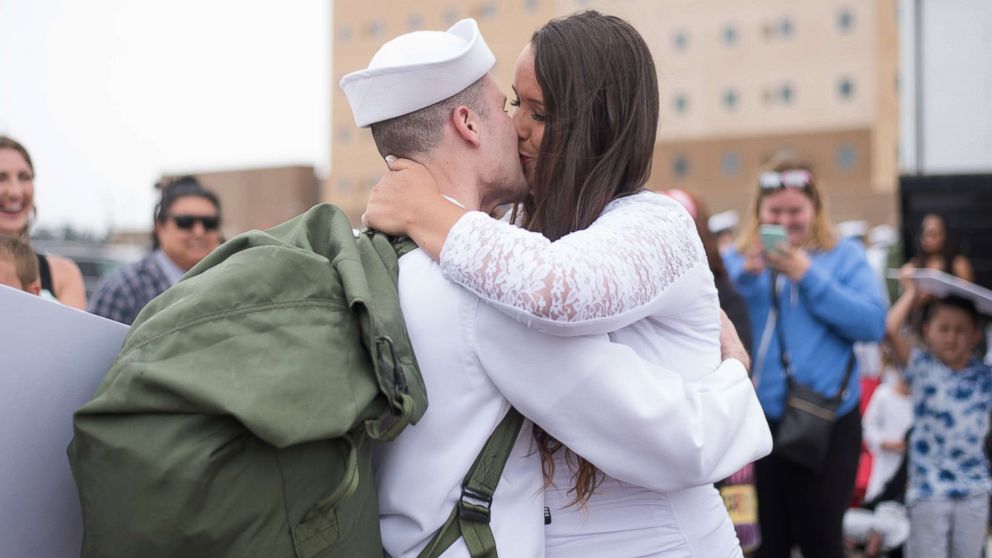 Natasha said keeping the surprise was the hardest thing she's ever had to do, but is glad she stuck it out until he was home.
"I wanted to share the excitement and joy with him about getting a fourth baby. He definitely wasn't expecting it," she said. "Being pregnant is such a fun experience and not being able to share it with him it was really hard. I was working the whole time and taking care of the kids so I had to push through everything."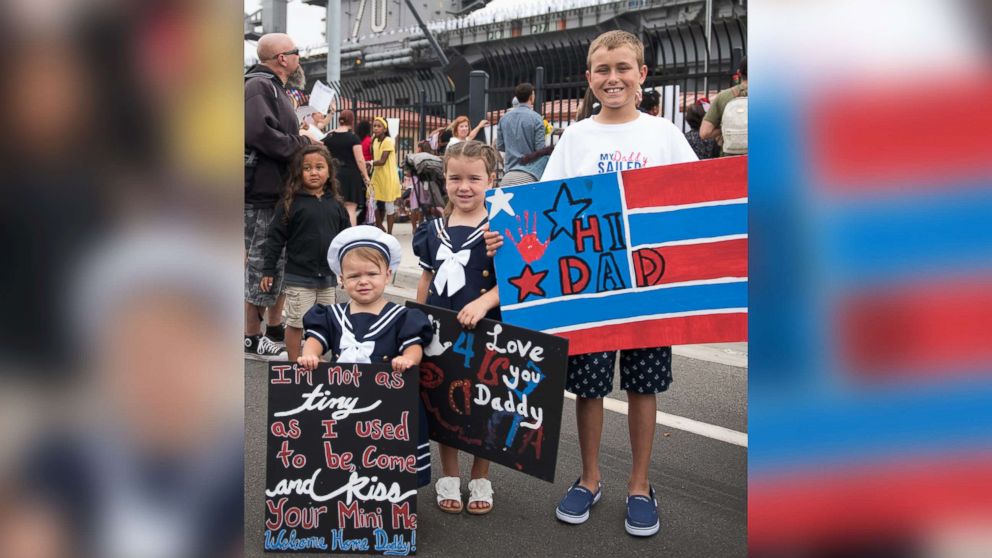 Every time the expecting mom would post photos to Facebook, she'd cleverly disguise her pregnant stomach so Chris couldn't see it.
"I would always use the kids to cover my belly," she said. "My best friend always does Snapchats and she would put emojis in front of it just in case to throw him off."
Needless to say, the proud papa definitely had no clue and is still in shock at his wife's ability to not spill the beans.
"I can't believe she was able to keep the secret for as long as she did because we tell each other everything so I know it was really hard for her," he said. "I'm sure every day she wanted to just tell me but I'm really happy she waited because it was an awesome homecoming surprise and we got to find out the gender together the day after I got home."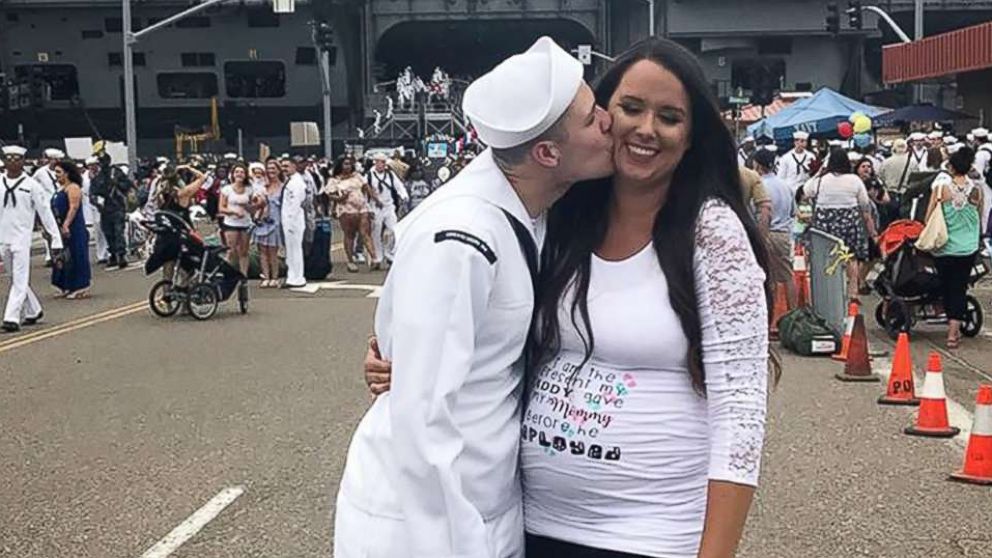 The happy couple are expecting their new baby girl on Aug. 31.
"I was extremely happy with the news because we both wanted a fourth child and since it is our last I was happy she did something memorable and fun," said Chris, 27.
"It was everything I hoped for. His reaction was the best," Natasha added.