— -- They say home is where the heart is, and for this sentimental bride, that couldn't be more true.
Susie Osei, of Mount Prospect, Illinois, chose the same street she grew up on -- where her parents still live -- as the venue for her magnificent block party wedding on July 30.
"We just wanted to get married, be around people we love and have a big party," Osei, 24, told ABC News.
The unconventional venue wasn't without purpose, though. Osei's mother suffers from Alzheimer's and although the happy couple only just got engaged in January, she and now-husband Miles rushed to put the wedding together so her mom could truly enjoy it.
"Me and Miles have been dating since high school and we pretty much always knew that we were going to get married so we didn't really put a lot of pressure on it," the bride explained. "My mom has Alzheimer's. She was diagnosed four or five years ago when she was 52. In the past couple years I think it became more apparent to Miles that more than anything else, it being extravagant or waiting for a time when we're less busy, it was important to us that she be there for the wedding."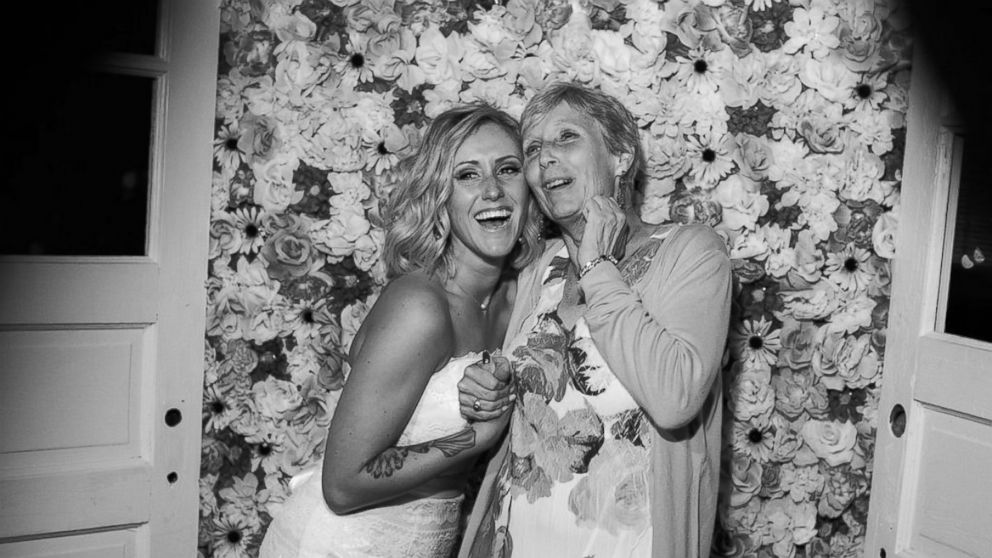 The bride and groom are both in grad school while working full time, so their free time is limited.
"We also didn't want to put pressure on either of our parents to pay for anything extravagant," she added. "Ideally, we wanted to not have to ask them for anything."
That's where Osei's neighbors stepped in.
"My block is crazy. We all grew up together and are very, very close-knit," Osei said of the 200 block of South Pine Street. "We always have block parties on the 4th of July. It's been something like 80 years we've been doing this block party. For Christmas we all put mini Christmas trees out in the front yard. We all do cookie exchanges and decorate them together and take a little bit of each other's cookies."
It's safe to say with a community like this, where most were well aware of Osei's mom's health issues and her childhood romance with Miles growing up in the neighborhood, taking on planning this wedding was not only a welcomed celebration, but also a homegrown honor.
"My dad sent them all an email not really asking them because in his mind we had already decided that's what we were going to do," Osei explained. "We have a couple new neighbors that I didn't grow up with, so he sent a general email letting them know about me and Miles and that I grew up on the block and to make sure everybody was OK with it."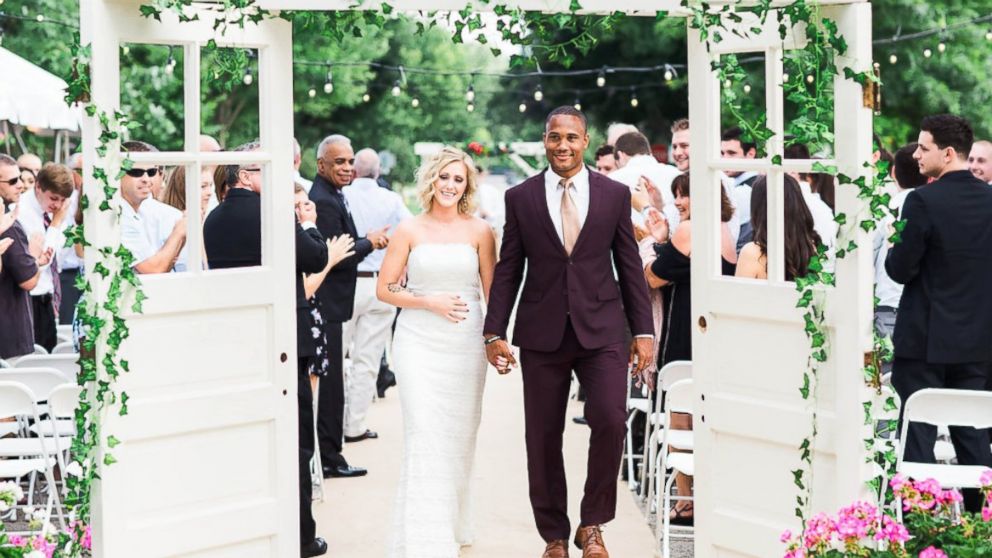 The response was overwhelming.
"Everybody just responded with total love," she recalled. "There was no issues, everyone just wanted to help. Everyone was saying we could use their lawn and use their trees and offered to help, so it worked out."
The newlyweds never even bothered looking at other venues.
"A venue never really made a lot of sense to us," she said. "I think we just felt a lot more natural and authentic being somewhere that meant something to us."
Her community -- and especially her dad -- were happy to oblige.
"My dad above anyone else is to credit for the entire thing," said Osei. "He was the brains behind the entire operation. Especially without having my mom present throughout this whole thing, my dad stepped in and helped out with decorating and making the centerpieces for all the tables, he built us the welcome doors which we walked through for the ceremony, my uncle built the arbor. My dad literally was the brains behind everything."
Osei was so overwhelmed with all the extra help they received she tearfully added, "I'm never going to be able to truly have people understand how much my neighbors did for this wedding."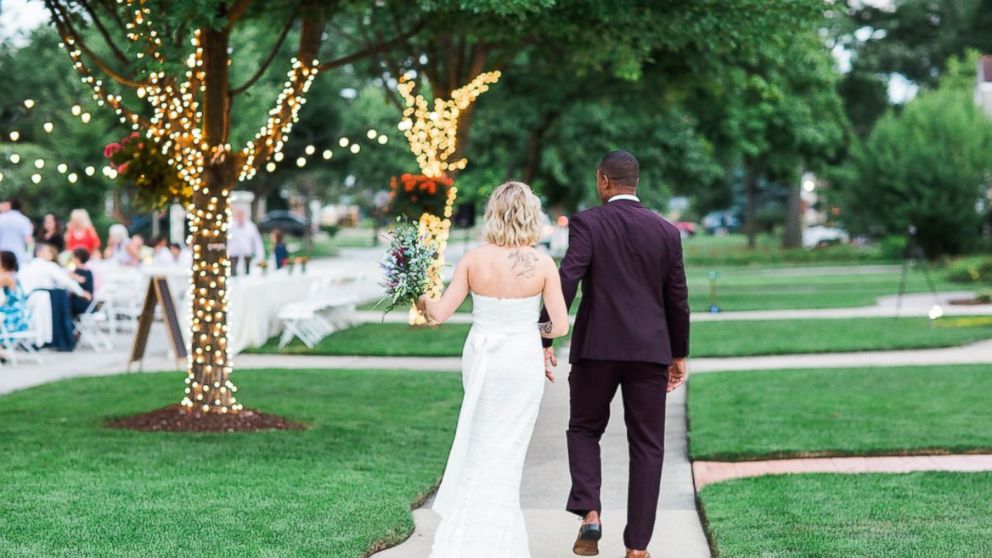 Take a look at all the neighborly love:
DJ:
"The kid that grew up across the street from is a pretty successful DJ in Chicago so he DJ'd the wedding," she said.
Officiant:
"My oldest brother is ordained (which is hilarious to anyone who knows him) and he's the one who married us, which made the whole thing much more special for us," Osei explained. "He's a crazy guy (in the best way) so we were kind of unsure of what he would do exactly. He came up with his own original content as far as his ceremony dialogue and he was more perfect than we could have hoped for."
Videography:
When her neighbor, John Ward, found out she had only hired Lindsey Kay Photography to take beautiful still photos, he volunteered to capture the big day on video, as well.
Lighting:
"All that kind of stuff was my dad and two or three other men who live on the block," said Osei. "On the 4th of July block party weekend, we strung all of the cables or ropes in the trees so they'd be prepared for the block party. We wrapped all the trees in the Christmas tree lights to test run before the big day."
Restrooms:
"All of my neighbors were totally welcoming people to use their restrooms," she said. "But my dad as a precaution did get Porta Potties and we were supposed to put them on our long driveway that goes back to our garage in an out-of-the-way area, but with the timing of the tents going up we couldn't do that. My immediate next-door neighbors were so nice to let us put the Porta Potties on their driveway, and they even decorated them. They put silk flowers and burlap on them. It was hilarious."
Wedding ring:
"My wedding ring is my mom's because she can't wear it anymore because her weight fluctuates so much," said the bride.
Utensils:
"One night when I was home working on crafts, I went over to a neighbor's house and there was four or five women scrubbing hundreds of pieces of silverware so they weren't tarnished," she recalled. "They had music going and were really getting into it. I had no idea!"
Decorations:
"My other neighbor found out we were getting bare mason jars as the guests' glasses for beer and wine and whatnot, so she took over 200 mason jars and made them actual party favors and put ribbons around the top with a little tag with our picture at the top," said Osei.
Flowers:
"For the flowers for the centerpieces, they were hydrangeas that were cut from our neighbor's garden," she said.
Cake:
"We got the cake from a local bakery," she explained. "It was a bare cake and one of my neighbors decorated it with flowers and fruit and it turned out just like the picture I showed her. No one can believe how pretty it was."
The newlyweds had an absolute blast at their epic block party wedding, but there was one guest whose happiness mattered more to the bride than her own.
"My mom was dancing and laughing and having the best day," she said. "That makes it all worth it."