— -- A Florida nurse who helped deliver a premature baby midair has reunited with the child and his parents since the unforgettable flight.
"It was emotional," new mom Erica Walton told ABC News of the reunion. "We were really happy, and it was a big surprise to see her. I am grateful for her, Dr. Chad Garson and Dr. Bhasker Patel for helping us through a terrifying experience. Even though we only knew them for a short amount of time, we're truly blessed that they're part of our family now."
Walton, 33, a nurse at Parrish Medical Center in Titusville, Florida, was aboard Southwest Airlines Flight 556 from Philadelphia to Orlando on Dec. 4, 2016, when she went into early labor. She and her husband, Chris Walton, 29, were returning home to Titusville from a baby shower thrown by her family in their Pennsylvania hometown.
Walton was 26 weeks along with a healthy pregnancy. Her obstetrician, Dr. Lena Weinman, cleared her to fly, Weinman told ABC News today.
"Traditionally, we allow patients to fly up to 30 to 32 weeks, unless they have complications with maternal or fetal health," said Weinman of Parrish Medical Group in Titusville. "I was shocked and alarmed and then reassured that her experience was overall optimistic and that mom and baby did well."
Luckily, two doctors and a nurse, Loretta Bledsoe, 66, were passengers on Walton's plane and rushed to her side after an emergency announcement from the airline crew.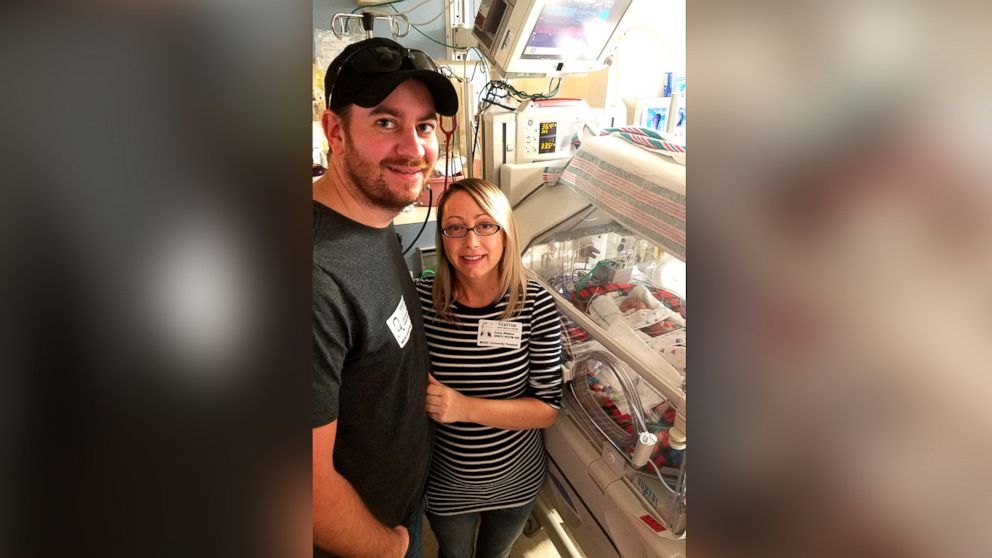 Minutes later, Walton gave birth to a 2 pound, 4 ounce baby boy — fittingly named Jet.
Bledsoe of Longwood, Florida, works for Orlando Health and has been a nurse for 42 years. She was flying home after her niece's wedding in Pennsylvania.
After the birth, Bledsoe administered oxygen while the two physicians tended to the first-time mom.
"Mom kept saying, 'I just want my baby to be OK,'" Bledsoe said. "I just kept telling her, 'Me too. He's breathing. He's opening his eyes.'"
The flight made an emergency landing in Charleston, South Carolina, where paramedics took over.
Walton and her baby were "doing well when they left the aircraft," Southwest Airlines told ABC News in a statement on Dec. 5, 2016.
On Jan. 23, ABC News' Orlando affiliate, WFTV, organized a reunion between Bledsoe and the Walton family at Nemours Children's Hospital.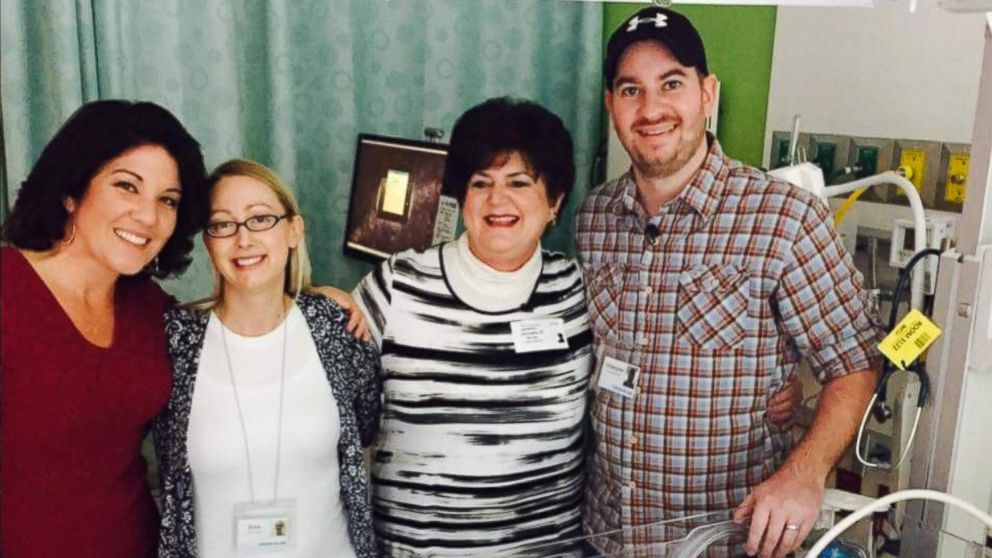 "It was great," Bledsoe said. "We just hugged each other really tight and got teary-eyed. You're strangers when you get on a plane, but after that, I feel we are going to be lifelong friends."
Garson, an emergency room physician at Abington Memorial Hospital in Pennsylvania, said he's hoping to reunite with the family on Feb. 2.
"Honestly it was one of the most amazing things I've had the opportunity to do," he told ABC News. "It was a little bit scary, [but] I felt like I had the opportunity to help someone in an environment where I never thought I'd be able to."
Jet, currently at Nemours in Orlando, is growing stronger. Mom and Dad hope to bring him home before March 8, his projected due date.