— -- An aunt in Ohio built a backyard "drive-in" movie experience down to the very last detail for the kids in her family.
Sherry Pratt painted cardboard boxes to create tiny cars for the children -- complete with personalized license plates -- and set them up in her North Jackson backyard.
"We have six grandchildren between my husband and I, and they're all off school, so we were looking for fun entertainment to do," Pratt, 49, told ABC News.
"I was scrolling on Amazon one night and saw these movie projectors and it hit me," Pratt said. "I thought, 'Wouldn't it be fun to have an outdoor movie night?' So I made these cars out of these little boxes for them. My son is a graphic designer, so I had him make the license plates with their names. Things just kept popping in my head to make it like a real drive-in. We just invited anybody who could make it. I think we had 12 children there."
Pratt also supplied personalized candy cups, popcorn, corn dogs and juices for the children to enjoy while watching the film.
"I just like to build memories for them so they can remember as we get older," she said. "Our family means a lot to us and we try to do things with the kids. That's what I like to do best."
Her niece, Jessie Woods, posted the "drive-in" photos to Twitter, where they were an instant hit.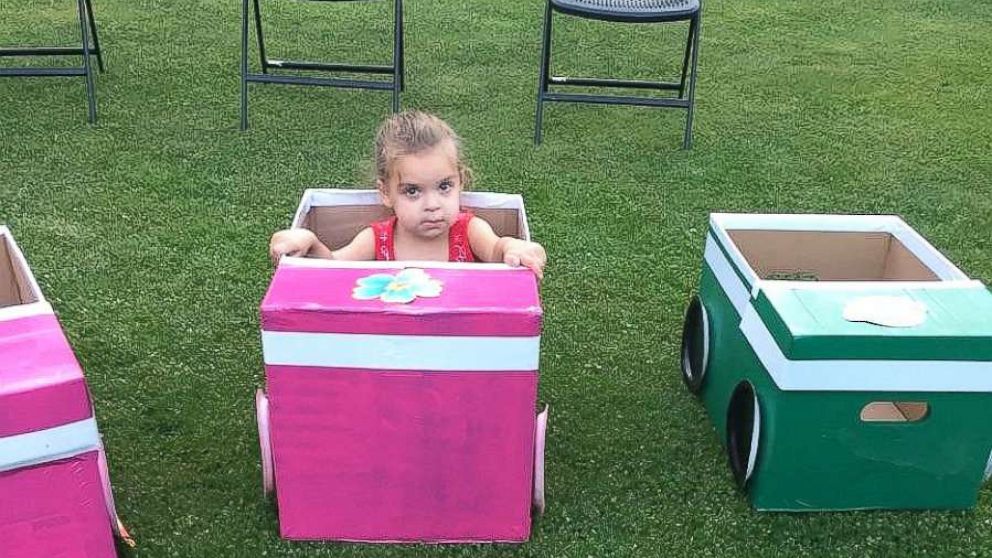 And it wasn't only the family's little ones who enjoyed the movie night.
"It's just so nice to be close to everyone and to be able to see them all the time. It just feels good," Jessie Woods, 18, said of her aunt's creative idea.
Pratt's sister-in-law, Sonja Woods, said she especially loves to see their family gather because it helps them honor her late mother.
"It's really, really nice because our mother passed away a year ago and her worst thing she worried about is that we were all going to drift apart," Sonja Woods told ABC News. "We do a sisters thing once a month and tons of things with the kids and grandkids, something that they're going to remember. Not too many people do things that kids remember a year down the road, let alone 10 years down the road. People are drifting away from that. We always try to get together because life's too short."