— -- Pay what you're paid.
That's the pricing model behind a new traveling pop-up shop called Less Than 100, which seeks to shine a light on wage inequality. The inaugural Pittsburgh outpost, launched by artist Elana Schlenker, has been charging men full price all month. But women paid just 76 percent of the price for all items, a number that reflects what the American Association of University Women (AAUW) reports is the average gender wage gap in Pennsylvania, where it says women on average earn 76 percent of what men earn.
"Clearly, 76 is really oversimplified, and when you look at profession, age or race, it's worse or better," said Schlenker of the shop's pricing system. "But this is something that we're discussing a lot in the store. Depending upon who you talk to, there are a lot of different opinions on what the impact of the wage gap can be."
A Pennsylvania native who splits her time between Pittsburgh and her artist's studio in Brooklyn, N.Y., Schlenker's inspiration for the shop was to create a space where the gender wage gap was tangible and could spark such dialogue.
"I was surprised by how many men who came in, who I thought might take issue with it, responded positively and by talking about the women in their lives who had supported them," Schlenker said. "[Their experiences] made them want to participate and support this project. So hearing those types of stories has been nice."
Items in the shop range in cost from $1 to $300, with a large number priced at less than $20. The stock includes original artworks and prints, ceramics, textiles, books and magazines, personal care products, packaged food and accessories.
But what all have in common is that they are produced by local female artists.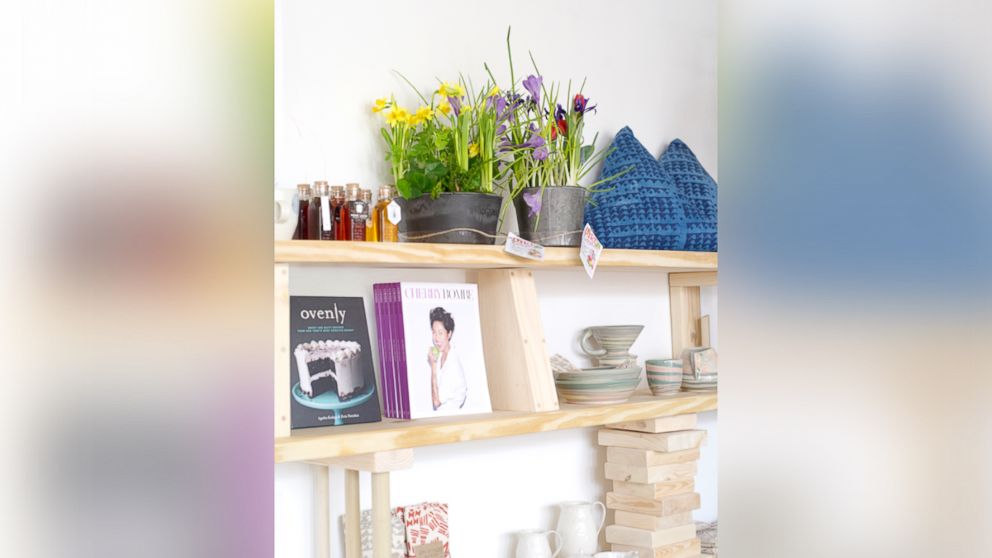 "It was really important that this be a positive space," said Schlenker, who added that the timing of the pop-up was meant to coincide with regional events that connected and empowered women. "We offered scale-building events, panels with small business owners, and I wanted to provide real tools and resources rather than just complaining that this is a problem and not really doing anything about it."
While the Less Than 100 Pittsburgh location will close its doors at the end of the month, a second installment is already in the works for New Orleans and expected to open in November.
The most recent report from AAUW analyzing U.S. Census Bureau statistics revealed a gap of 33 percent in the state of Louisiana, ranking it as the state with the widest wage gap in the nation. On average, women in Louisiana earn 66 cents to the dollar earned by male counterparts, according to the data.
"I'm very excited to be working with a partner in New Orleans, Tammy Mercure, a photographer based there," said Schlenker. "There've also been a lot of people reaching out to me to bring the shop to California next. But the state is actually one of the more progressive about wage equality. So most likely the next one after that will be in the Midwest or West."
While the national attention the shop has received thus far has inspired Schlenker to push forward with her project, it does have its detractors.
"No one has come into the shop and had an issue with paying 100 percent," said Schlenker. "But there's been tons of negative online stuff, comments and e-mails, some more serious than others. I see a lot of people saying, 'There is no wage gap.' But for the most part we've received positive feedback. It's been an amazing month."
For years, many have disputed the gender wage gap, arguing that the figures reported do not reflect many variables.
"The big pushback behind these numbers is that they are based on median earnings for full-time year-round workers," said Jessica Milli, senior research associate with the Institute for Women's Policy Research (IWPR), a think tank that analyzes public policy through a gendered lens. "They do not control for things like occupation, hours worked aside from full-time, education etc. The argument is that men and women are not the same -- men tend to work longer hours, have more work experience, work in higher-paying occupations etc. -- and so comparing their overall earnings is misleading."
But Milli stood behind the averages and expressed support for projects like the pop-up shop, saying that they have value.
"I think it's an inventive way to encourage further discussion of the gender wage gap and the implications that it has," she said. "The average woman will lose over $500,000 by the time she is 59 due to the wage gap. That's a big deal. You could buy a very comfortable home for that much. It could also mean the difference between retiring in poverty or being financially secure in your retirement."