— -- After he was rescued from a 12 x 12 barn stall where he had been kept for six years, this 7-year-old Great Pyrenees lost 35 pounds in fur.
The dog, Lazarus, had been under the care of owners who had terminal medical conditions that left them unable to care for him, his new foster-mom, Amanda Charsha-Lindsey, told ABC News. He ended up in the hands of a dog groomer who helped clean up the dog's matted and overgrown mounds of fur.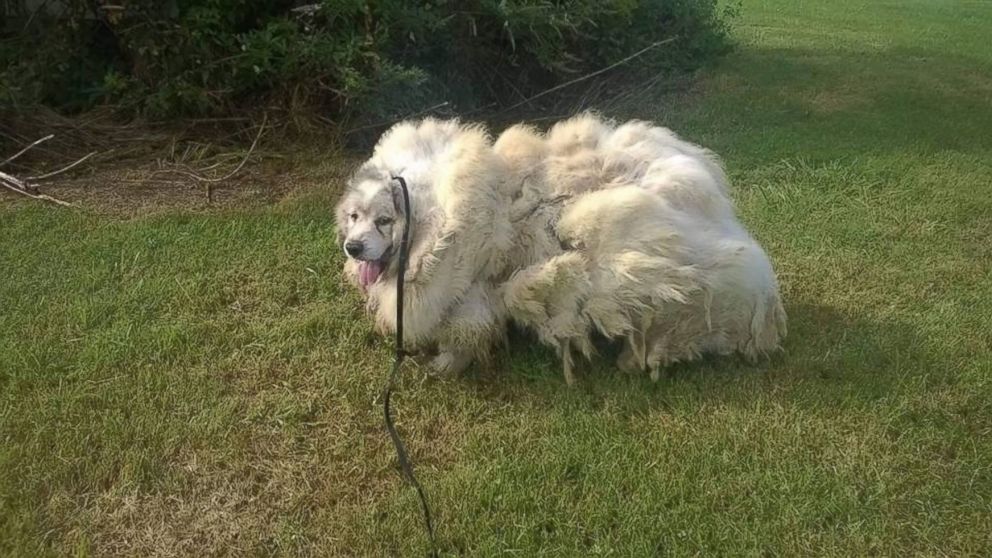 After he was shaved, Lazarus was 35 pounds lighter.
"Great Pyrenees have double coats and they're supposed to be able to move around and shed those hairs," Charsha-Lindsey said. "He was in a stall and not able to shed the hairs."
Lazarus is now living in Virginia with Charsha-Lindsey, who works with Big Fluffy Dog Rescue, a non-profit organization.
Charsha-Lindsey brought Lazarus into her home earlier this month and is now helping the dog regain his strength.
"We're having to rebuild his muscles back and get him to a normal gait and we will get him to a point where he can walk and run with some sort of ease," she said. "Right now he has to think about every step he takes."
"We're letting him move at his own pace," said Charsha-Lindsey, who estimates Lazarus now weighs around 60 pounds. "He stays mainly in the garage, but will go out and sniff grass."
Lazarus's condition prior to being shaved was described by Charsha-Lindsey as the worst case she's ever seen.
"He's getting more comfortable just being kind of naked," she said. "It was definitely new to him and he didn't know what to do."