— -- A Texas elementary school is showing their support for a beloved crossing guard after she was diagnosed with cancer.
Staff and students at the Rusk School in Houston have already raised $5,850 of their $10,000 goal on behalf of Sanjuana Torres, 59, who has worked at the school for 20 years.
"I was overwhelmed," Torres told ABC News Wednesday. "No one has ever done anything for me and I was happy. It's like our principal always said to me, 'Ms. Torres, we are your family we are going to take care of you.' They are my family."
Torres started working at Rusk in 1997. Since then, she has helped make sure all of the children safely reach their classrooms.
"I enjoy seeing the kids here and seeing their faces in the morning as well as in the afternoon," Torres said. "I watch over them and make sure they're OK."
All five of her own sons also attended the school.
Torres was diagnosed in March with uterine cancer and will undergo a hysterectomy today at Ben Taub Hospital in Houston, she said.
Senta Butler, the magnet school coordinator at Rusk, told ABC News that she created a GoFundMe page titled "Our Beloved Crossing Guard!" to help cover the cost of Torres' medical bills and living expenses while she's in recovery and out of work over the summer.
"When we found out about this, we just had to do something," Butler said. "She never lets it affect her. No one knew that it was something of a serious nature. She does so much for so many people around here and she touches everyone in a very special way."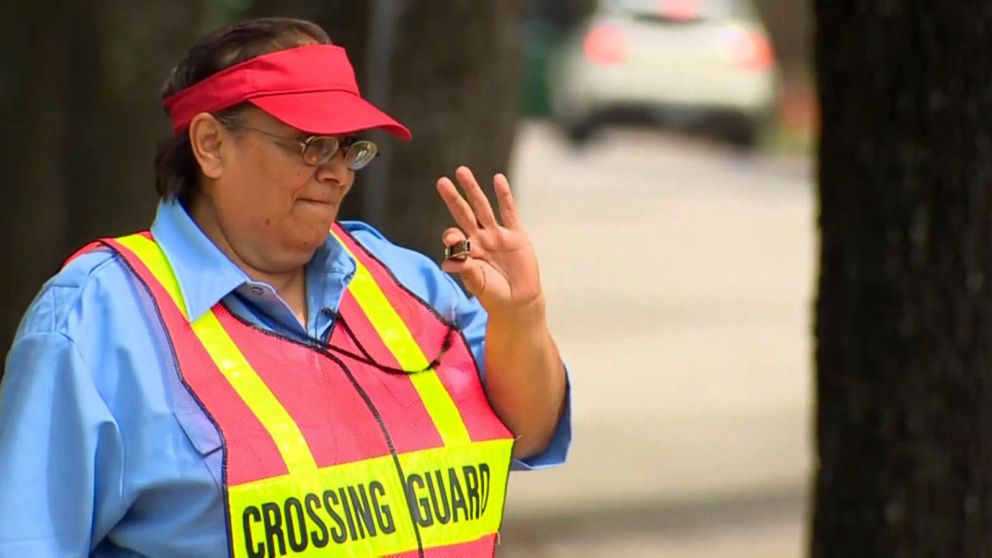 Butler said the students adore Torres and treasure mornings with her as she high fives them on their way into school.
Jayden, an 11-year-old sixth grader at Rusk, said he's known Torres since the third grade.
"She's cool, she's a nice lady," he added. "I hope she could get better and defeat whatever she has."
Eighth grader Valeria, 13, agreed.
"She's one of the most incredible ladies I've ever met," Valeria said. "She's practically family to us here at Rusk. I hope she can get past all of this and do all of the things she aspires to do."
Torres said her family will be by her side during her surgery on Thursday. She plans to return to work at the school she loves in August, she added.