Starbucks and Match.com are Hooking Up to Help Couples Connect Over Coffee
The two brands are teaming up to help couples connect over coffee.
January 29, 2015, 11:07 AM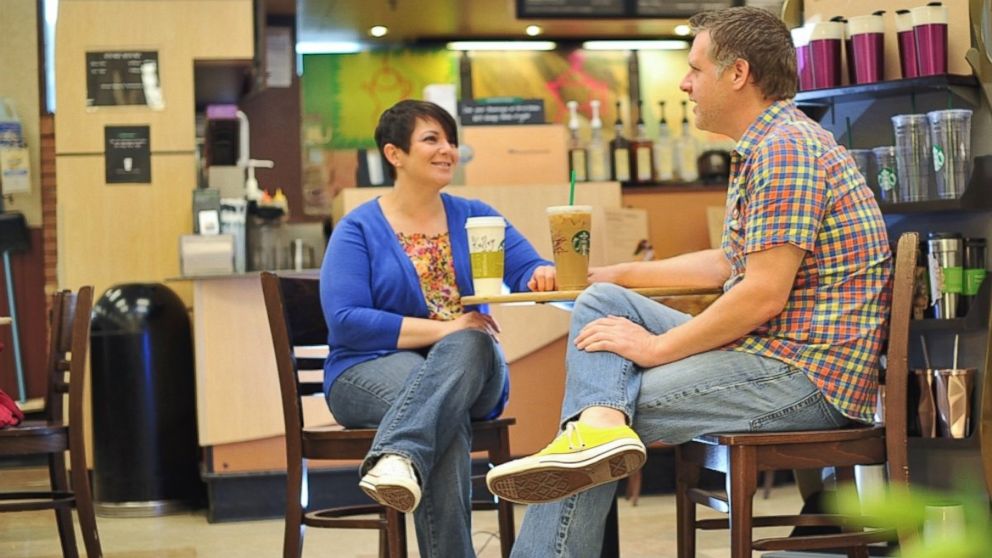 — -- It's a partnership that both brands think is a natural extension of what's already happening. Starbucks and Match.com are teaming up for the online dating site's first-ever branded product feature in conjunction with what they hope to be "the world's largest Starbucks date" on Feb. 13.
Match has already rolled out the product feature, called "Meet at Starbucks," which enables users to invite others for a cup of coffee at Starbucks and find the best mutual location with the click of a button.
"This has always been sort of the dream partnership for me and Match, because Starbucks is ubiquitous in people's lives. Dating is something pretty much every person does at some point in their life, and so is Starbucks," Match CEO Sam Yagan told ABC News.
Yagan himself has been personally involved in the deal, he said, because of his love for Starbucks.
"I go to Starbucks literally twice day I think -- I might be one of their best customers -- and I often overhear a Match date happening and I'll go introduce myself sometimes," he said.
It also makes business sense, though, with 30 percent of Match users listing "coffee & conversation" as an interest, making it the third most popular interest on the site.
"By far the most first [Match] dates happen at Starbucks than anywhere else," Yagan said, based on information culled from Match messages and survey data. "What we're doing here is enabling something that's already happening. People are already on Match and already going to Starbucks on first dates. About 10,000 people a day go on first dates from Match. ... We're trying to celebrate that, bring those success stories to the forefront and make it even easier in our product to meet up at Starbucks."
Yagan envisions the "Meet at Starbucks" product feature as taking the pressure off asking someone out.
"A lot of times people feel a little apprehensive about suggesting to actually meet in person. One of the reasons that can be hard is people think they have to propose something super novel," he explained. "But what's even better than novel is something safe, comfortable, easy, ubiquitous, aspirational, right environment, all those things. Now they can just hit the button and pick the one you want to go to."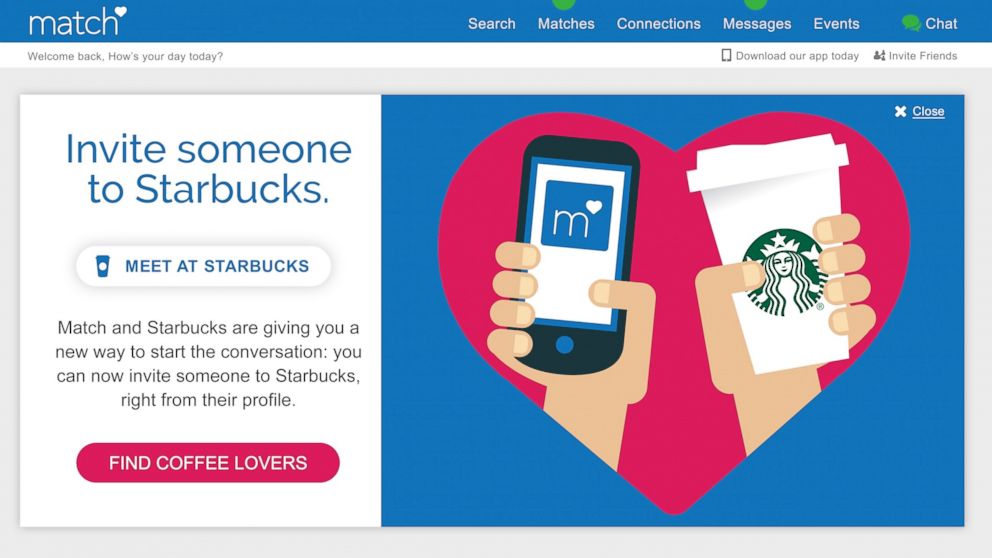 On Starbucks' end, the brand thought of the partnership as a way to celebrate what it already encourages: connection.
"For us at our core, coffee is really about that chance to inspire, nurture, encourage moments of connection when people get together face-to-face over a cup of coffee and really be able to chat, share and enjoy. This has always been central to our core," Starbucks global chief marketing officer Sharon Rothstein told ABC News. "We sought out natural partners, and the interesting thing is when you hear about Match, all they've done over the years is encouraged connection and getting people together. And then you take it obviously to Valentine's Day which is just around the corner."
The day before what is marketed as the most romantic day of the year, Starbucks will be hosting what it is calling "The World's Largest Starbucks Date" to introduce and promote the partnership. On Friday, Feb. 13, participating stores in the U.S. and Canada will feature a special pairings menu designed for two for $5. From 2 p.m. to close, dates (or anyone) can choose from a Caffé Verona Coffee Press for two and a double chocolate chunk brownie, tall flat white and chocolate croissant or grande raspberry mocha or grande white chocolate mocha and heart cookie. The stores will also be playing special in-store music playlists and offering photo props to encourage people to share a photo of their date online at the hashtag #StarbucksDate.
"Our hope out of the partnership is really first and foremost that as people think about their busy days, that we encourage them to take time out and do something to stop and have a moment. Truth be told, we care more about embracing that chance to come together than we do about the numbers," Rothstein said. "We are obviously engaged in all sorts of connections, whether it's you and an employee, you and your grandmother, you and your children or you on a date."
The hashtag has already been used hundreds of times naturally by people dating at Starbucks, and the brand has countless success stories of people meeting and finding love at the stores, such as Kenna Rusk and Ethan Knapp, Mikaela and Shane, Eric and Kelley Roundtree, Othy Schwering and Jana Rhodes and more.
"Between the weddings and 'where I mets,' these are just really great talk points for us as we launch the conversation about this," Rothstein said. "In the fall, one of the stories we did on social [media] was how did we meet, and we got lots and lots of customers to give us back their moments of connection there and tell us that story. This is the dialogue we want to continue to embrace with Match, and frankly make that part of our core in a more ongoing part of our conversation with people."