Stranded pets rescued amid Hurricane Harvey flooding in southeastern Texas
Animals are braving the storm with the help of shelters and good Samaritans.
August 28, 2017, 12:03 PM
— -- Humans aren't the only ones weathering the storm as Hurricane Harvey ravages Texas with "epic and catastrophic" flooding that has left thousands of people stranded.
Rescue efforts are also underway for pets and animals across the state, with many shelters and good Samaritans helping animals that are scared, hungry and alone.
Adam Brackman said he is trying to help rescue Cindi Simpson and her 90-year-old mother from their attic, along with Simpson's three dogs and three cats.
"I'm sitting on top of an attic with her. I'm bonding with her pets to get them to trust me so I can get them down," Brackman, the owner of Axelrad Beer Garden in Houston, told ABC News.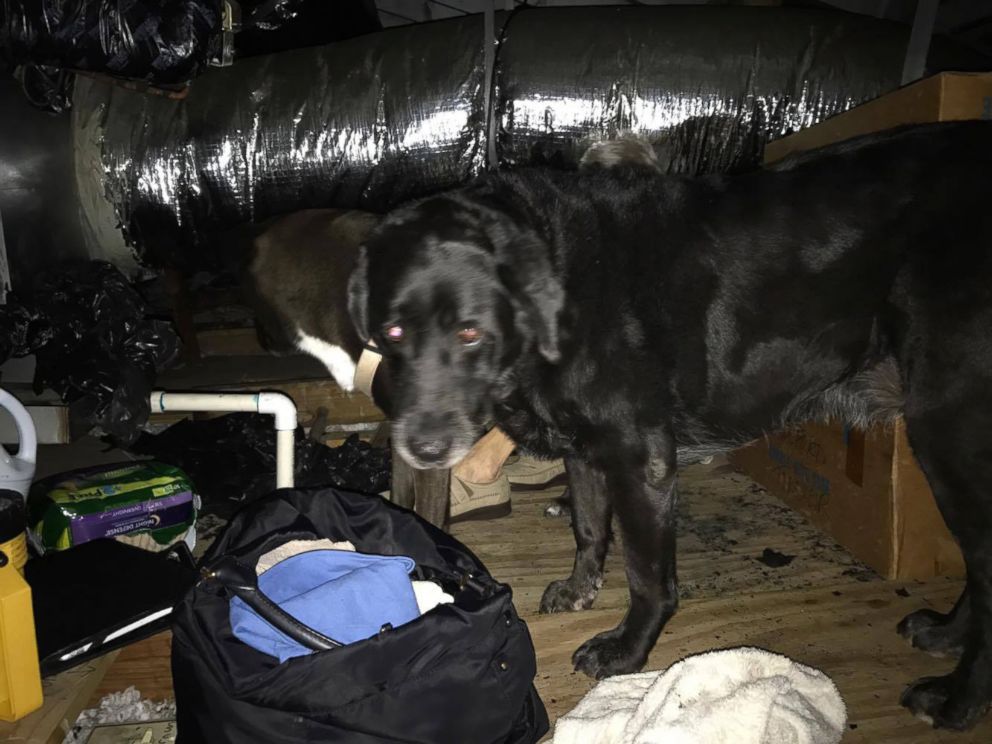 Simpson said she and her mother, who suffers from Alzheimer's disease and is fighting cancer, have been trapped in their attic since 6 a.m. Sunday. They climbed into the attic with their pets to escape four feet of water in their house.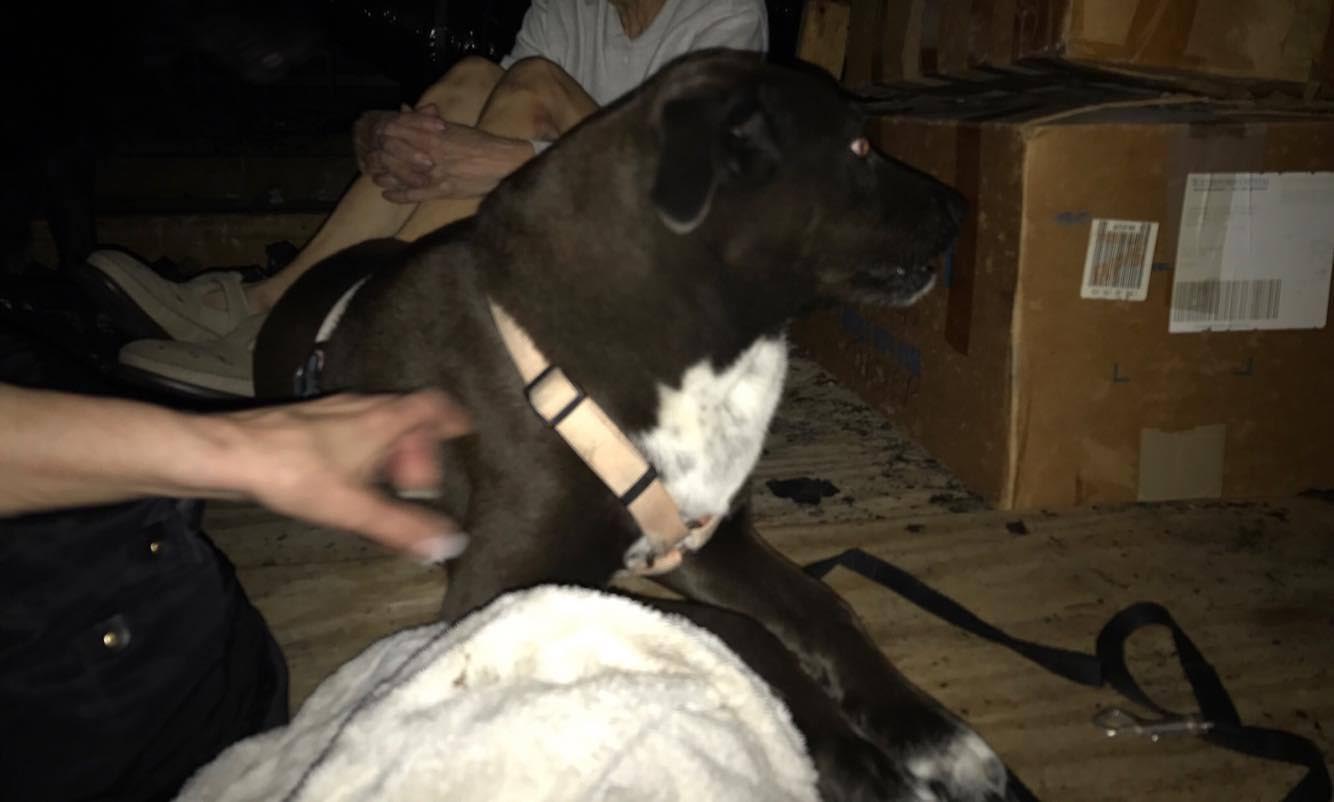 Brackman is an animal lover and is thrilled he's been able to help so many people and their pets escape the floodwaters.
"Everybody has pets. They're our fur babies," he said. "Everyone I talked to wants to hold on to them."
He said he's heard from several people he rescued that the George R. Brown Convention Center now has a designated area for pets.
Prior to meeting Simpson, Brackman helped rescue a family, including their young children and dog named Ralph, from their flooded house in Houston. In a video of the rescue, the family is helped into the boat one by one, including Ralph.
"See you later, house!" the little girl named Kate said as they pulled away in Brackman's boat.
Once Texas begins recovering from the storm, Brackman said he wants to hold a fundraiser for hurricane victims at his beer garden.
In this heart wrenching video, cats were rescued from a Houston-area home as citizens across Texas step in to assist emergency crews.
Austin Pets Alive, an animal shelter and no-kill pet advocacy group, said it has transported hundreds of pets in the path of Hurricane Harvey to its shelter. The group has created a page on its website specific to Hurricane Harvey-related needs.
"Currently, our numbers have increased to 330 animals (169 dogs, 122 cats, and 40 more confirmed pets en route.)," Austin Pets Alive wrote to ABC News. "Within the next 24 hours,those numbers are expected to increase by 50 to 110 animals, depending on how navigable some roads are. Our current projection is that we will have evacuated around 1,000 animals to Austin Pets Alive! by the end of the week."
An image of a German shepherd mix named Otis has also been shared on social media, some calling it another symbol of Texan resiliency. In the photo, Otis walks through rainy streets carrying an entire bag of dog food with him.
"I was headed into Sinton to check damage to properties of friends and family and, as I was driving down the street, I saw people out cleaning up stuff in yards and I look over and see Otis carrying his dog food down the street," Tiele Dockens, who took the photo, told ABC News. "I posted the photo because we live in a small town where everyone knows everyone and, sure enough, he belonged to my friend's parents."
His owners said he got loose from his screened-in porch during the storm, but he has now been reunited with them.
"Otis made it back to his parents with food in mouth," Dockens said.
Pet evacuations after Hurricane Katrina:
Despite the awful conditions these pets are enduring as flooding continues across southeast Texas, the rescue efforts and shelter options for animals are much more robust than they were in 2005 during Hurricane Katrina.
The CEO of the Louisiana SPCA, Ana Zorrilla, said there has been "huge progress" for animals since Katrina ravaged New Orleans.
"There was no legislation on the state or federal level for the protection of pets. Now FEMA has very specific guidelines including pets in evacuation plans and response plans," Zorrilla told ABC News. "There's been a lot of work done to ensure Katrina doesn't happen again."
During Katrina, she said so many people risked and lost their lives because they were not willing to evacuate without their pets. A detailed description on the Louisiana SPCA's website says an estimated 259,400 families owned pets in New Orleans before Katrina, and because there was no formal evacuation plan for those needing assistance with pets, as many as 104,000 pets were left behind to weather the storm.
The website says that 44 percent of percent of people did not evacuate for Katrina because they refused to leave their pets behind.
"A lot of work has been done to change those circumstances," said Zorrilla.
The Louisiana SPCA helped pass the Pet Evacuation Bill through Congress in 2006, which now requires governments on all levels to include companion animals in their evacuation plans.
"One big change moving forward is that animal rescuers are included with human rescue teams," she explained. "When they go in as the floodwaters are rising, rescuers are there to take the people in addition to the animals."
The positive impact of people remaining with their pets during these stressful situations is "huge" and "quite literally saves lives," Zorrilla said.
Zorrilla recommended these tips to be proactive in protecting pets in future storms:
Make sure pets are up to date on their vaccinations.
"Especially their rabies vaccination," said Zorrilla. "They are required to have rabies vaccines at any shelters."
Get pets comfortable with their crate.
"Give them treats and toys to make the crate a very special place to get into," she said. "If they are used to going into into it, it makes it a lot easier for rescuers to place them inside when the emergency occurs."
Owners should also microchip pets and update their information.
"Keep your information current," said Zorrilla. "Sometimes people don't have their information current and it's five years old and there is no alternative cell phone number to call. Knowing they have an owner, but having no way to contact them does them no good."
Have a destination that is pet friendly in case of evacuation.
"There are great websites that have pet friendly hotels," she said. "And if hotels say they do not allow pets, if you call and have a conversation with them and have a crate for the pet, sometimes they'll waive those rules. Having a game plan in place is key."
Take a look at these photos of harrowing pet rescues from Hurricane Harvey: