— -- A pint-sized kitten named Eyona has been dubbed a "werewolf cat" after it was discovered by an animal rescue group in South Africa.
Eyona, who's believed to be a rare breed, was found in March along with his five siblings by TEARS Animal Rescue's Feral Cat Project. But Eyona had very different characteristics from his brothers and sisters.
Because of Eyona's outward appearance, the rescue group thought he may be a Devon Rex, or a Sphinx cat, but DNA tests ruled this out.
Skeptical of Eyona's identity, Mandy Store, the feline expert at TEARS, contacted Dr. Johnny Gobble, a veterinarian from Sweetwater, Tennessee, whose wife, Brittney, established the Lykoi as a breed.
Gobble confirmed to the rescue group that Eyona was a rare Lykoi -- a natural mutation of the domestic shorthair that resembles a werewolf.
"From the photos and the descriptions I have received, I think Eyona is a natural occurring Lykoi," Gobble told ABC News in an email. "All the Lykoi that started the breed occurred naturally. They came from shelters, off the streets, and rescues. That is why we call them the second chance breed. We have no genetic test for the Lykoi gene yet, but we have a genetic group working on it. So, the only way we can confirm a Lykoi is with a test breeding. But Eyona has the characteristics of the Lykoi."
A colleague of Gobble's visited the rescue and confirmed that Eyona was indeed a Lykoi after a physical examination was conducted. (There is no DNA test available to confirm that he is a Lykoi).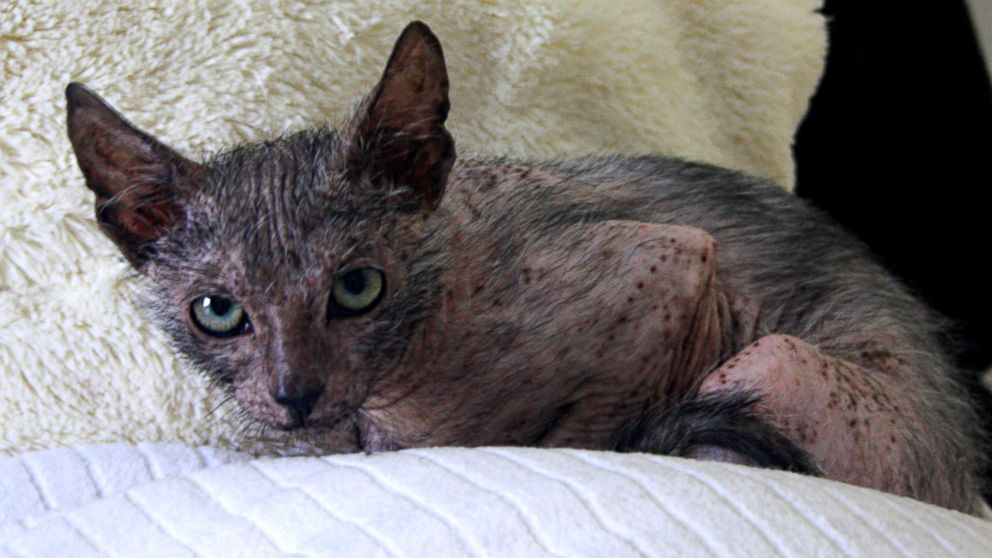 Gobble and his wife were the first Lyoki first breeders in the world.
Since 2011, there have been 34 reported, natural mutations of the Lykoi from around the world. "The TEARS' Lykoi is the 35th," Gobble said.
The adoption fee for a Lykoi kitten can cost $1,950, according to the Gobbles' website.
Being that he's a Lykoi, Eyona could be sold at a high price, but instead, the volunteers at the rescue are focused on giving him a loving home.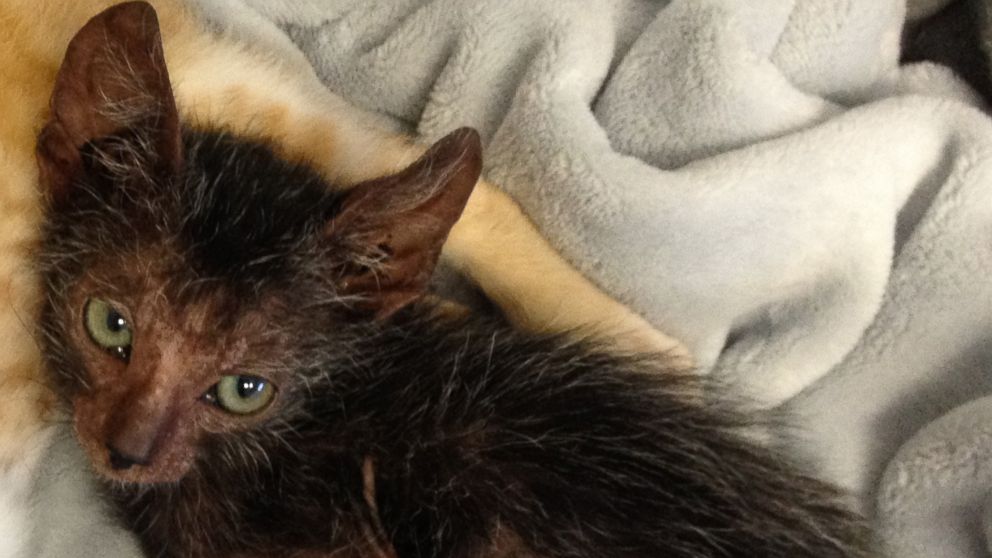 "Eyona is living in the home of one of TEARS' most trusted feral cat experts," a spokesperson at the rescue told ABC News. "He has lots of other cats for company and is developing at his own pace. Just last week he began to sleep on the bed and his favorite toy is a large, soft, toy spider."
Gobble said Lykoi cats have strong immune systems and make great pets.
"They tend to play and act more like a dog than other cats do," Gobble said. "We even have seen them fetch and do tricks...they are independent cats that love attention from their people."