June 16, 2014 -- Just like there's a song of the summer, there's a food trend of the season, too, and this year's appears to be the ice cream sandwich. Popping up in innovative iterations across the country, the nostalgic dessert is the perfect portable snack to cool off with during the warmer months.
"It's a union of all delicious desserts –- cookies and ice cream –- and now it's expanding beyond just the cookie world," said chef Anna Gordon, founder of The Good Batch.
Gordon started selling ice cream sandwiches four years ago at New York City's Smorgasburg, a popular outdoor food market. The Good Batch quickly captured people's attention for mixing and matching cookie flavors with your choice of ice cream.
Now, creative chefs across the country are taking it one step further and making ice cream sandwiches with churros and waffles as the bun.
Churro Borough in Los Angeles creates a flat churro dough spiral as the bun and fills them with Latin-leaning flavors like horchata, Mexican chocolate and Spanish latte.
Waffles in Chicago lets you pick your waffle flavor from flavors like red velvet, chocolate, pumpkin and more, and customizes ice cream to fit flavors like bananas foster, blending vanilla ice cream with vanilla liqueur and caramelized bananas before filling it into the warm waffle.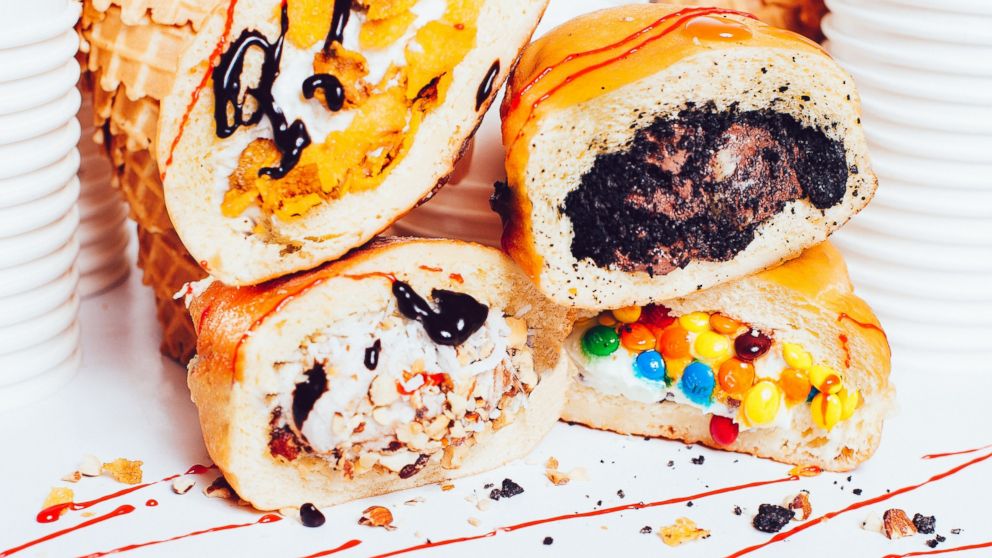 Though ice cream sandwiches are normally cool, chefs are heating things up by serving them in warm buns. Afters Ice Cream in Los Angeles sells the milky bun, filling a sweet donut with the ice cream of your choice and sealing it all together in a warm press.
"Ice cream sandwiches are a tried and true classic that's just being remade over and over," Afters Ice Cream co-owner Scott Nghiem said. "I think ice cream and any delivery system you can get for it is the new rage right now. It's just a full life-cycle like fashion. Today's day and age and the youth culture and innovation in the kitchen is allowing for new contraptions to come about."
Since starting to make milky buns in February, Afters has sold nearly 100,000 sandwiches.
"People are always excited for new creations, especially when they merge several different existing desserts. You can see that with Dominique Ansel and the cronut," Gordon said. "Ice cream in the summer is a no-brainer. This was bound to happen."
The good thing about ice cream sandwiches –- as opposed to the cronut -– is that they are easily made at home. To make the best version possible, follow these tips from Gordon: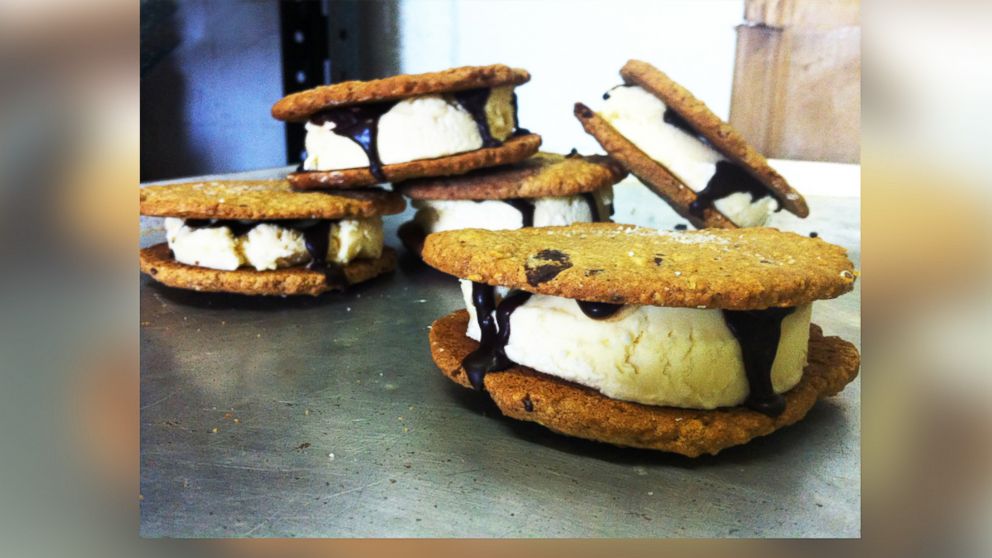 Purposefully overbake: Take your favorite cookie recipe and flatten it down before you bake it so you get a nice even surface to work with. Then, you can overbake it, which helps keep it crispy when it's frozen.
Mix and match: Try adding a third element, not just ice cream and cookie, like something crunchy, like nuts or candy, for texture, or a sauce like caramel or fudge to act like a glue.
Play copycat: Think of some of your favorite desserts, like s'mores or tiramisu, and try to recreate those flavors. For s'mores, take a graham cracker cookie, vanilla ice cream, chocolate sauce and toasted marshmallows. For tiramisu, use a soft cookie like a ladyfinger, make a mascarpone cream with some sugar and stuff it with coffee ice cream and chocolate sauce.
Know your audience: If you're making a sandwich just for yourself, it's easy enough to scoop straight onto a cookie or your bun of choice. But if you're making for a crowd, pre-cool the cookies and ice cream disks, and then cool after assembling so people have an easy portable package and don't have to rush to eat the sandwich before it melts.