— -- When Brady Lucas was diagnosed with cancer as a child, his family didn't have to pay for any of his medical costs, thanks to a charity that helps families of pediatric cancer patients at Penn State Hershey Children's Hospital, where he was treated.
Now a 19-year-old sophomore at Penn State, Lucas wants to help other children who are battling cancer.
"Ever since I was eight, I wanted to attend Penn State right away because it's the university that saved my life," Lucas told ABC News.
Lucas, along with his fraternity Phi Kappa Sigma, participated in THON, the school's year-long campaign that culminated in a 46-hour dance marathon, which ended Sunday. THON gives millions of dollars to Four Diamonds, a charitable organization that pays for treatment costs not covered by insurance for pediatric cancer patients at Penn State Hershey, in Hershey, Pennsylvania.
Lucas was one of 15,000 students who volunteered for THON and his fraternity was one of 430 student organizations participating in the dance marathon.
Phi Kappa Sigma was also the same fraternity that "adopted" Lucas' family in 2011, as part of the Four Diamonds program, offering them emotional support while he recovered after being diagnosed with Acute Lymphoblastic Leukemia.
Four Diamonds was also the organization that paid for Lucas' medical costs that weren't covered by his insurance.
"It was an amazing experience because when I was in the hospital [the fraternity members] would find me, or my dad would text them right away, and they would all just text me and Snapchat me and tweet me and say, 'You're good Brady. You'll get better. We're all thinking about you,'" he recalled. "It was more of emotional support for me."
Lucas has now been in remission for five years. He was happy to be on the dance floor for the second year in a row, not only representing his fraternity, which he joined in 2014, becoming its fundraising chair, but also as a THON featured speaker, encouraging other participants to keep dancing.
THON captain Graceanne Domino told ABC News that Lucas was "one of the most energized dancers" during the danceathon.
"Brady just has the most grateful personality. I think that's the best way to put it," the senior public relations major continued. "There's been many Four Diamond kids who have continued to be involved past their treatment, but Brady is just incredibly grateful. You don't have to talk with him for too long to sense that he just pours his heart and soul back into the Penn State community."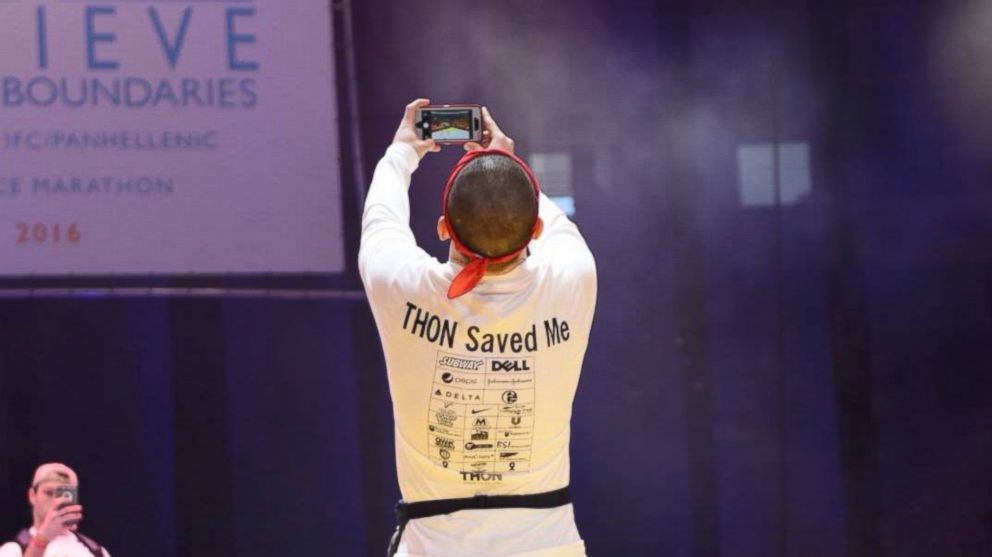 Lucas, who was on the dance floor when he spoke with ABC News Saturday, said he hadn't been able to sit or sleep since THON started.
"I have no idea what time it is or when it is," the teen said. "One of the students turned my phone time to military time so I don't have an exact idea."
Lucas said he stayed motivated to dance because of the children at Penn State Hershey Children's Hospital.
"It's more cool for me to be able to stand for all the children that unfortunately can't have the opportunity to stand or who are fighting every single day to just live their lives," Lucas told ABC News. "I hope that one day every single child can grow up and attend a university or college, and their parents can see them graduate high school -- the little milestones that we often don't think about."
In 2014, THON raised more than $13 million to help children battle cancer. There's no word on how much the campaign raised this year.
Lucas said, "No matter the total, hopefully it shows we care about a disease that hopefully won't be there...because we'll find a cure."