Texas Mom Shares One-of-a-Kind PTA Fundraising Letter
The letter asked for money instead of actions.
August 28, 2015, 10:40 AM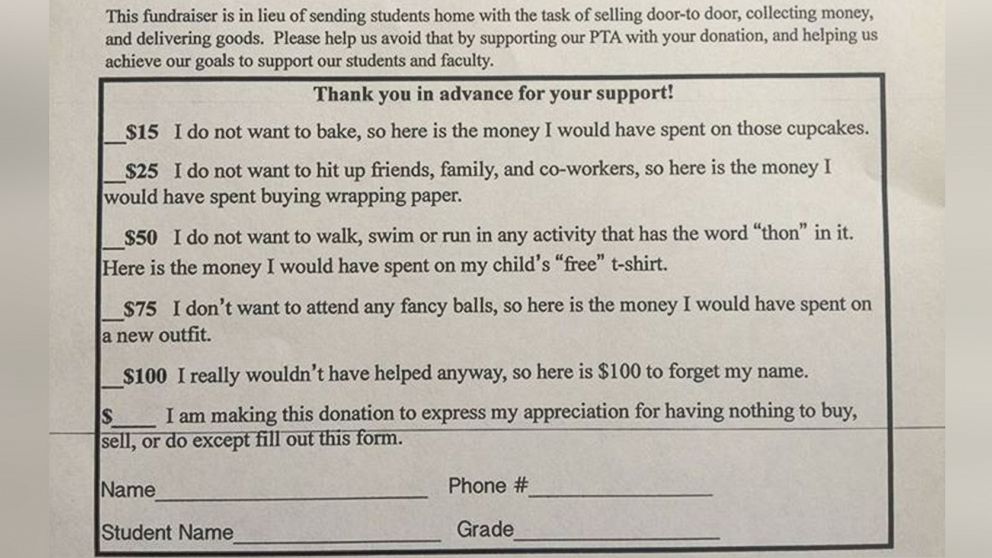 — -- A Texas middle school's unique, hands-off approach to fundraising has gone viral after the fundraising form was shared by a mom on Facebook.
Dee Wise Heinz says her 12-year-old daughter brought the letter home Tuesday, her second day as a 7th-grade student at a Dallas-area middle school.
"My first thought was, 'A fundraiser already?'" Heinz, a mother of three, told ABC News. "But after reading it, my husband and I got such a chuckle out of it and we thought it was so refreshing."
The fundraising letter cheekily asks for straight monetary donations instead of asking parents to engage in the traditional school fundraisers like bake sales, galas and walk-a-thons.
"I do not want to hit up friends, family, and co-workers, so here is the money I would have spent buying wrapping paper," the $25 donation option reads.
"I really wouldn't have helped anyway, so here is $100 to forget my name," reads the $100 option.
The last option on the letter was left open for a write-in donation of any amount.
"I am making this donation to express my appreciation for having nothing to buy, sell or do except fill out this form," it reads.
Heinz says her family is new to the school district this year but that, with three kids in school, they saw it as a "good option."
"We liked the idea that 100 percent of proceeds go to the school," she said. "We have been run to the ground with fundraisers so this is a good option for us."
Heinz posted a copy of the letter, with the school name blurred out, on her Facebook page Tuesday, thinking her circle of friends would get "a chuckle" out of it, too.
The letter has so far been shared more than 164,000 times, surprising Heinz most of all.
"I just shared it with my friends … because most parents can relate to it," Heinz said. "When it started to go viral, I called the PTA person and she explained that they'd done this for two or three years and it was a big success."
Heinz says she believes fundraisers serve a "valuable purpose," but just thought the letter was a fresh and funny approach to raising money for schools.
"There have been a few critics saying if you do this, you don't have an interest in supporting your child," Heinz said. "That's not the case."
"I don't want to diminish the value of fundraisers, but time is a valuable resource also, so I appreciated having the option," she said. "With three kids, there's never just one fundraiser and they're never just that simple, so it does take a lot more time than you realize."