Texas Woman's Riveting Escape From Amish Life, In her Own Words
Emma Gingerich left her Amish family for a life in the English world.
— -- Emma Gingerich said the past nine years have been the happiest she's been in her entire life. That's all because, she said, she's committed to her dream of abandoning her Amish community, where she felt she didn't belong, to pursue a college degree.
"I didn't fit in," Gingerich of Texas told ABC News. "Other girls my age were a lot happier than me. For Amish women, they're very secluded and always kept in the dark."
Gingerich, now 27, grew up one of 14 children in the small town of Eagleville, Missouri, where her parents sold produce and handmade woven baskets to passerby.
Living as Amish, Gingerich said she made her own clothes and was forbidden to use any electricity, battery-operated equipment or running water. The children rarely played and their only form of transportation, she said, was a horse and buggy.
"My family was very strict," she said. "They believed in old traditions that were made up years ago. There's just no breaking the rules anywhere."
Besides living without modern amenities, Gingerich said there were things about the Amish lifestyle that somewhat frightened her, such as one evening that sticks out in her mind from when she was 16 years old.
"I don't like the way the Amish people date, period," she said. "One day, my family members set me up with somebody they thought I'd be a good fit with. They bought him to my parents' house on a Saturday night and they brought him upstairs to my room. You're supposed to wake up and talk to the guy.
"In your room, stay overnight, in your bed. But they condemn you if you do anything romantically before marriage," Gingerich added. "I was absolutely horrified. I don't see how people can fall in love like that. To me, that's just wrong."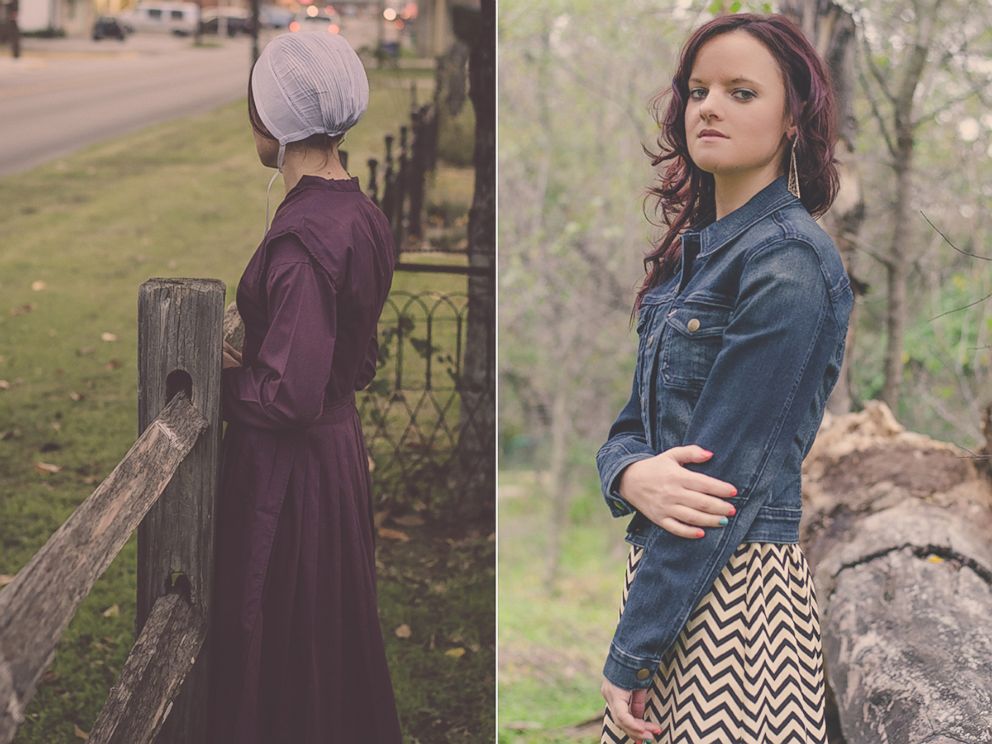 While cleaning houses in the neighborhood, Gingerich said it was then she realized that non-Amish people lived a lifestyle that very much differed from her own.
"I was actually pretty happy in the Amish community until I was done with school, which was eighth grade," she added. "I was 14 years old. This meant I had to work and I realized there was so much more out there for me."
When she was 18, Gingerich said, a local non-Amish couple arranged for her to leave Missouri. With only the clothes on her back, and speaking very little English, she ran away from Eagleville -- leaving a note for her parents, telling them she no longer wanted to be Amish. While she's been back to visit, Gingerich is now shunned by the locals and continues to feel the lack of her support from her family, especially her father who she said, has still not forgiven her for fleeing the Amish world.
Gingerich is now settled in Texas, where she has a job, an apartment, a driver's license, and now, is pursuing her MBA -- an accomplishment that she said, would've never happened had she remained Amish.
"If would've stayed Amish just a little bit longer I would've gotten married and had four or five kids by now," Gingerich said. "That is just not me. I can't even imagine myself being married to an Amish guy."
As she's acclimated to living in the English world, Gingerich said she dresses up, goes on dates, uses technology, and takes advantage of all life has to offer.
"I enjoy going to concerts, hiking, camping, trying out new restaurants, watching movies, and traveling," she said. It's hard for me to say that I'm proud but I'm very humble about what I've done. It's not easy, I've been through so much, but there was never a time when I wanted to go back."
Gingerich has authored a book detailing her experience titled Runaway Amish Girl: The Great Escape.
Since its release, she said she's been contacted by girls all over the country looking to leave the Amish world behind.
"I try to give them advice and encourage them to do better for themselves," Gingerich said. "When you're happy with your own life, then you're able to go out and bless somebody else as well. It's just a great feeling to be able to do that."