Woman Hires Her Own Impersonator to Attend Friend's Birthday Party
Creative Oakland woman gets big laughs for sending actress to friend's fete.
February 27, 2015, 2:30 PM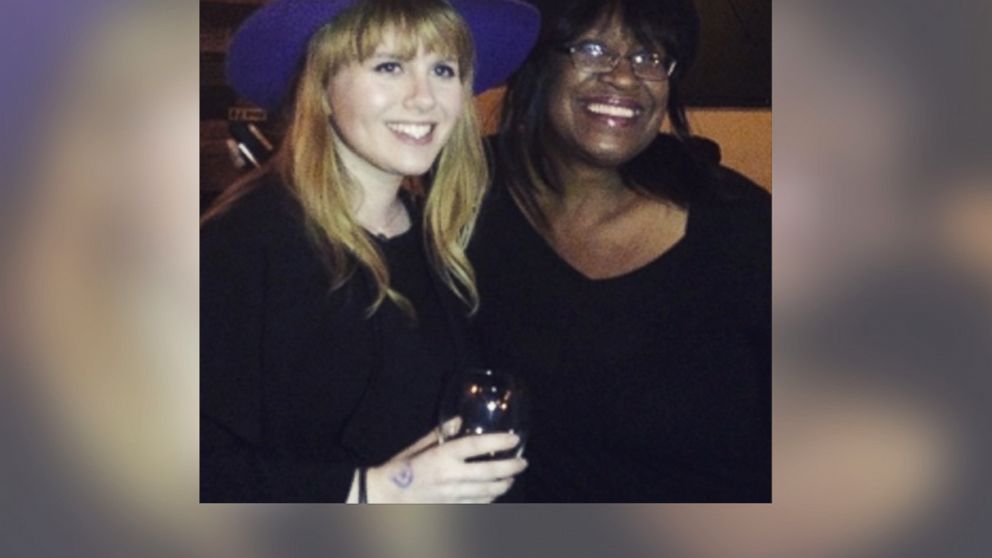 — -- When faced with a last-minute invitation to a far away friend's birthday party, most of us would choose to send a text with our regrets or possibly a gift in absentia. But one creative Californian came up with a much funnier gambit.
She hired another woman to impersonate her at the fete.
Using the errand-outsourcing platform TaskRabbit, Marissa Rosado of Oakland posted an ad looking for a Los Angeles-based actor to appear at her friend Holly Langley's birthday. The search led her to DaVette See, a theater graduate 15 years senior and a completely different ethnicity from Rosado, who was totally committed to the humorous stunt.
"Holly's boyfriend hit me up a week before the party asking if there was any chance I could make it down to L.A., and it was too short notice to get an affordable flight and my boyfriend and I had made plans for the weekend," Rosado told ABC News.
"Then I thought, 'What if I send someone in my place? What if I make this person say they're me and they know all my friends and our history? Wouldn't that be hilarious?' They didn't have to look like me, I even said it would be funnier if it were a man."
Together, Rosado and See began crafting their plan online via e-mail.
"I gave DaVette a thorough dossier on me, Holly and our friends to make her as prepared as possible," said Rosado. "And I did tell her one really embarrassing Marissa-and-Holly story that I think only me and Holly know about."
For her part, DaVette began tearing apart her wardrobe searching for clothing that would be similar to what Rosado would wear.
"I actually didn't think I would ever use my acting skills on TaskRabbit, so this was great," said See. "I went through my closet and found the kind of shoes she would wear and went by the pictures on her Facebook page to style my hair."
On the day of the big event, See even downloaded photos of Beagles to her smartphone -- a favorite of Langley's -- as well as an old image of Langley and Rosado together in which See's face had been poorly photo-shopped over Rosado's body.
"When I arrived, I told Holly that my boyfriend had been working on a teleportation machine and I decided to try it out so I could come to the party," recalled See. "I said, "I think it may have changed my appearance a little but I was happy I could make it."
Langley and other friends at the party ate up the performance.
"[See] started talking as if she was Marissa and sharing details from the Halloween I had spent with Marissa two years ago," said Langley. "DaVette did such an incredible job of casually introducing her knowledge of all of my friends that I couldn't really figure out what was going on!
"Once people started to figure out that Marissa had hired her we were all dying! Only Marissa could think up something so original and execute it so well," she continued. "We were also super impressed with the amount of effort DaVette put in to learning about all of us."
Meanwhile, Rosado began receiving a flood of text messages from her friends, saying, "You are crazy and I love you. Thank you for teleporting," and "This is the best. I love you and I hate you because I cannot top this present."
"Marissa is the rainbow-infused space unicorn of our friend group," said Langley of her friend. "She's got the most creative sense of humor while being one of the most sincere, attentive people I've ever met. I can confidently say she is one of a kind, but I wish there were more Marissa Rosado's in the world."
She also had high praise for See's impersonation.
"Getting to thank DaVette and learn her real name when she was ready to leave [was the best part of the evening]," said Langley. "I don't know what her arrangement was with Marissa, but I am sure she went above and beyond it to really pull this off... She is truly a special woman and I feel honored to have shared my evening with her."