— -- They say good things come to those who wait, and bride Nakita Brown can certainly attest to that.
She and Rymario Armstrong, a Marine veteran, had been engaged for three years before they finally tied the knot in a beautiful wedding ceremony in Beaufort, South Carolina, on July 4. The catch? The entire thing was a complete surprise for her groom.
"I was actually calm. I thought I'd be nervous and crying, but I was ready for it to happen and to marry him," Brown, 30, told ABC News of the long-delayed nuptials.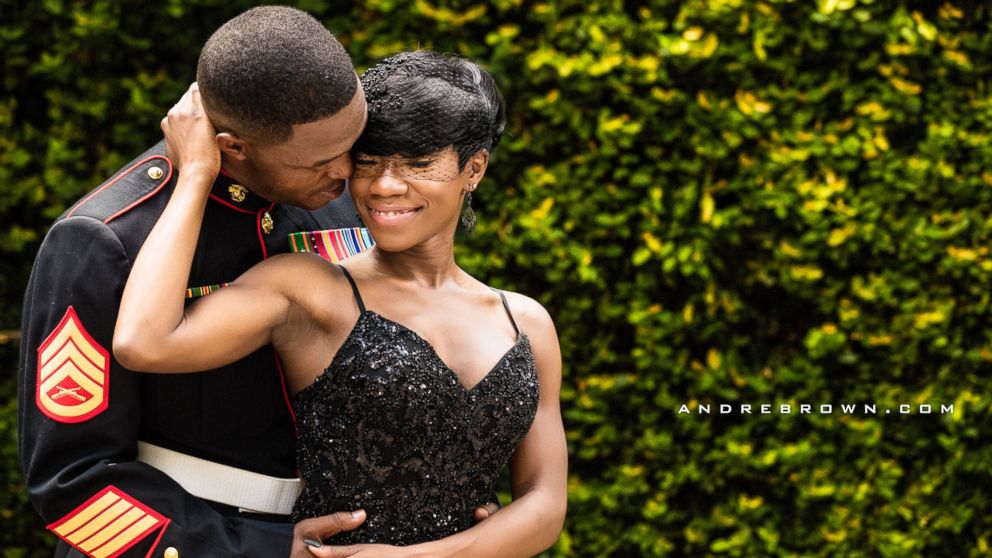 Armstrong, 36, proposed to Brown on her birthday, April 15, three years ago. The happy couple originally wanted to get married on a cruise but the high cost of having their parents attend the ceremony on the boat deterred that plan. Then they decided they'd settle on a nice and easy courthouse ceremony, but as soon as Brown started shopping for the understated dress she'd wear, she had a change of heart.
"I was looking for my dress and wanted something simple, but then I found this gown," she said, recalling the stunning full-length trumpeted black gown. "So then I knew I wanted more than that. I thought, 'I want to do a surprise wedding.'"
The first person she called to help her coordinate the massive undertaking was her brother, photographer Andre Brown.
"It was crazy," Andre Brown said. "She wanted to do it on her birthday which is April 15, and the day he proposed to her three years ago, but I was booked for a wedding and so was my videographer so she moved it up to April 8, but then he got orders to deploy. So we pushed it back to Memorial Day weekend, May 28. But then his return home from deployment got delayed. He didn't come back for another week. It was a lot going on. It was a lot of planning."
With multiple plans for the wedding ceremony getting foiled, Nakita Brown started getting discouraged, worried her fiancé would catch on.
"After a while it stopped being fun, having to continuously call people who were out of town to change the date. But they understood," she said.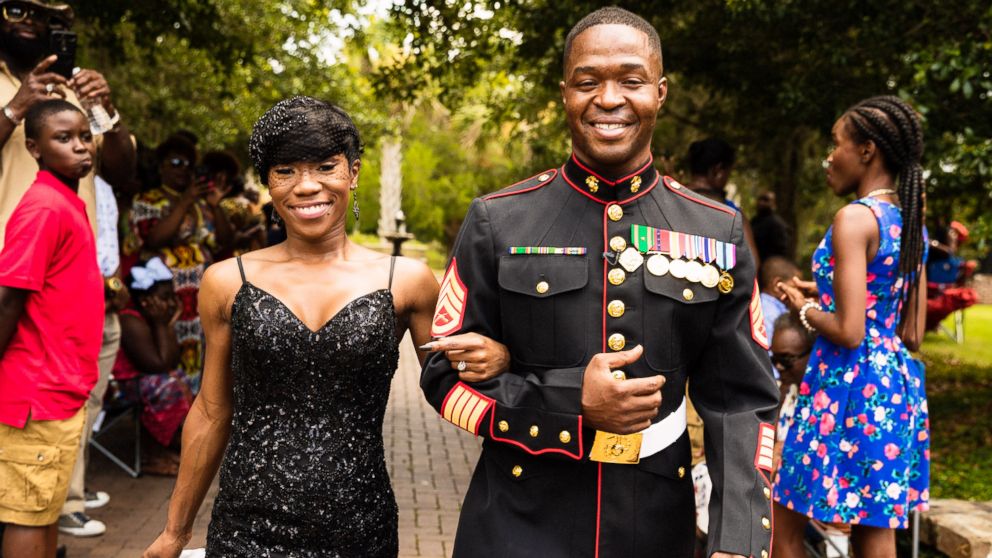 The bride had thought of every single detail, even getting Armstrong to write his own vows while he was overseas, but just needed a date to tie the knot to finally work out.
"I sent him a little book to write his vows while he was away," said Nakita Brown. "I told him, 'We're getting married somebody so go ahead and write your vows in this book while you have time alone to reflect."
It wasn't until Armstrong retired from the military on June 30 that the two lovebirds were able to become husband and wife. A big retirement party with all their closest family and friends was the perfect excuse to get Armstrong into his Marine dress blues, with the bride's brother there to shoot photos and videos of the special occasion.
"She took the uniform and put it in a box with a blindfold and a card with a note inside," said Andre Brown. "I had my nephews come and bring the box in to present him with it. He opened it up and saw the note and from there we proceeded doing the video. We were going to go down to the park to do photos, and she wanted him to put on this blindfold because apparently they have this thing whenever they're going places like the military ball, she doesn't like him to see what she's wearing until the time."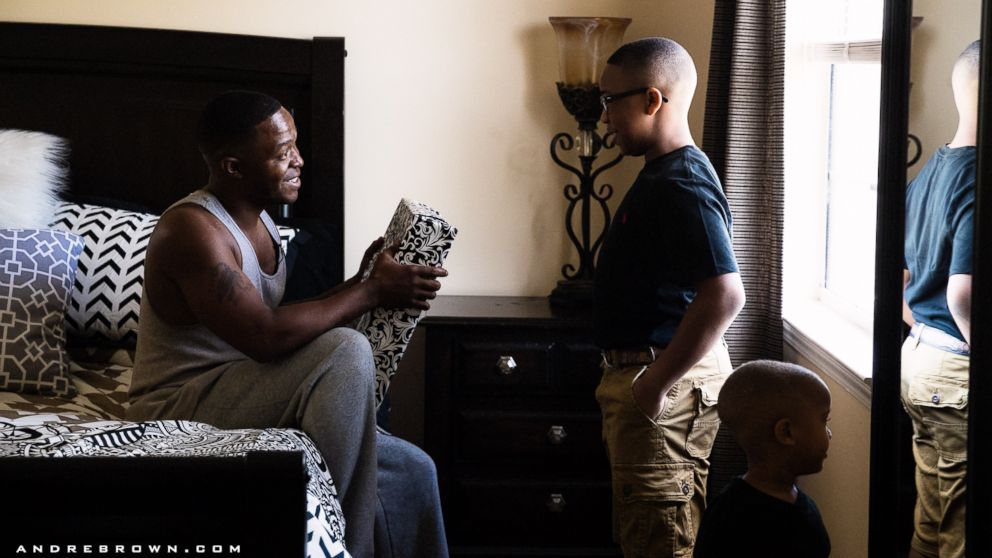 At long last, everything was perfect.
As an unassuming Armstrong stood underneath South Carolina's iconic Palmetto trees in the scorching July heat, he saw his bride turn the corner and begin walking toward him arm-in-arm with her father.
"I was just lost for words," Armstrong recalled of seeing his beautiful soon-to-be wife. "My heart stopped for a moment."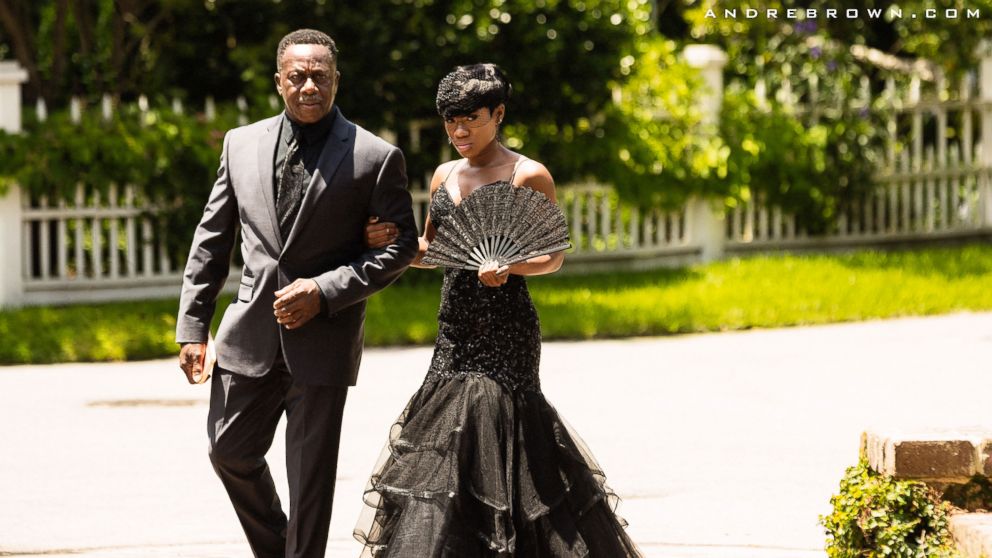 The two exchanged vows in the downtown park, thrilled to finally make it official.
"When he was saying his vows to me his eyes were getting red and tearing up," said Nakita Brown.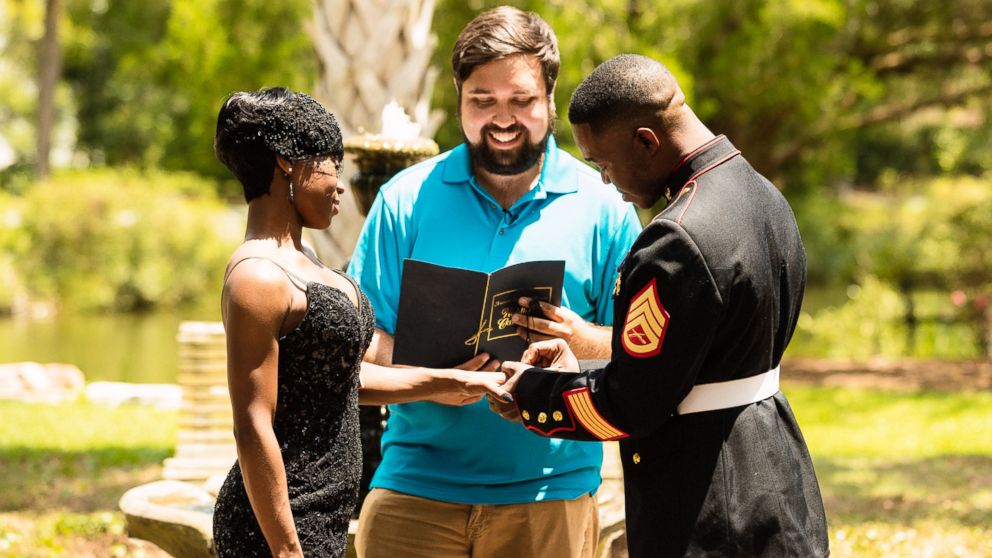 But the groom wasn't the only one overcome with emotion.
"I've been doing this for two years and I've shot more than 100 weddings but it's a lot different when it's your sister," said a proud Andre Brown. "It was different from a regular wedding day, and honestly, I wouldn't trust anybody else to shoot it."