— -- A photo of a 6-year-old Atlanta gymnast who counts Simone Biles and Gabby Douglas as her heroes caught the eye of Biles, who shared the photo with her own fans.
Biles, 19, who won five medals at the Rio Olympics, retweeted a photo montage of Nyla Miller dressed in a red, white and blue leotard holding a trophy and flowers.
Nyla's dad, Prince Miller, tweeted the photo on Aug. 13 with the caption, "My daughter told me she wants to be like @gabrielledoug & @simonebiles You all make a difference! Thank you!"
The photos of the now-first grader were taken when Nyla was 3, one year after she started taking gymnastics lessons. Miller, who lives in South Carolina, said he was Face Timing with his daughter last weekend as she was watching Biles and Douglas compete in Rio.
"She name dropped those two ladies, Simone and Gabby," Miller told ABC News. "She said something along the lines of, 'I love Gabby and Simone too.'"
Nyla's mother, Jessica Williams, said her daughter first fell in love with Douglas when she competed in the 2012 London Olympics. This year, Nyla was overwhelmingly excited to see Simone on the team.
"She was so engrossed, saying, 'She's brown like me. She's little like me. She has muscles like me,'" Williams said, adding that people frequently comment that Nyla is "built like a gymnast." "And needless to say, she was amazed at her athletic ability."
"I've never seen it in her face before," she said. "She's been able to look at them and see that anything is possible. I am possible."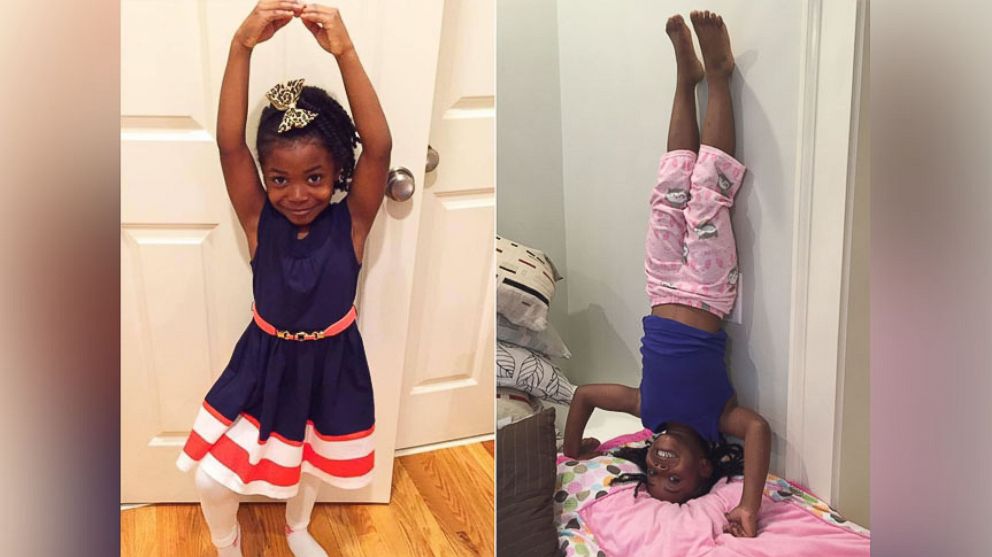 Williams said Nyla –- whose first question was whether the gold medals on Biles' and Douglas' necks were real or chocolate –- also began to ask questions about whether she could ever do what she watched her heroes achieve at the Olympics.
"She started to say, 'I can't do that,' and I explained that Simone was just starting out at her age," Williams said. "And I said, 'Remember when you couldn't do a cartwheel?'"
"She said, 'Yeah,' and I told her, 'Well you just learned that and you keep building, it's just one thing on top of another.'"
Williams said Nyla, who wrote in a school project that she wants to be a "jiminis" [gymnast] when she grows up, got "jittery" when it was explained to her that Biles had seen her photo and shared it.
Miller said he was surprised that his tweet was shared by Biles, and nearly 14,000 other people.
"I just thought it was neat that Simone actually retweeted it," he said. "She probably didn't even know the impact it would have back on the child in Atlanta watching."