— -- A 9-year-old boy has raised more than $1,000 for an animal rescue group in lieu of receiving birthday gifts.
Matthew Hartmann of Long Island, New York, racked up $1,325 over the course of a month for Guardians of Rescue in Smithtown, New York.
Matthew sent the money, along with a handwritten letter, to the organization.
"I think it's fabulous that he's so unselfish and so compassionate," said Dori Scofield, vice president and executive director of Guardians of Rescue. "It's a selfless act for a kid to give up their birthday present to help animals. I love to see the generation be more humanitarian. It give me hope for the future and the letter was so cute."
Matthew's mother, Maria Hartmann, told ABC News that this is the third birthday where her son Matthew has been accepting charitable donations from friends and family instead of accepting presents for his March 22 birthday.
"I always remind him, 'You don't have to donate your birthday. You can have a birthday with presents and he says, 'No, I want to,'" Hartmann said. "He will get to the point where he's too old to have birthday, but I think he will help in some way. He's kind of wired that way. I think he wants to be a good role model for his younger brother too."
Matthew's giving trend began when he turned 7. That year, he raised $1,600 for Memorial Sloan Kettering Cancer Center. For his 8th birthday, he donated $1,100 to the Richard Brodsky Foundation to help people with HIV/AIDS and cancer.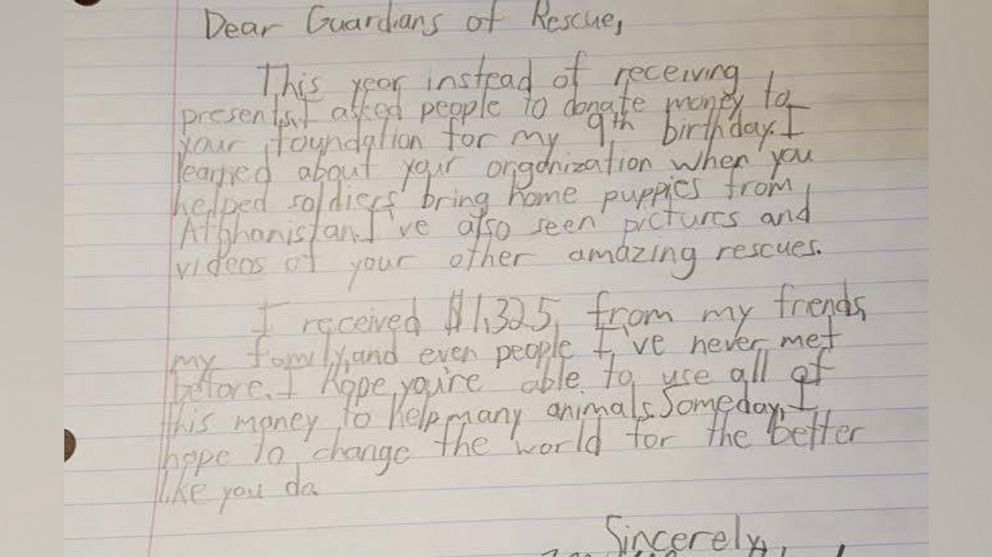 This year, Matthew and his parents set up a giving page on YouCaring.com and asked his party guests to give a donation to Guardians of Rescue, which saves animals in distress.
Matthew became interested in the organization after learning that it helps soldiers bring home stray dogs from Afghanistan, his mother said.
On Saturday, Scofield and the Guardians of Rescue staff received the letter, which read in part:
"I received $1,325 from my friends, my family and even people I've never met before. I hope you're able to use all of this money to help many animals. Someday, I hope to change the world for the better like you do."
Strangers from the United Kingdom and France donated to Matthew's giving page, Hartmann said.
Scofield said Guardians of Rescue will be using the donation to continue its rescue efforts for animals in need.