American Couple Facing Death Penalty in Qatar Released on Bail
Matt and Grace Huang deny starving adopted daughter to sell organs.
November 6, 2013, 11:03 AM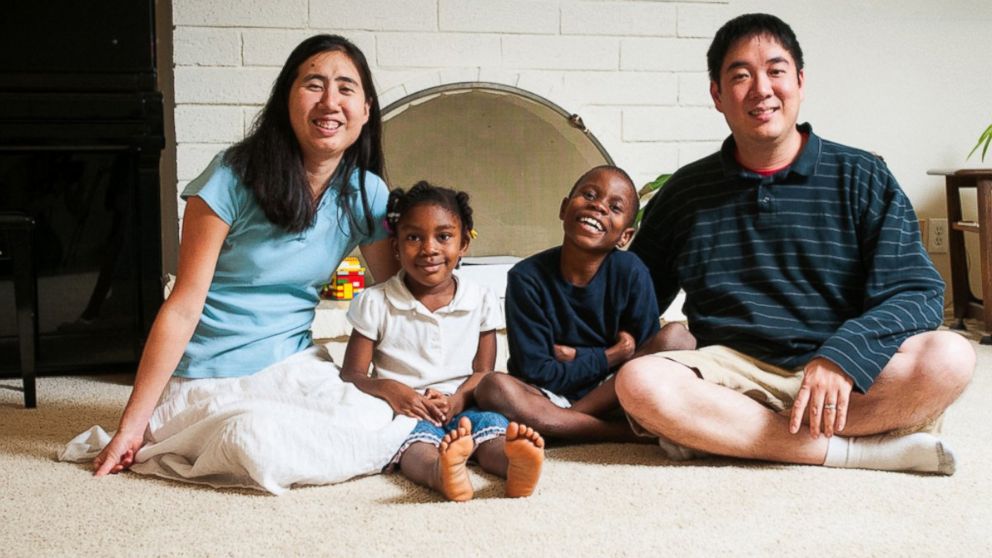 Nov. 6, 2013 -- A California couple living in Qatar facing possible execution for allegedly starving their daughter to death was released on bail today after almost a year in jail.
Matt and Grace Huang were released on bail, but the court imposed a travel ban that prevents them from returning to the U.S.
The couple has been imprisoned since January after their 8-year-old adopted daughter Gloria died, they say, from unknown complications from a childhood eating disorder. But the Qatari authorities charged them with forced starvation and intent to murder. The police accuse the Huangs of trafficking Gloria and her brothers to harvest their organs.
The Huangs, who are Asian-American, accuse the Qatari authorities of faulty evidence and cultural ignorance, failing to understand how or why they would have three children from Africa.
In addition to Gloria, the Huangs have two adopted boys – one from Ghana, the other from Uganda - forming a bi-racial family rarely seen in oil-rich Qatar which is void of much diversity (except for Asian workers who go to work as laborers) and where adoptions are scarce.
Matt Huang is a Stanford University-trained engineer who moved his family to Qatar last year for a two-year job on an infrastructure project for the 2022 World Cup. Photos posted online show the smiling family on vacation on horseback and in the ancient Jordanian city of Petra.
On Jan. 15, Matt Huang went to check on a sleeping Gloria. He claims he found her on the floor, foaming at the mouth and barely breathing. He has said he attempted CPR for 40 minutes, after which Gloria was pronounced dead.
Gloria hadn't shown signs of ill health, but hadn't eaten for several days, something she would do several times a year, Huang said. At other times, she would overeat. The Huangs said she had a cyclical eating disorder caused by her first four years as a malnourished orphan in extreme poverty in Ghana. She was adopted with a parasitic infection and vitamin D deficiency and showed signs of more potential deficiencies to come.
The Qatari pathologist said Gloria was emaciated and her death certificate listed dehydration and cachexia – a rare medical syndrome where the body doesn't absorb nutrients properly – as the causes of death.
But the prosecution accused the Huangs of starving Gloria, charged them with murder and asked for the death penalty.
"Our understanding is that this case is the result of a very small group of policemen who failed to accurately interpret fact of case due to deep cultural differences," family spokesman Eric Volz told ABC News, adding that they were "perplexed" about the starvation charge since the prosecution were the first ones to mention it.
Tissue samples haven't been given to the defense to examine independently, but a medical expert hired by the defense argued that there are half a dozen causes of death ranging from pancreatic cancer to a diabetic condition that could have led to a seizure.
"It's safe to assume her immune system was not at her highest state," said Volz.
Today was the first time since their January arrest that the Huangs were able to argue their case. Seven witnesses were called, several of them expatriate friends from the non-denominational Christian church the Huangs attended who were at their house the day before Gloria died.
They testified that she appeared to be in good health, playing with her brothers and walking up stairs. The defense argued that it's medically impossible be walking around one day and to die of starvation the next.
After the morning proceedings, the judge agreed to release the Huangs on bail but imposed a travel ban that won't let them leave the country to join their two sons who are back in the United States being cared for by family.
"Though we see this as a positive step, their trial is not over," Grace Huang's brother said in a statement. "Until then, our family prays that the hearts and minds of the judicial leaders will be pointed to the truth."