— -- At least three children and six medical staff were among the 27 killed after overnight airstrikes hit a hospital supported by Doctors Without Borders in the Syrian city of Aleppo, according to the Syrian Observatory for Human Rights. The city's last pediatrician was among the dead, the group said.
The airstrikes in Aleppo are part of a new wave of aerial bombings being conducted by the Syrian government in rebel-held areas, with more than 60 people now dead in less than 24 hours. The Syrian military said it did not target the hospital, but the building was destroyed by at least one strike, according to hospital staff on the ground with the humanitarian group Doctors Without Borders, also known by its French acronym, MSF.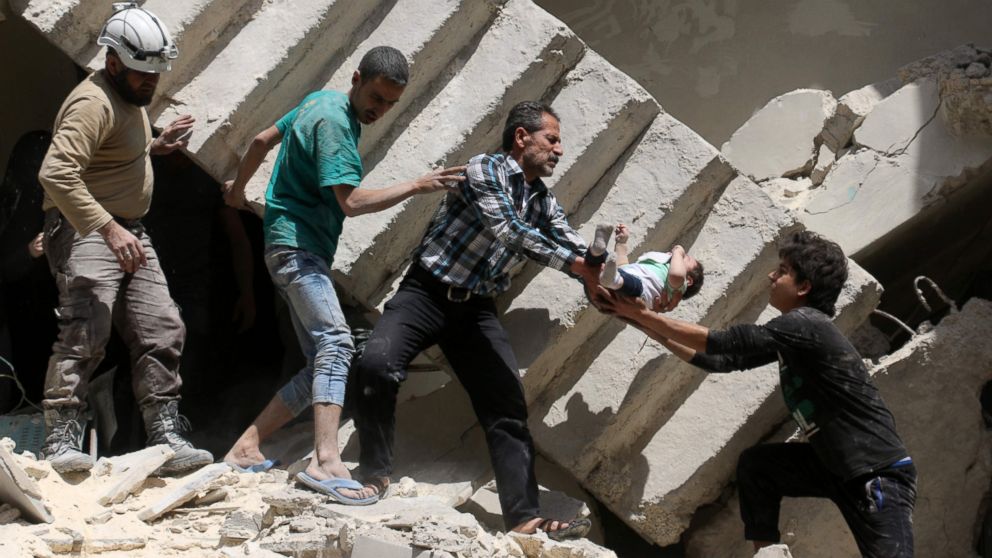 "What we lost yesterday cannot be replaced. Just the thought that there is no longer any pediatrician in Aleppo gives me a big fear," said Noor al-Khatib, a resident of Aleppo and a member of the Syrian Network for Human Rights, who uses a pseudonym out of fear of government harassment. "It's hard to describe how I feel. It's a real disaster that will lead to more people dying of diseases, especially children and elderly people."
Violence is escalating in Aleppo and the International Committee of the Red Cross (ICRC) has said the city is on the brink of a humanitarian disaster.
Karim al-Saleh, al-Khatib's husband who is a doctor in Aleppo, said that people are dying because of lack of medical resources and that he fears it will only get worse after the attack.
"Diseases like pneumonia are already hard to treat because we don't have the right medicine and have to find temporary solutions," he told ABC News. "It's already a really bad situation and we will see many more deaths now."
An estimated 250,000 people have stayed in Aleppo amidst an ongoing civil war, which has torn the country apart since 2011, while millions have fled Syria.
The increased violence has undermined United Nations-led peace talks in recent weeks.
"Wherever you are, you hear explosions of mortars, shelling and planes flying over," Valter Gros, of the ICRC, said in the statement. "There is no neighborhood of the city that hasn't been hit. People are living on the edge. Everyone here fears for their lives and nobody knows what is coming next."
President Obama announced this week the deployment of 250 more U.S. troops to Syria, saying it's an effort to keep up momentum in the campaign against ISIS.