Dozens of protesters hit the streets for a fifth consecutive day to call for justice in the wake of the shooting of Stephon Clark.
Black Lives Matters and other various groups again protested the shooting of the 22-year-old man, who was shot to death by police in his grandmother's backyard on March 18. Clark was clutching only a cellphone when two Sacramento police officers, who were wearing body cameras, fired a fusillade of 20 shots.
Jamilia Land, a family friend of the Clarks, stood at a podium Saturday above two poster board signs with Clark's likeness as well as one of Joseph Mann, the 50-year-old local who was wielding a knife when police shot and killed him in July 2016.
She told the approximately 150 protesters that living in the community where Clark was shot was like living in "war zones."
She also charismatically took aim at the city's failure to treat mental illness in lieu of Clark's 19-year-old brother Stevante who has been witnessed in a series of public outcries.
Land also said Clark's brother, Stevante -- who broke up a City Council meeting last week to protest the shooting -- has had to cope with the loss of his brother. Their grandmother, too, is riddled with guilt for not being able to help Stephon Clark before the officers fired.
"You don't know what it's like to go to the home that you grew up and feet from the couch you live on, your brother was murdered in his grandmother's backyard," Land shouted and cried. "You don't know the pain his grandfather is feeling for hearing him knock on the window that night for help."
Former NBA player Matt Barnes helped organize the Saturday's rally, which assembled across from the California capital's City Hall.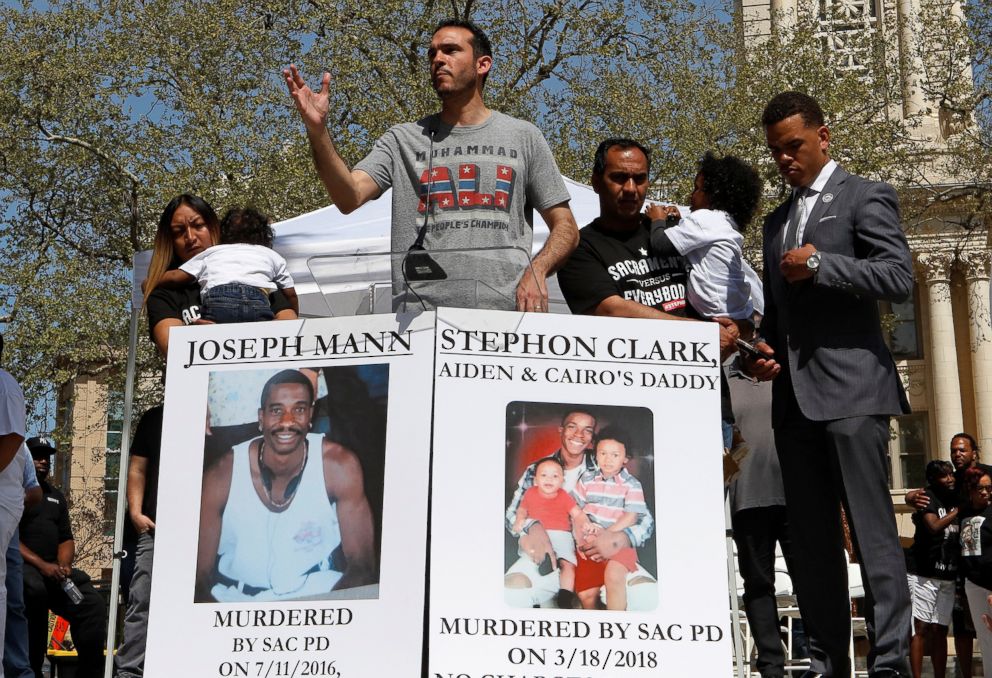 "We came here today to raise awareness," he said. "Not allow them to sweep this s--- under the rug like they do with the rest of the things."
Barnes said the call for justice for Clark was the beginning of a movement that should include an end to violence for children in black communities.
"We're here for these kids and we're also here to stop the violence in these streets," he said.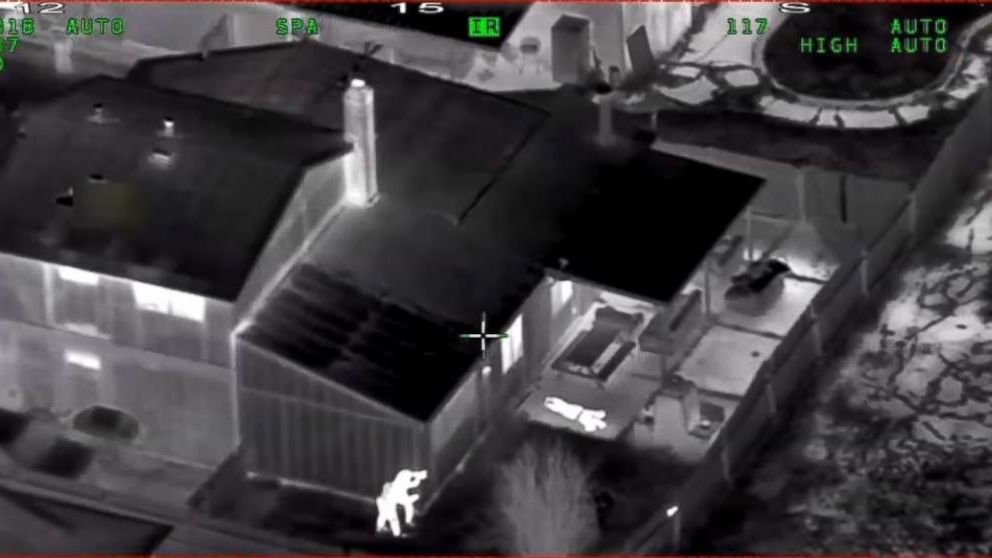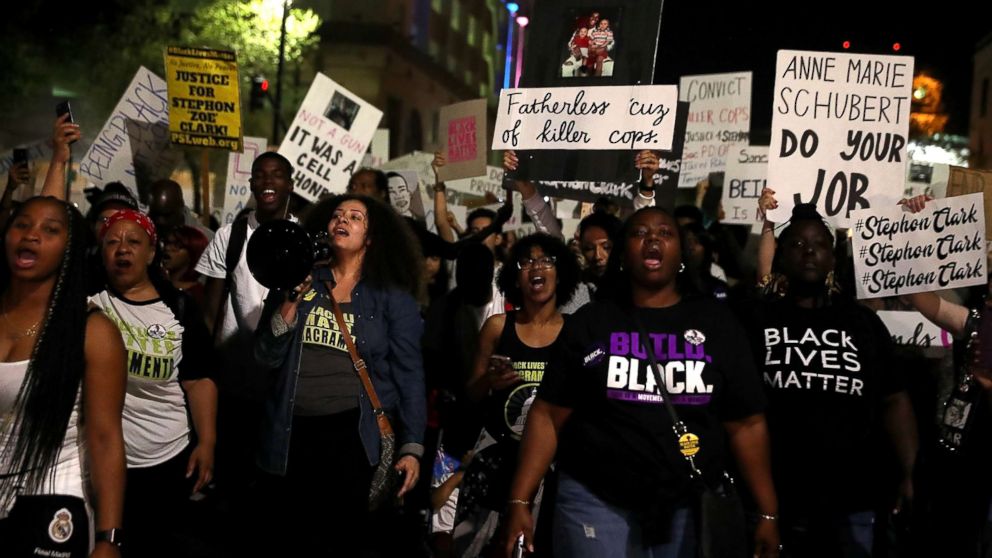 Some protesters who rallied carried various signs, such as "Killer Cops" with blood red hand prints stamped around the words. Another read: "Sac PD: Judge, Jury executioner... Crime holding a cell phone."
The two officers, who have not been identified, that night responded to a 911 call by a neighbor, who described a man in a hoodie breaking into car windows in the 7500 block of 29th street.
When the officers encountered Clark there, according to the body cam footage as well as a chopper recording overhead, they believed Clark was in possession of a "toolbar," according to police accounts.
Officers said Clark motioned toward them and one of them can be heard yelling: "Show me your hands... Gun, gun, gun."
A private autopsy was performed by esteemed Dr. Bennet Omaly, a pioneer whose research led to revelations about chronic traumatic encephalopathy (CTE) in the NFL and whose story was depicted in the movie "Concussion," which starred Will Smith.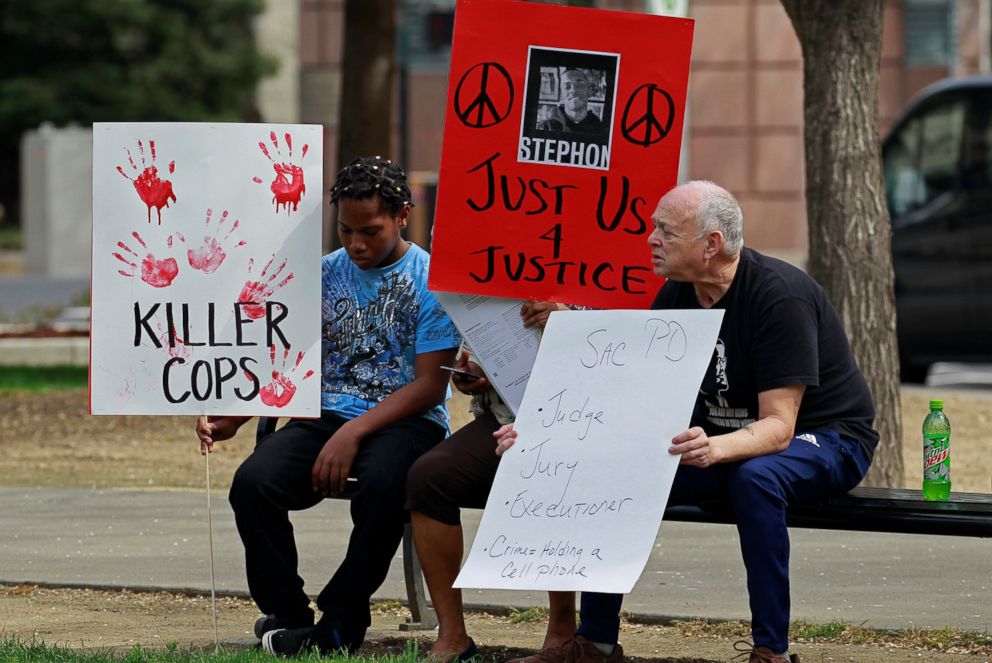 Omalu said the autopsy revealed that Clark was struck eight times, including six bullets hitting him in the back.
"Each one of these bullets independently possessed a fatal capacity," Omalu said a Friday news conference.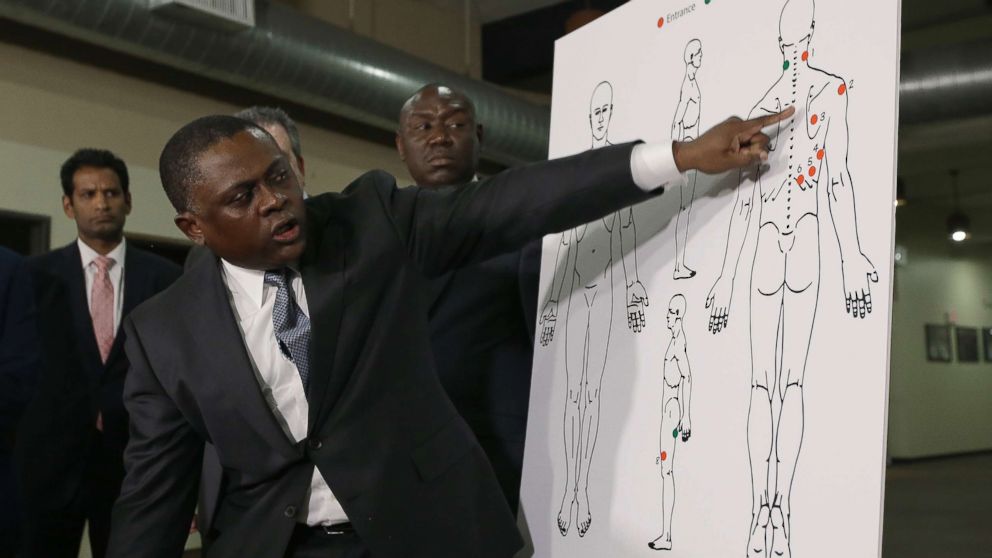 Both officers have since been placed on administrative leave.