In the United States, St. Patrick's Day is an equal-opportunity kind of holiday. If you have an Irish name or happen to know whether your family came from Cork or Clare, then great: Time to eat some corned beef and down a pint or two. If not, well, also great: Time to eat some corned beef and down a pint or two.
Chef Seamus Mullen has closer ties to the Old Country than many Irish-Americans, but his cooking style is more expressive of the American melting pot. The smashing success of Boqueria, the Manhattan tapas restaurant Mullen opened with partner Yann de Rochefort in 2006, established the chef as a master of Spanish techniques and flavors.
Before that, among other appointments, Mullen was executive sous chef at New York's French-inspired Brasserie 8½. The first restaurant Mullen opened, Crudo, boasted a Mediterranean-inspired menu.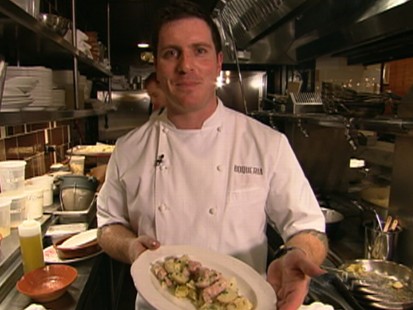 "People ask me all the time, 'Oh, what is an Irish boy doing cooking Spanish food?'" Mullen said in a recent interview at Boqueria Soho, the offshoot of the restaurant's original Flatiron district location. "And a lot of it -- I mean, I don't really feel like I'm an Irish boy by any stretch of the imagination.
"I have an Irish name and an Irish heritage, but I grew up very removed from the Irish community or the Irish-American community. ... So I was a little bit removed from it. But there are some parallels between Spanish cuisine and Irish cuisine."
Watch the full story tonight on "Nightline" at 11:35 p.m. ET
Mullen does still cook Irish, and, on the occasion of St. Patrick's Day, he proved willing to share his secret recipe for colcannon and other favorites of his youth. He also talked about growing up on the farm, the allure of the big city and what doing food right means at this late stage or our urban alienation.
Animal Husbandry and Raising Meat
Mullen grew up on a Vermont farm, the grandson of a soldier and a naturalized American citizen.
"My grandfather was born in Ireland and he came to the States as a teenager," said Mullen. "So that would have been back in the 1930s, I would say, right around -- yeah, during the Depression. He ended up in New York and then eventually was drafted into the army during World War II, and gained citizenship through that. So the Irish lineage comes through my grandfather."
As a kid, the chef scooped stalls and helped to butcher livestock. The experience, he said, gave him an appreciation for locally sourced food and firsthand knowledge of where your meat comes from.
"I grew up on a small farm in Vermont, which sounds very idyllic, but as a kid getting up at six in the morning to muck out stalls and haul water and feed the animals -- [it] isn't exactly what you want to do before going to school," Mullen said. "In hindsight, I learned a lot about animal husbandry and about raising meat naturally and just being around food, which inevitably set the course for my career, and doing what I do."
'Cooking Trout With My Grandmother'
On a lot of farms, the meat leaves alive, headed for the slaughterhouse and then the butcher. Mullen got to see the full cycle up close, from lamb to lamb chop, at a young age.
"My grandmother and mother were both kind of involved in the butchering on the farm when we were -- when I was a kid," he said. "So when we'd dress a hog in the fall or lambs, they'd drag them into the kitchen and plop them down on the dining room table and my mom would go through and my grandmother would hold the shoulders apart, and my mom would saw it apart. And we were always involved. My brother and I were there, kind of taking the pieces out and helping them packaging everything up, and we'd label everything and it'd get frozen and we'd go through the whole animal bit by bit through the rest of the year."
Mullen credits his grandmother with showing him the dish that first got him interested in food in a serious way.
"I think the most poignant food memory, and the one thing that I recall ... When I look back [at] what set my career as a cook, [it] was probably cooking trout with my grandmother when I was 5 or 6 years old," he said. "And I caught brook trout and she taught me how to panfry it with a little bit of dusting and a little of flour, and making some brown butter and lemons and capers, and it was delicious. And I remember even at that age really, really appreciating what went into making it, appreciating the ingredients.
"And I always go back to the dish, and I think about it anytime we have trout in the summer or in the late spring, I love to take just one piece of fish and just make some brown butter and a little bit of lemon, some capers and do it just the way my grandmother showed me how to do it when I was a kid."
In case her lessons in the kitchen weren't prod enough, Mullen's grandmother took the extra step of explicitly encouraging him to follow his happiness and become a chef, he said.
"I didn't really know that I wanted to be a cook until after I was finished college," said Mullen. "I cooked when I was in college, but I didn't think of it as a career until I got out of school and realized that it's the one thing that really makes me happy. So I was pushed into doing it by my grandmother. She said, 'Listen, Seamus, this is what makes you happy, you should do what makes you happy.' And for the most part it was pretty good advice, it's not always the easiest career, but I'm pretty fortunate to love what I do."
Big City, Local Food
Two years abroad during college, at the Universidad Autonoma de Extremadura in Caceres, Spain, first gave Mullen his taste for Spanish cuisine. Mullen took a couple jobs stateside before returning to Spain in 2003, where he worked for six months at Mugaritz, Andoni Luis Aduriz's Basque country outpost boasting two Michelin stars. Next for Mullen was Barcelona, where he worked in two of the most respected restaurants in the city, Abac and Alkimia.
In addition to discovering Spanish food, Mullen said his time abroad taught him about the business of cooking, drudgery and all.
"There definitely have been times when I'm -- I remember at one point when I was in Spain and I was preparing for a wedding banquet and I had to clean 150 pounds of squid and I literally just had this gigantic box of squid and two-and-a-half hours into it, I kind of started thinking, 'What am I doing?' I'm just like, 'This is like a factory.' And by the 85th pound, I realized that my mind was completely somewhere else and I was just doing it and I was just doing it and I was doing it, and now if you put squid in front of me, I can clean it like that, so the value is there.
"But there's definitely -- there's always times, particularly when you're doing a boring, repetitious job, you start to wonder, 'Am I really getting something out of this? Did I really go halfway around the world to learn how to peel a potato?' But those are the sacrifices that you have to make, and if you're lucky, and if you're good about it, it will serve you in the end --you'll definitely learn a lot and it becomes part of the foundation of being a chef."
No matter where in the world he found himself, Mullen said, New York City was always in the background.
"New York is definitely, within the restaurant world, it's definitely a competitive environment, but I think that's a good thing," he said. "It really pushes each of us to push ourselves. To get better at what we do and to really take every day as an opportunity to learn more and to further yourself personally and professionally as a cook. I think it would be very easy if ... I weren't surrounded by so many talented people, to become complacent and to say, 'Oh, this is fine. Restaurant is doing well, we're doing okay, let's just kind of move things onto cruise control.' But you can't do that in New York. You always have to be pushing yourself."
Being a New York chef doesn't mean abandoning the small-farm, locally produced approach to food, Mullen said.
"We try not to use -- even here in New York, we try to use our seafood that comes from Long Island, or if it comes from Rhode Island, or if it's coming from Cape Cod," the chef said. "We try to buy things as locally as possible and getting our meat from the Hudson Valley and getting produce from New Jersey and Long Island - trying to keep things as close and as seasonal as possible. And that started from me from my upbringing ... as I grew up and I learned more about the importance and the impact of eating locally, it's reinforced all of those things that were kind of ingrained in me through my upbringing."
A Bad Rap for Irish Food
Although he's established a name as a master of Spanish cuisine, Mullen readily jumps to the defense of Irish cooking -- and not just because of the holiday. Even when he was cooking in Spain, Mullen said, Irish imports played a big role in keeping diners happy.
"I think that Irish food has gotten kind of a bad rap, but there's really a wealth of produce in Ireland and a wealth of products that are remarkable, and there's been a change, you know, in recent years, particularly in the past 10-15 years in the perception of Irish food," Mullen said. "When I was working in Spain, we actually got a lot of product from Ireland. We would get langoustines, Dublin Bay prawns from Ireland, we'd get wild salmon from Ireland. We'd get oysters ... and obviously potatoes, which grow very well in the climate. But there's really some remarkable product.
"I kind of grew up not having a real connection to my Irish heritage. Though a lot of the food that we ate was either -- because my grandmother's English -- either traditional English food or, without even realizing it, a lot of traditional Irish food that we were eating. ... Things that kind of were worked into my repertoire as a kid. The food that I grew up eating, I didn't realize was actually colcannon or it was soda bread or things that were very traditionally Irish."
Mullen said the most important thing about food is not where it comes from but whether it makes people happy.
"Food for me is really about joy," Mullen said. "It's a basic need that we all have, but it's a source of pleasure and enjoyment. I could have become a dentist and I could have worked on people's teeth, but what I do, fortunately -- nobody looks forward to going to the dentist, but everybody looks forward to going out to eat. And everybody loves good food, and there is nothing more fulfilling to me than to be able to make something and give it to someone else and see them really, really enjoy it. And I'm giving them nourishment and sustenance, but it also takes it one step further where it's also about pleasure and enjoyment, and that's what food is."