— -- Korean Americans often don't like to air their dirty laundry. I can say that, having been born in Korea myself and raised from age 5 in Sunnyvale, California.
I feel fully American, but I know many in our culture stay silent about things they find painful or shameful or both. It's part of why so much of what happened in the Korean American community during those five days of lawlessness known as the L.A. riots has remained invisible in the 25 years since.
A split-second decision on where to aim his gun
Richard Kim has never told his story publicly, until now.
In 1992, on Day Two of the riots, after hearing his mom had been shot, Richard rushed to his parents' store armed with his legally-obtained Ruger semi-automatic rifle. When Richard came upon the scene, he says the chaos and gunfire in the streets looked like news footage he'd seen out of war zones in Beirut.
The police seemed to Richard to be nowhere in sight. As in the South Central area of Los Angeles, they appeared to have pulled back from Koreatown. Richard pulled out his weapon and took cover.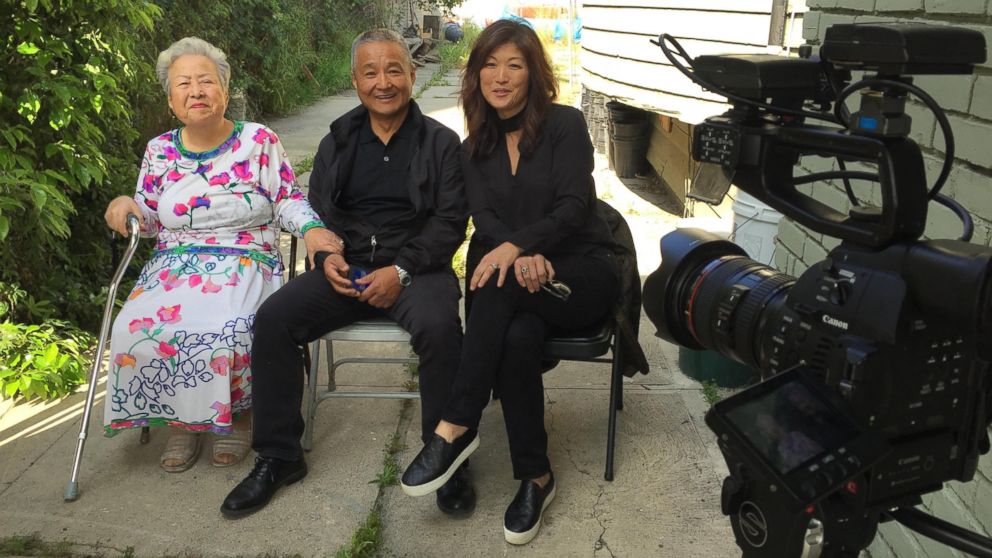 "The shooters were 25 to 30 feet away," Richard says. "I leaned over and I made a conscious decision to shoot the cars that they were standing next to."
To this day, he has no idea why he chose to aim for the cars instead of the shooters. "I could have taken them out," he says quietly. Instead, he vividly recalls unloading his 30-round clip into a car -- filling the street corner with smoke from the gunfire.
"As soon as that happened, I could hear them getting in their cars and, you know, tires screeching".
That split-second decision is, he says, the reason we're not talking to him from behind bars.
'You can't take our weapons'
Richard's mom told me it took hours for someone to drive her to the hospital which was flooded with casualties from the street fighting. At first, she didn't even realize she'd been shot. "I looked down and there was blood spilling down," she said.
Meanwhile, the police arrived on the scene.
Richard was thrilled at first, but then officers immediately handcuffed him. His own fiancée saw it on live television.
"He was on his knees. He was being handcuffed along with some of his employees," said Tina Kim, his now-wife of two decades. "My heart just dropped to the pit of my stomach, and I couldn't make sense of any of what I was seeing on TV."
The police heard reports that Korean Americans had been shooting wildly into the crowds. They searched, but couldn't find a single injured person. Eventually, they let Richard go, but told him the Los Angeles Police Department was under strict orders to confiscate any weapons they came across.
"Will you come back to protect us and our businesses if those guys come back?" Richard remembers asking them. "We can't do that," they said matter of factly.
"Then you can't take our weapons. You'll leave us sitting ducks," Richard said.
Richard says the cop looked him in the eye for a long time, and then silently gave him back his rifle.
'Survivors' of the riots
ABC news producer Melia Patria dug up Richard's story while reporting for the documentary "Let it Fall." He had initially declined her request to go on camera. When I followed up for "Nightline," he continued to resist. "I hadn't thought about it in years," he says. He'd never even shared some of the details with his own wife.
Richard is sharing his story now because he believes Korean Americans who ran small businesses in Los Angeles in the areas where the riots occurred were profoundly misunderstood -- seen through the eyes of the media as gun-wielding vigilantes, viewed by some of their African American customers as abrasive and aloof, even racist.
Only by trying to set the record straight, Kim says, can Korean Americans help to resolve the dark moments in their shared history with African Americans.
"People without a voice in the community are the ones who are going to get victimized. The ones without power," Richard said. "'Victims' sounds helpless. I want to say 'survivors' of the riots. That sounds more powerful."
Richard was 32 at the time of the riots. He grew up in the United States as a rebel. Sure, he worked delivering electronics after school for his parents, but he was a lackluster student who was far more interested in skiing, BMX racing and hunting rabbits with his white friends than being a studious Korean American son. Eventually he got more serious and even managed to study business at the University of Southern California.
Highly educated shop owners
Richards's parents immigrated to the U.S. in the 1960s. Their story is more than just a Korean American story, with themes common to many immigrants in America.
His mom had been a concert pianist in South Korea, with a master's degree in music. His dad had a degree in engineering and, like many Korean men of that generation, had served in the military. It's why many of the immigrant merchants in Los Angeles had weapons and knew how to use them.
Once in the U.S., it could be hard for even highly-educated immigrants like the Kims to find work, given the language barrier and perhaps implicit biases that have long made it difficult for newcomers to the country to break into white-collar professions.
Richard's parents scraped by for years as small business owners. "I don't think my parents ever took a vacation. They worked seven days a week, from early morning to late, late at night," he said.
Even though police gave Richard back his weapon that night, he knew his family's first store was not defendable. He watched looters pry open the door, and later the store went up in flames.
Richard retreated to his family's other store, which had a rooftop where he could take up a position, rifle in hand.
He spent three sleepless nights on rooftop patrol, watching pockets of the neighborhood known as Koreatown burn like camp fires on the cityscape. He says at times it sounded like 4th of July fireworks. But the Kims' second store stayed safe.
By Day Four of the riots, the National Guard finally pulled up.
When all was said and done, 63 people died in the riots. There was nearly $1 billion in property damage, 40 percent of it to property owned by Korean Americans. More than 2,200 stores had been damaged or looted, most of which were uninsured. Many owners who had insurance nevertheless saw their businesses fail within weeks after the riots.
The problem is 'the system'
A quarter of a century later, Richard at age 57 looks like a classic Southern California businessman. Tan and toned, he still shows a trace of his youthful free spirit.
Despite his family's epic setbacks, he is remarkably free of bitterness.
"I think hate is a very negative and yet powerful emotion, and I think I'd rather put all my focus on something positive. The black community didn't do this to us. What allowed this to happen was the system who abandoned not just the Korean American community but the African-American community, Hispanic community. It's a system. So I think I was upset at the system more than the people who actually looted and rioted"
"On the side of the LAPD [police patrol cars] it says to serve and protect. They were neither serving us nor protecting us."
Richard's parents still live next to the empty lot … where their first business once stood. "Nightline" producer Ben Newman said the vacant lot is a constant "reminder of what happened … and a metaphor for the conversations that never did."
"I just hope we as a community learn something from the experience and that we can't just be an island on our own. We really have to be part of a community in every way," Richard told me.
Korean Americans moved in after others left
After the Watts riots in Los Angeles in 1965, many of the Jewish-owned businesses that were destroyed never returned.
Korean Americans like the Kims moved into some of the underserved areas. What many see as a pattern of immigrant settlement in the U.S. continues. In Ferguson, Missouri, for example, some of the businesses destroyed in unrest there were run by South Asians from places like India, Pakistan, Bangladesh.
Many Korean Americans in the Los Angeles area didn't understand the legacy of black oppression in the U.S., such as through the systemic lack of access to quality education and means for creating wealth.
The tension between blacks and Korean Americans "is structurally baked in," says Jerry Kang, who as vice chancellor at UCLA oversees diversity and inclusion programs at the university. Korean Americans as an immigrant class are like "middleman minority position," he said.
A painful awakening
Kang believes the Los Angeles riots were a painful awakening for Korean Americans, a moment when they realized it wasn't enough to be work horses with blinders on in their adopted country. It was necessary to start dealing with the clash of cultures happening all around us.
"We have to stop just seeing each other and start knowing each other" as my "Nightline" producer Meagan Redman quoted one of community activists.
The stereotype at the time of the riots was that Korean American merchants are rude to their customers. But Kang says culturally we're taught not to look people in the eye or slap them on the back and smile. Many African Americans may have interpreted the lack of eye contact as a sign of disrespect, but for Korean Americans, it was the exact opposite.
Korean Americas admittedly have a xenophobic streak that can come from living in a homogenous culture on a peninsular. But Kany says some in the black community may have resented seeing Korean Americans as another ethnic group unfairly leapfrogging to prosperity.
If such distrust was the kindling, then Kang says the shooting death of African American teen Latasha Harlins was the gasoline poured on top.
Killed over orange juice
In 1991, the year before the riots, Kang says, "What we had was a Korean merchant who unfortunately shot a 16-year-old teenage girl for potentially shoplifting some orange juice. And no matter what actually happened, the idea of a young girl being killed over a bottle of o.j. was shocking."
The shooting was also caught on surveillance tape.
The Korean merchant, Soon Ja Du, was found guilty of manslaughter, but got no jail time… The controversial sentencing happened just a few months before the Rodney King verdict ignited an explosion of violence.
Kang says the media's treatment of the Latasha Harlins and Rodney King cases helped stoke the flames.
"When those two images are constantly put together you should not be surprised at the rage and resentment upon hearing about the [Rodney King] acquittal actually lit up into the uprisings … The rebellion … the riots what Koreans know as Saigu."
An uprising or a riot?
Korean Americans call the unrest of '92 'Saigu.' That's Korean for 4-2-9. The date of April 29.
Some in the African American community call the violence "an uprising." Richard Kim, whose family lost so much, disagrees.
"Black Lives Matter is a social uprising, the consciousness of promoting equal justice and social equality ... [But] rioting, looting, burning down buildings. to me, that's not an uprising, that's just lawlessness. Let's call it what it is. It was a riot."
Kang of UCLA says "the truth lies somewhere in between. And to give it a name that is somewhere in between, which 4/29 -- April 29 -- Saigu … that might be the best way for us to recognize our partial perspectives and our common understandings."
Regardless of what we call those days of violence, it's clear we need to remember their lessons, to keep looking inward and reaching outward.
My thanks to Jenna Millman, our senior producer on the special Nightline broadcast: "City of Angels: LA Riots".
Juju Chang is an Emmy Award-winning co-anchor of ABC News' "Nightline." She also reports regularly for "Good Morning America" and "20/20." This is her first-person essay on stories from her reporting on the 25th anniversary of the 1992 Los Angeles riots. Chang's parents, like some Korean American business owners she spoke to about the riots, were college-educated immigrants from South Korea who struggled in their new country to grow their small businesses.