Today at about 9 a.m., professional skateboarder Tony Hawk tweeted from inside the White House: "Hi. I am inside the White House gates eating Frosted Flakes and about to do press. You heard it here first. Yes, I brought my skateboard."
Hawk, who was at the White House to meet with President Obama for a press event, brought his board for a reason -- to ride. A quick photo of Hawk was snapped as he rode along the halls of the Old Executive Office Building.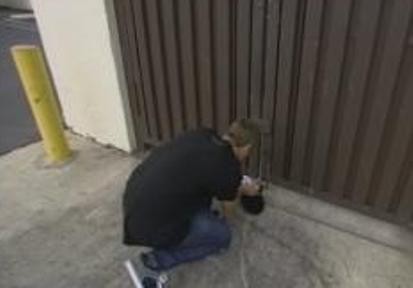 Hawk, along with other athletes and entertainers, was at the White House to meet with President Obama for a press event called
"First Fathers."
Watch this story tonight on "Nightline" at 11:35 p.m. ET.
On a typical day at just past 8 a.m., the Hawk family is doing its best to avoid any skinned knees before breakfast -- a tall order in a household with its own personal skateboard park. Matters are complicated even more when the father at home is the world's most famous skateboarder.
Through the years, Tony Hawk has received fame and acclaim by completing incredible stunts during the X Games, as well as from his popular video game titles. But recently, he entered what once seemed an unthinkable category for him ... middle age.
"Yeah, I'm definitely testing limits [with] how far you go with the profession and at what age," Hawk told "Nightline." "I don't make ultimatums. I'm sure one day I won't feel good about being out there in public. But until then, I'm just going [to be] enjoying it."
At his home, he has his own personal skateboard park. And as he whimsically skateboarded directly toward an approximately 5-foot-high cement wall -- and jumped it without a ramp -- two things must be considered: 1) It's really dangerous, and 2) Tony Hawk is 41 years old.
Hawk said getting older does have its limitations.
"Usually, it's like when I take a big hit: It takes me a little bit longer to bounce back, because I'm still actively skating all the time," he said. "It's not as bad as you think it would be."
Baby On Board: Inside Tony's Typical Day
Hawk is a man who knows how to land on his feet and isn't worried about the hottest young contenders half his age. He hasn't stopped being a kid since he was 14 -- when he was so good on the skateboard that he turned a hobby into a career.
While other kids were playing baseball, Hawk was traveling the world as a professional skateboarder and turning his name into a brand.
His childhood friend and skate-buddy Kevin Staab -- a top skateboarder in his own right -- is now Hawk's full-time assistant and occasional nanny.
"There was definitely something about him that you knew he was going to be insanely good," said Staab. "He's just always been that guy. Like he learned things twice as quick as everybody else did, yeah. And he never stopped to this day. He is still pushing everybody else out there."
Click here to read a Twitterview with Tony Hawk on his White House ride.
How's this for a typical day? Up by 6 a.m. with the baby, complete with play time, books, swimming and boarding.
There's lots of boarding and lots of shuttling back and forth in the car with his three sons.
Then he heads to his "office" -- a place that sports a frightfully huge 14-foot "half pipe" just beyond the desks.
"This really is the best ramp in existence," he said of his $700,000 ramp. "You get what you pay for."
Between sessions on the ramp, Hawk cools down by reviewing colors and patterns for his full line of clothing. There are Tony Hawk watches and bicycles -- even linens.
Hit Video Games, Stunts and Twitter-Hunts
He does an extreme-sports show between tweaking his latest videogame, which is set to be released this fall. The game, complete with its own board loaded with sensors, is already being called a hit by critics. Which got us wondering: How is it that someone Hawk's age could have his finger on the pulse of teenagers so well?
His friend and former competitor Andy Macdonald said it's because Hawk is a one-man focus group. He never stopped hanging out with kids. And he still does -- every day.
"I want to walk the walk. You know what I mean?" Hawk asked. "Like, I can't have all this stuff and all these endorsements and my name out there if I'm not really living this and doing it all the time."
He's embraced the social networking site Twitter more than most, sending his nearly 1 million followers on what he calls "Twitter-hunts." He hides brand new skateboards all over the world -- "tweets" the location and leaves. Click here to watch video of "Tony Hawk's Hide and Go Tweet."
It's 'Shred or Die' for Hawk
He believes skateboarding can be a powerful outlet for troubled teens. And through his charitable foundation, he's built more than 350 skateboard parks in low-income cities nationwide.
With all the businesses and games, there is simply this -- a love affair between a man and his skateboard.
His wife, Lhotse, has yet to see him coast gently through a single day.
"The thing is, he's still progressing in the sport. Like, he's still doing tricks that nobody else is doing. He's still progressing as an athlete," she said. "Even when he feels like an old man, he's still better than so many of the young guys."
"I'm just really enjoying the ride right now. It's unbelievable that I get to do this for a living. This is still my career, is riding my skateboard," said Hawk. "I have a lot of successful business ventures, but it all focuses to me on whether I can still ride my skateboard -- and I can, and I love it. ... And I'm going to keep doing it as long as I can.
The skateboard with a cane that he got for his 40th birthday sits in a closet gathering dust. Hawk doesn't know the word "retire." Even as a wealthy businessman and tireless father, he goes by the skateboarder's creed: "Shred or die."