Nothing is ever as easy as it seems.
Just ask any musician seeking fame and fortune. Getting to Easy Street isn't easy. Groups argue about direction, they struggle to get gigs and, in the end, every band breaks up.
But sometimes, that's just what you need.
"I was shucking oysters for a living and playing in a band that was about to move to another city," said Joe Lewis, singer and frontman for the Austin-based Black Joe Lewis and the Honey Bears. "I was about to give it up."
Before the rest of the band moved, they had one piece of unfinished business: an opening gig for the legendary Little Richard during the 2007 Forty Acres Fest on the University of Texas campus.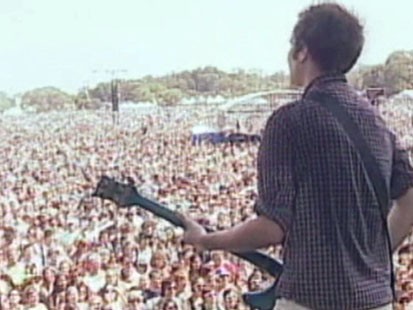 When the show's organizer, UT student Zach Ernst, heard that Lewis would be without a band, he seized on the opportunity to form a new one. That was just last year -- now Black Joe Lewis and the Honey Bears are playing Lollapalooza and the
Austin City Limits Music Festivals
.
Plenty of Pitfalls
Rapid success only seems easy, though. Along with the pitfalls that can ensnare any band, music is an industry so notoriously competitive that getting signed to a record deal almost looks impossible. Members of Black Joe Lewis and the Honey Bears struggle with day jobs and personal lives. And despite interest from labels, they've yet to sign an actual record deal.
"Well, if it were easy, I guess everyone would do it," says Ian "Big Show" Varley, the Honey Bears' keyboardist. In his 30s, Varley holds down a full-time job as a software designer and is also a grad student at UT. "It's hard to strike a balance."
At 26 years old, there's talent-fueled urgency and energy in Lewis' act. Often described as a "soul shouter," he was quoted saying before this year's South by Southwest music festival, "I want to be on the level of James Brown. I want to be the black Elvis."
While he eyes fame and fortune, the band's recent success isn't something Lewis takes for granted.
"I'm a high school dropout -- if I weren't doing this, I don't know what I'd be doing," he said. "Maybe in jail."
Advancement Is Difficult
Austin's small recording industry and large number of musicians can make professional advancement difficult, according to Josh Shepherd the music director for the regional television station, Music and Entertainment Television, who has covered the Austin music scene for 15 years.
"If you had a club of bitter musicians, it'd be huge," Shepherd said. "A lot of those people have either been lied to or it just didn't happen."
Black Joe Lewis and the Honey Bears have a lot going for them, Shepherd says. Perhaps the most important reason is the band's representatives, C3 Presents.
One of the largest concert promotion companies in the world, C3 represents artists such as Blues Traveler, Thievery Corporation and Ben Kweller. The company also organizes the annual Lollapalooza and ACL music festivals.
"It's certainly not to take anything" from the band, Shepherd said. "But, honestly, it helps when you've got a machine behind you, it's much easier."
Reasons for Success Vary
Among members of the band, the reasons for the group's success are still something to argue about.
"You know, there's a lot of luck involved," said Bill Bronzy, the Honey Bears' bass player. "We really don't put in the hours to attribute our success so far to hard work."
When it comes to the random success bands seem to have, Shepherd has another theory.
"I'm a firm believer that talent rises to the top," he said. "There's a lot of time and money invested in bands and there's not a lot of it in the industry right now. For someone to put that behind you, it really says something."