U.S. Army Pvt. Michael Walsh's family had waited over 100 years for this moment: the opportunity to honor their fallen hero.
Walsh, an immigrant from Ireland, served with the American Expeditionary Forces in France through some of the bloodiest fighting of World War I. He would be one of the last men in his company killed during the Meuse-Argonne Offensive in the fall of 1918 in which more than 26,000 Americans died.
It was just three days before his company was pulled back from the front lines.
"His Irish luck had just run out," Walsh's great-niece Finola O'Mahony wrote in a letter about his life, provided to ABC News by the non-profit group Purple Hearts Reunited which tracks down lost or stolen medals and returns them to families.
After Walsh's death, his family was never told details about what happened to him during the war. And although they did get a pension from the U.S. Army, they were never given the medals that Walsh so rightfully earned.
With the assistance of Purple Hearts Reunited, Walsh's nieces and nephews -- some now third generation -- gathered to receive his Purple Heart award in Glasnevin cemetery in Dublin on Friday. Though it was one of over 500 medals returned to veterans and their families in the organization's history, it was the first international reunification.
For Walsh's family, the ceremony concluded a long journey to better understand their loved one's life, especially his final year in the war.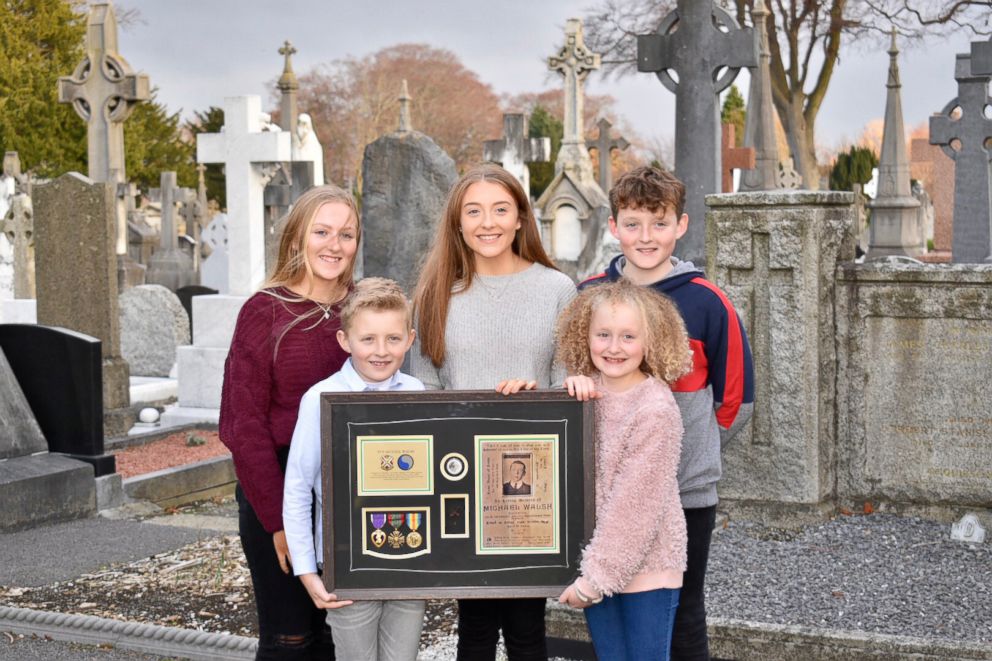 At the age of 22, Michael Walsh emigrated from rural Ireland, arriving at Ellis Island on September 3, 1911, "in search of the American dream and a better life in New York," O'Mahony wrote.
He moved with other Irish immigrants to a four-story tenement house that faced the Second Avenue El train in midtown and found work in the newly rebuilt Grand Central Terminal as a platform man for the American Express freight agency.
"It was strenuous, but regular work. He earned union rates and sent money to his parents back home in Mayo [Ireland]," O'Mahony said in the letter. "Life was full of promise."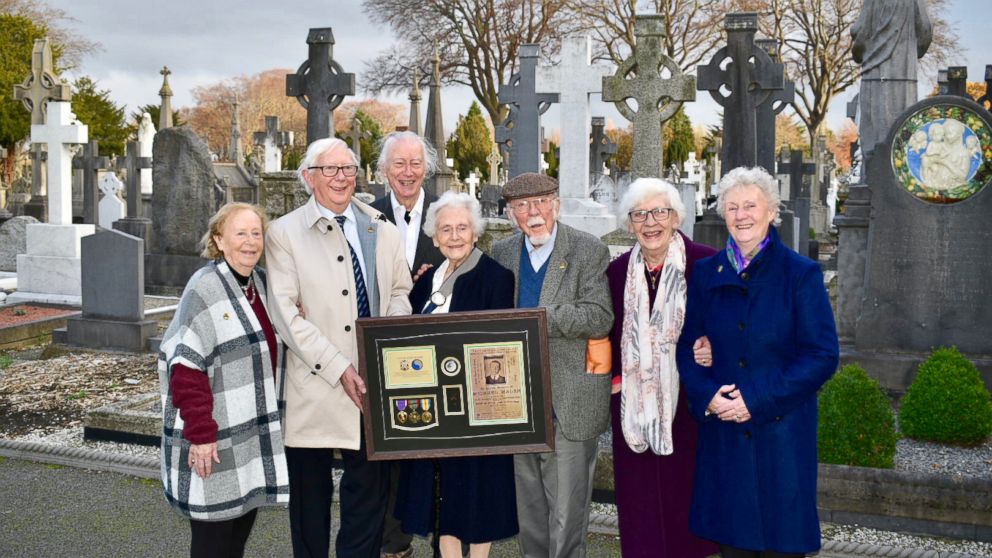 But just six years after setting foot on American soil, the U.S. entered World War I, and Walsh was drafted in New York in June 1917 along with millions of other young men across the nation.
He would soon become one of the 2.7 million called up to serve as part of Gen. John J. Pershing's forces on the western front, reinforcing French and British allied troops.
"Michael was one of approx. 500,000 emigrants from 46 countries who served their new country to fight a war that was not of their making, and never part of their American dream," O'Mahony wrote.
With just three weeks of training, Walsh and 70,000 other new soldiers sailed to Saint-Nazaire, Brittany, in western France in June 1918.
According to O'Mahony, Walsh's company sergeant said of his unit, "There was not a man of the lot who knew enough about military life to do right-face properly." Though he would later say his troops "progressed much better than was really expected of them."
The unit traveled by French box car trains to the villages of the Haute Marne in northeast France.
O'Mahony quoted a local school teacher in Genevrieres who wrote in his journal that "these soldiers are notable for their drive, their discipline, and their sense of fun."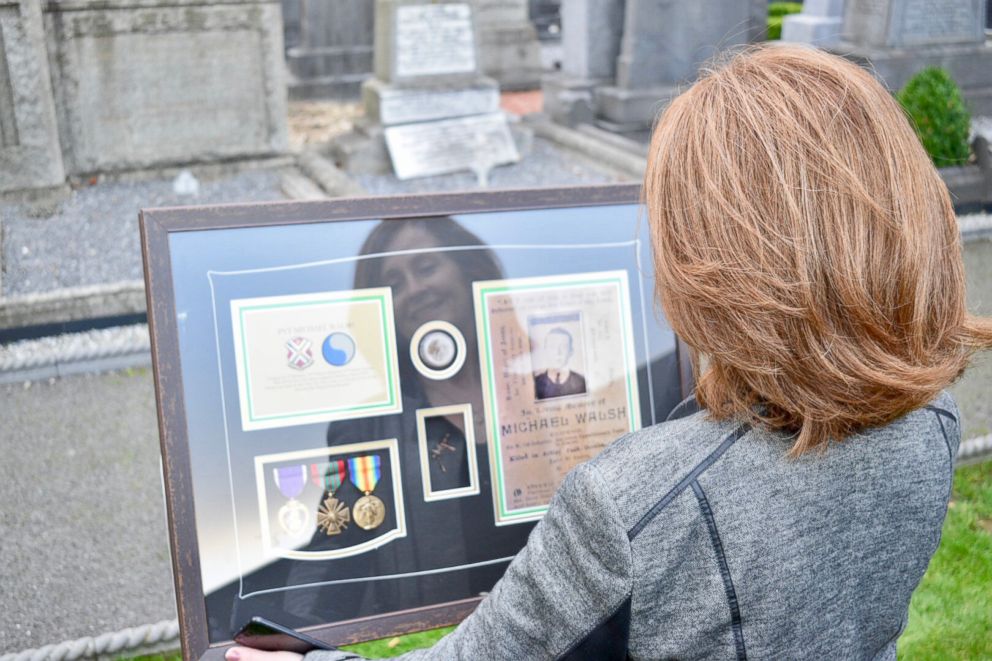 "Michael's last summer consisted of long night hikes, carrying their 40kg backpacks, and training in open battlefield fighting, in how to throw grenades, how to advance in assault waves, and how to quickly don their gas masks, to protect against the pervasive and deadly clouds of gas attacks," O'Mahony wrote.
By late September, the allied forces began their final push against the German troops, known as the Battle of the Meuse-Argonne. Walsh's unit was assigned to the 3rd battalion, 58th brigade, alongside the French 18th division. Their goal was to push back the enemy through rough terrain where they "had all the best vantage points and would affect a vicious counterattack, prepared to fight man to man to hold their position," O'Mahony said.
Walsh's unit took heavy casualties -- losing a third of its original strength by mid-October, according to their commanding officer. But Walsh would fight another few weeks. It was not until Oct. 24, 1918, when he was on the front lines during a push to capture an observation tower, that he was killed.
Through archive research, Walsh's family believes he was hit by shrapnel that day, most likely the last member of his company to die before the entire unit was pulled back from the front three days later.
On the 100th anniversary of Walsh's death, a group of his nieces and nephews traveled to the Meuse-Argonne American cemetery near Verdun, France.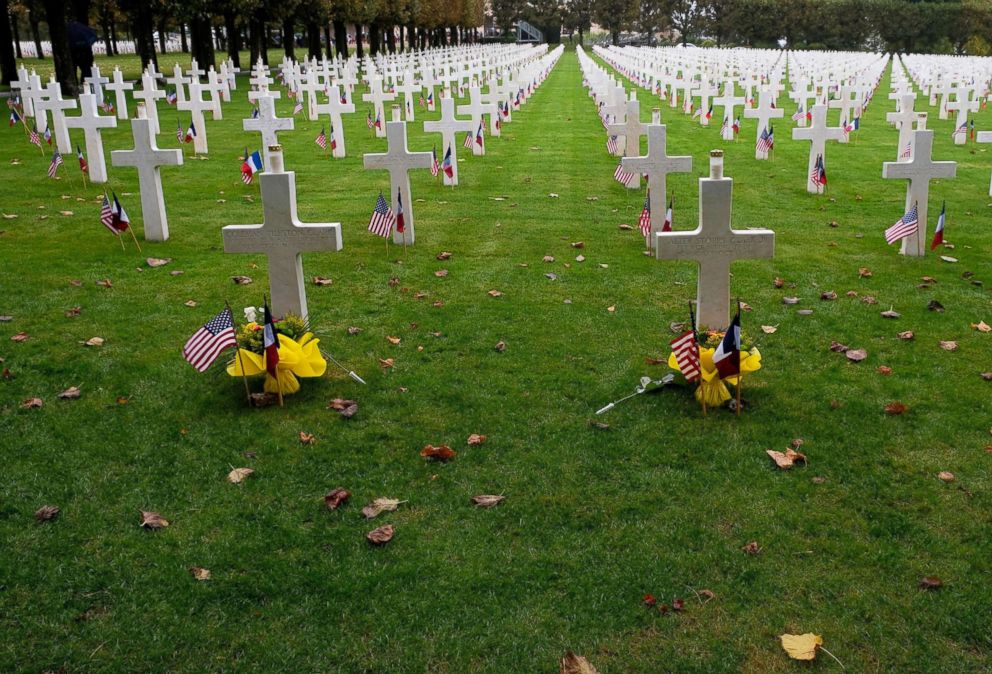 "Nothing prepares us for the sight of over 14,000 pristine, white marble crosses, crisply standing to attention in death, as they had paraded in life," O'Mahoney wrote. "Plot H, row 11, grave 9 and here it is, the final resting place of Private Michael Walsh, Co K, 116th Infantry, 29th Division, 100 years to the day he was killed in action."
The family retraced what they believed to be Walsh's path, across the field of the Molleville farm and into the woods of Consenvoye and the Grand Montagne.
"We saw machine gun nests, shell holes and corrugated German bunkers. Then we came across a large tin bucket, just sitting there where it had lain undisturbed for 100 years, riddled with bullet holes and with the side blown out, in a strange way, a small monument to the suffering of millions and to the grief of families like the Walshes," O'Mahoney said.
The Purple Heart ceremony in Dublin on Friday was another important part of honoring Walsh's legacy as an immigrant and a soldier.
His Purple Heart was the last of 100 medals returned over the last two years by Purple Hearts Reunited and the United States World War One Centennial Commission.