Dozens of states on Friday waded into a Texas lawsuit on the abortion pill, with Republican attorneys general calling for a nationwide ban on the drug even in states where it's legal. Democrats said doing so would be a public health disaster.
The dueling legal briefs, filed in the U.S. District Court for the Northern District of Texas, represent an escalation in a heated court battle over access to the drug mifepristone, which is used to end early pregnancies and accounts for at least half of all abortions in the U.S.
"Blocking access to this safe and effective medication is a dangerous attack on reproductive freedom and public health," said New York Attorney General Letitia James, who filed a brief on behalf of 22 Democratic attorney generals. "Decades of medical and clinical research have proven that medication abortion is safe. Despite these facts and its widespread use, we know this is not a debate about science."
Republicans countered that the U.S. regulators at the Food and Drug Administration had made the drug too widely accessible to the public, infringing upon their right to ban use of the drug within their states.
"The serious nature of the FDA's unlawful actions, and the agency's decision to invite lawbreaking by private parties and government actors across the country, favors broad relief. The FDA and the Administration as a whole have no intention to respect the Constitution, the Supreme Court, or the democratic process when it comes to abortion," wrote Mississippi Attorney General Lynn Fitch on behalf of 22 Republican attorney generals.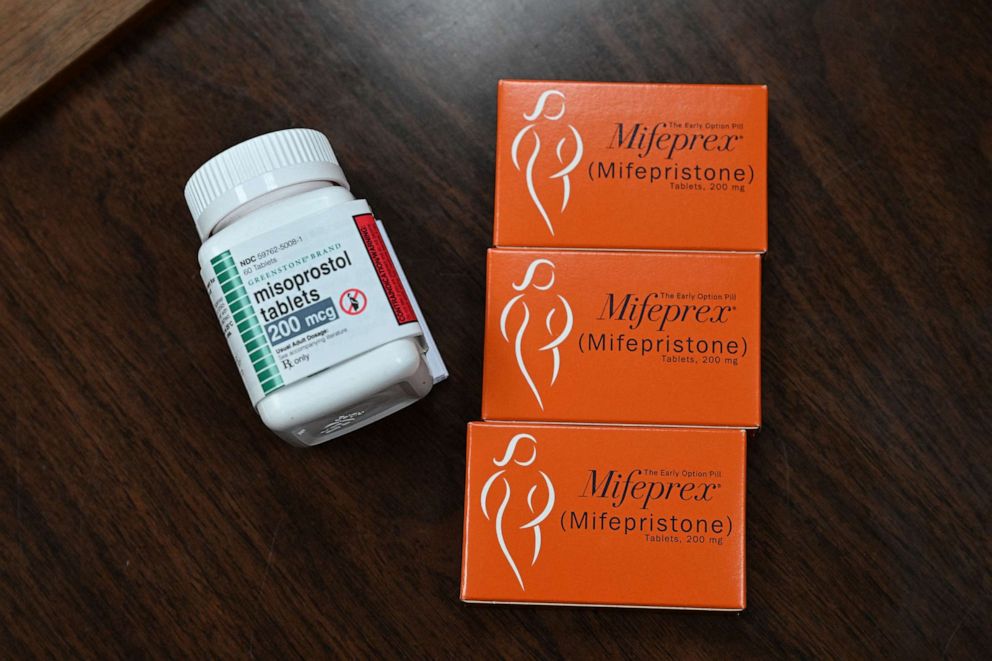 According to the FDA, mifepristone is safe and effective if used up to 10 weeks of pregnancy. The drug was sold in Europe and China before becoming available in the U.S. in 2000, and federal officials say no serious safety concerns have emerged since then.
A 2008 congressional watchdog review found no wrongdoing in the FDA approval process involving the drug.
Still, the conservative legal group Alliance for Defending Freedom has fought for years to revoke approval of the drug on the grounds that the FDA's approach was flawed and that regulators ignored safety concerns.
"The FDA has completely failed to protect America's women and girls when it comes to chemical abortion drugs," said Julie Marie Blake, senior counsel for the plaintiff in the case.
"Any court -- to look at the law and to look at the science -- should agree that the FDA has failed its responsibility to protect women and girls, and that it's time to remove these drugs from the market or at a minimum to put back important safeguards on their use," she said.
Blake said that while the lawsuit would ban mifepristone for abortion, it would still allow the drug to be used in miscarriage care and for other health reasons like Cushing's syndrome.
If the judge agrees and revokes access to mifepristone, abortion providers say it's likely they will turn to prescribing misoprostol only to induce an abortion. This drug, which is also used to treat stomach ulcers and is not tightly regulated, can cause an abortion without mifepristone, but is considered less effective.
Advocates also say clinics already overwhelmed with patients seeking abortions will likely have to turn people away, and more patients will turn to illegal online pill sites. The FDA urges Americans not to buy medications from overseas suppliers, but popularity in unregulated sites as Aid Access has exploded since state abortion restrictions were enacted.
"We have a lot of unknowns," said Ashley Brink, Wichita Clinic Manager at Trust Women Kansas.
"We aren't fully prepared for what might happen. We can only give information to people that we have at this time," she added.
The Trump-appointed judge ruling on the lawsuit, Matthew Kacsmaryk, is expected to make a decision in coming weeks after extending the deadline in the lawsuit to Feb. 24.