3 Democratic governors are raising their profiles, which could chart paths to White House: Experts
Pritzker, Newsom and Whitmer are growing their influence out of their states.
When Gov. Gretchen Whitmer of Michigan announced the start last week of a political group to boost President Joe Biden's reelection campaign and elevate other Democrats, she raised her own standing, too -- and drew the spotlight back to her and two other high-profile governors in the party whose presidential aspirations are often a subject of discussion.
Whitmer's creation of the Fight Like Hell political action committee -- which takes its name from her outcry after the Supreme Court decision overruling Roe v. Wade last year -- puts her in the ranks of Democratic Govs. Gavin Newsom of California and J.B. Pritzker of Illinois, whose involvement in national policy debates and fundraising for federal 2024 races could help them chart courses for their own futures in office, including presidential candidacies, analysts say.
"There is a very long history, going back to the 1970s, of individuals aspiring to be president to set up PACs like this to build political support and curry favor within their party for an eventual presidential run," said campaign finance expert Paul Seamus Ryan.
Pritzker helped attract next year's Democratic National Convention to Chicago by promising that he, and the local business community, could foot the event's debts.
And Newsom is fundraising for Democrats in red states while wading into debates over migration and gun legislation, even agreeing to a hypothetical faceoff with Florida Gov. Ron DeSantis, a 2024 Republican primary front-runner, that would be moderated by Fox News' Sean Hannity.
All three Democrats have been floated as possible 2024 presidential candidates amid voters' concern over the fitness of Biden, 80, to serve another four-year term. But all have enthusiastically endorsed Biden and publicly said they have no plans to run themselves.
Last week, Pritzker told "ABC News Live Prime" anchor Linsey Davis that he was "flattered to have been considered among people who might run for president" but that "President Biden has done a terrific job."
"This is somebody who, in the last two and a half years, has gotten more done than most presidents get done in four or eight years. And he's brought Republicans and Democrats together to get it done. So there's no reason to think that he isn't going to be able to do that for the next four years, too," Pritzker said.
Blue-state governors' involvement in the 2024 election cycle is strategic for the party, said Devon Cruz of the Democratic Governors Association (DGA), because of their strong track record of galvanizing voters.
"It's no surprise Democratic governors are sharing their story of success and playing an even more prominent role to help reelect President Biden" and other Democrats, Cruz said in a statement to ABC News.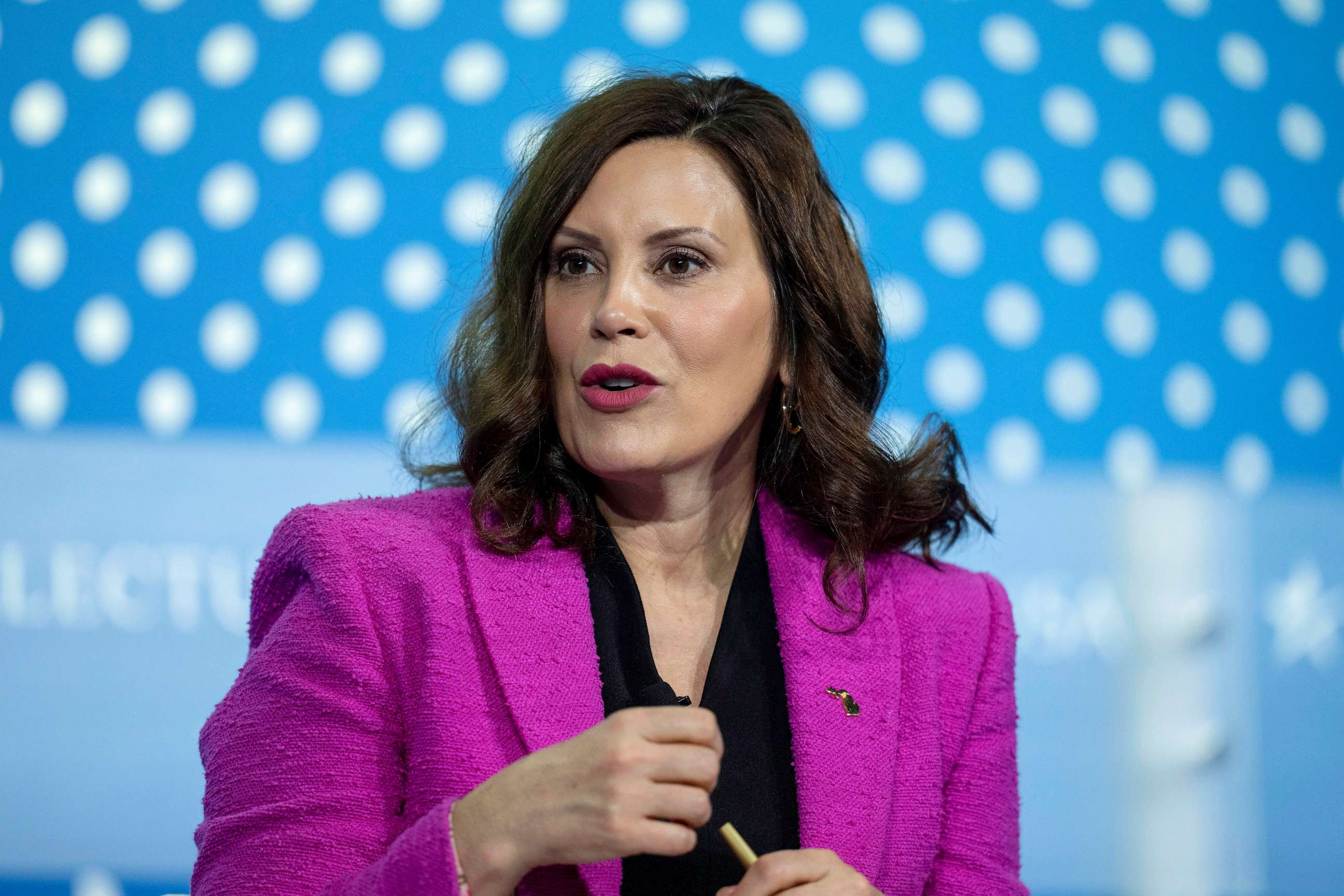 A prolific fundraiser, Pritzker has poured money into groups like the DGA and high-stakes races such as the recent contest for a seat on Wisconsin's narrowly divided Supreme Court. Newsom created a Campaign for Democracy PAC in March which raised more than $4 million in its first two months.
Some of Pritzker's involvement has been in his official capacity as governor. Democratic control of the Illinois Legislature since 2019 has allowed him to sign major new laws, including passing a preemptive ban on book bans, a minimum wage increase, marijuana legalization and more.
But he is also going out of his way to support the national party, through securing donations in battleground elections, joining Biden's reelection advisory board and attracting the upcoming convention to Chicago.
Newsom's involvement outside his state so far relies heavily on his lobbying on policy issues like immigration, abortion and gun restrictions across the country.
He's tangled directly with some GOP counterparts such as DeSantis and Mississippi Gov. Tate Reeves.
After Roe was reversed, Newsom launched an ad campaign calling for other states to adopt abortion policies that mirror California's -- specifically calling out seven states that were pursuing laws limiting abortion.
Newsom also recently proposed an amendment to the Constitution to codify some gun regulations in light of continued, high-profile mass shootings. That amendment, which faces low odds of being enacted, would raise the minimum age to purchase a firearm to 21 and require universal background checks, among other provisions.
The proposal grabbed the attention of GOP House Speaker Kevin McCarthy, who said Newsom is a "presidential aspirant" with "extreme positions."
Whitmer, who also serves as a co-chair for Biden's reelection campaign, first assumed office just days before Newsom did in 2019. She rose to national prominence in 2020, in part because of former President Donald Trump's criticism of her strict COVID-19 policies. She was also the target of a thwarted kidnapping plot by a right-wing militia group.
Her vocal advocacy on behalf of reversing a nearly century-old state abortion ban was credited with helping state Democrats succeed in 2022, winning control over both the Legislature and governorship for the first time in nearly four decades.
"It's exciting to see her take on an even more visible and supportive role in electing Democrats up and down the ballot in 2024," Cruz said of Whitmer.
The money that Whitmer's PAC raises could mark an investment in her political future, Ryan, the campaign finance expert, said.
The new group also reflects a growing trend in the relationship between state and national politics. As campaign finance for state-level races becomes more and more reliant on out-of-state donors, politicians have grown more responsive to national, rather than state-level, politics, according to University of Pennsylvania political science professor Dan Hopkins.
"​​Increasingly, the pathway to success for a lot of state-level politicians is within their own party, rather than within their state house," Hopkins said.
The way for a governor to become known within a political party is changing from being seen as "an effective leader within your state" to "a partisan warrior who can get yourself in the national limelight," Hopkins added.