The leaders of the Group of Eight industrialized nations will issue a joint statement this evening expressing serious concerns about the post-election violence in Iran, as well as its continued pursuit of nuclear weapons, but the G-8 will not push for new economic sanctions or tougher enforcement of those that exist, an Obama administration source told ABC News this afternoon.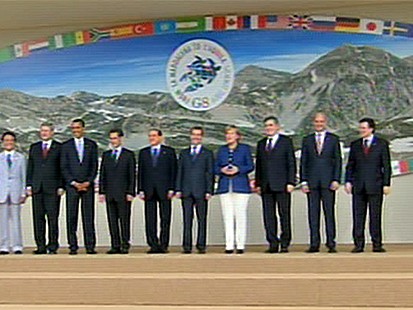 The statement will "reflect growing impatience" with Iran among world leaders, the source said, but it will not call for direct ramifications or contest the country's
June election results
.
The source asked for anonymity because the G-8 world leaders had not yet officially signed off on the final document.
On Tuesday, Iranian President Mahmoud Ahmadinejad said his re-election "was the most clean and free election in the world" and assailed the West's "childish acts of interference in Iran's internal affairs."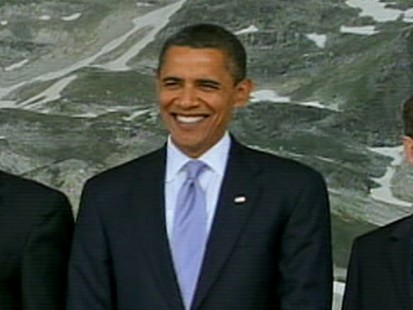 Other statements expected to follow tonight's working dinner at the G-8 summit will include a condemnation of
the nuclear weapons program pursued by North Korea
, and a pledge for more cooperation to provide basic services, such as health and water in Afghanistan and Pakistan, and a statement to address the humanitarian crisis in Burma.
This afternoon in Italy, leaders of the G-8 powers -- Canada, France, Germany, Italy, Japan, Russia, the United Kingdom, and the United States -- issued statements addressing economic growth, climate change, and pushing countries that previously pledged aid to developing nations but have yet to deliver by publicizing those commitments.
The climate change provision sets a non-binding global goal for a 50 percent reduction in greenhouse gases by 2050, using 1990 levels or later years as a base, with a goal for developed countries of 80 percent. The document pledges cooperation to limit the rise in global temperatures to no more than 2 degrees Celsius, or 3.6 degrees Fahrenheit.
But achieving that goal will be far more difficult than pledging it on a piece of paper as a pledge, particularly with developing nations balking at the goal and complaining that the industrialized world hasn't followed through with aid and technology to help them reduce greenhouse gas emissions.
Tomorrow, President Barack Obama will chair the 17-member Major Economies Forum meeting, which will include major polluters China and India, as well as Australia, Brazil, the European Union, Indonesia, South Korea, Mexico, Russia, and South Africa, where debates are expected to be more contentious.
In December, the United Nations will hold a summit in Copenhagen, Denmark, with the hope of achieving a global climate pact.
Aid for Developing Countries
In other developments at the summit in Italy, the G-8 nations also pledged today to take steps to encourage economic growth and financial stability while eschewing protectionist measures, including aid to developing countries.
According to Official Development Assistance (ODA) figures for 2008, G-8 nations have only delivered one-third of the $21.5 billion in assistance they promised in 2005 to deliver to Africa by 2010, with the humanitarian group saying Italy has given only 3 percent of the $3.5 billion it pledged in 2005 and France has given only 7 percent of its pledged $5.2 billion.
In an apparent effort to shame countries not following through on their previous pledges, the G-8 for the first time will publish the data of money pledged and money delivered to enhance accountability.
G-8 Meets In Earthquake-Ravaged Town
The meetings were held in central Italy in the historic town of L'Aquila, a show of support for the region after the devastating earthquake that struck there April 6. Nearly 300 people were killed, tens of thousands were left homeless and centuries-old buildings were damaged or destroyed.
The area is still experiencing aftershocks, including four just in the last week. Local officials have prepared emergency plans to evacuate G-8 leaders by helicopter to Rome in the event of another significant quake.
Italian Prime Minister Silvio Berlusconi decided to move the summit from La Maddalena, an island off the coast of Sardinia, to L'Aquila to help boost the local economy and raise awareness for the continuing challenges of the earthquake. (Berlusconi is experiencing his own personal and political earthquake, incidentally, with allegations of partying with prostitutes and young models consuming local tabloid headlines.)
Earlier today, Obama announced that the U.S. government will partner with the National Italian-American Foundation to provide funding for projects in the earthquake region, including money to rebuild facilities at the University of L'Aquila and fund scholarships and summer programs.
"Our hearts were broken by the death and destruction that took place after the earthquake," the president said upon arriving from Moscow. He said he was "very pleased that the United States, like many other countries, will be contributing to help the rebuilding process."
Leaders Tackle Food Security and Climate Change
The economic crisis, food security and climate change are at the top of the official agenda of the three-day summit, but world leaders were also planning to focus on critical issues like Iran and North Korea.
The discussions on the global economic crisis continue from April's G20 summit in London, where leaders struggled to overcome disagreements on how to balance fiscal responsibility with the need for more economic stimulus. On Thursday, Obama will chair the Major Economies Forum on the topic.
On the table is a U.S. food security proposal in which wealthy nations would commit $15 billion over the next several years for agricultural development in poor nations.
White House Deputy National Security Advisor Mike Froman said today that the proposal includes several principles for development policy, including: supporting country-owned programs that cover all the parts of agricultural development, agricultural productivity and food security issues; coordinating aid among donor nations to meet the needs of recipient nations, rather than through "scattershot programs"; using multinational institutions, like the United Nations, when appropriate, and making a "significant and sustained" commitment of financial aid to financial commitment to the area.
Obama to Meet Individually With World Leaders, Pope
Later in the week, the summit expands to include leaders from fast-growing nations India, China and Brazil and developing nations in Africa.
Obama will also hold side meetings with world leaders like South Africa's newly-elected president, polygamist Jacob Zuma. He was scheduled to sit down for a one-on-one meeting with Chinese President Hu, but it was cancelled after Hu returned home to deal with the rising ethnic tensions in western China.
White House press secretary Robert Gibbs said today that there will now be a meeting between the U.S. and Chinese delegations, likely led by U.S. National Security Advisor Gen. Jim Jones (Ret.).
After the summit concludes, Obama caps off the Italian leg of the trip with a visit to the Vatican to meet with Pope Benedict XVI.
Asked if the president and pope would discuss their differences on issues like abortion, gun control and gay rights, Gibbs said the president and the pope would have a "frank discussion."
The spokesman noted that there are many things the two agree on that they will be able to discuss, like the president's outreach to the Muslim world and his position on nuclear proliferation.
Berlusconi Looks for Political Boost from Summit
Berlusconi is hoping that a successful G-8 summit will help his political standing and shift the spotlight away from his recent negative headlines.
The Italian prime minister has been embroiled in a nasty sex scandal that culminated with his wife announcing in May that she was divorcing him over allegations that he had an affair with a teenaged model. Since then, Berlusconi's personal life has come under fire amid charges of paying high-end escorts to entertain at parties at his residence in Rome and racy photos of women at his villa on Sardinia.
The prime minister has refused to step down, and he still enjoys modest approval ratings among the Italian public.
Earlier today, Obama appeared to take a shot at Berlusconi through a compliment he paid to Italy's President Giorgio Napolitano.
"I have heard of the wonderful reputation of President Napolitano as somebody who has the admiration of the Italian people, not only because of his long-standing service but his integrity and his graciousness," Obama said after meeting with the Italian leader at Quirinale Palace in Rome.