As more details emerged on the federal bailout of Wall Street, presidential candidates John McCain and Barack Obama sought to convince voters they would be the best stewards of the economic meltdown.
In an effort to appear presidential, the two candidates adopted opposite strategies.
Obama, a Democrat, said he will temporarily stand back from providing specific details of his plan to revive the financial markets so as not to interfere with a plan Congress and the U.S. administration is drawing up to shore up the markets.
McCain, a Republican, took the opposite tack. He unveiled his most detailed economic blueprint to date on how he would tackle the economic crisis and sharply attacked Obama.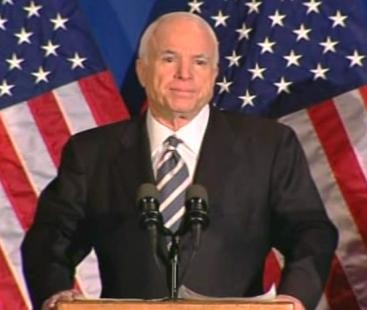 Obama says he is "less interested in scoring political points" that making sure a fix for the economic meltdown is sound and works. Obama had planned on unveiling his own plan this morning, but instead huddled with his economic advisers this morning.
He emerged to say he will watch and take part in the efforts now underway by Congress and the administration.
Asked in a news conference if he was sitting on the sidelines, Obama said, "No," then adding a jab at McCain, "You don't do it in a day.
"We've got to do it in an intelligent, systematic thoughtful fashion and you know I'm much less interested at this point in scoring political points, than I am in making sure that we have a structure in place that is sound and that is actually going to work," Obama said.
"What we have to do is make sure taxpayer money is not being used to bail out bad decisions," he said.
"I think now more than ever we have to have the broad-based middle-class tax cuts," Obama said.
McCain Offers Plan to Reform Wall Street
McCain offered a six-point plan to reform Wall Street and attacked Obama.
"We've heard a lot of words from Senator Obama over the course of this campaign," McCain told the Green Bay, Wisc., Chamber of Commerce. "But maybe just this once he could spare us the lectures, and admit to his own poor judgment in contributing to these problems.
"The crisis on Wall Street started in the Washington culture of lobbying and influence peddling, and he was right square in the middle of it," McCain said.
McCain also pointed the finger of blame at SEC chairman Chris Cox, but the candidate softened his threat yesterday to fire Cox. Instead McCain called for Cox's resignation.
McCain offered a six- point plan for reforming Wall Street -- including consolidating the alphabet soup of regulatory agencies, promoting greater transparency, and creating a new oversight body called the Mortgage and Financial Institutions Trust or MFI.
"This trust will work with the private sector and regulators to identify institutions that are weak and fix them before they become insolvent," McCain said.
Obama Meets With Democratic Economic Braintrust
Obama met in an emergency powwow with his extended economic team meeting either by phone or in person in Miami this morning, but would not release a detailed economic plan for avoiding a fiscal meltdown.
"I have asked my economic team to refrain from presenting a more detailed blueprint of how an immediate plan might be structured until the Treasury and the Federal Reserve have had an opportunity to present their proposal," Obama said in a statement Friday.
"It is critical at this point that the markets and the public have confidence that their work will be unimpeded by partisan wrangling, and that leaders in both parties work in concert to solve the problem at hand," Obama said.
Included in the Obama meeting were Wall Street titan Warren Buffett, former treasury secretaries Paul O'Neill, Robert Rubin and Larry Summers, former Fed chairman Paul Volcker, and Laura Tyson, former head of the Council of Economic Advisers under President Clinton. The team also includes Democratic vice presidential candidate Sen. Joe Biden, and Gene Sperling, who was the chief economic advisor to Sen. Hillary Clinton's 2008 presidential campaign.
Obama Signals Support for Government Bailout
In his early morning statement today, Obama also indicated that he will support additional government intervention into the markets and finalize his plan to call for the passage of a Homeowner and Financial Support Act "that would establish a more stable and permanent solution to the crisis."
Obama -- who spoke on the phone with Treasury Secretary Henry Paulson last night -- said he supports the efforts to work with Congressional leadership to solve the crisis, and as he reviews their eventual proposal he will be guided by four principles.
"First, the plan must account for the fact that the country is in an economic crisis that is broad, not just on Wall Street. Second, any taxpayer-funded support must have as its focus protecting the nation's long-term interest. Third the plan must be temporarily coupled with new oversight regulations of financial institutions. And lastly, plan should be part of a globally coordinated effort," Obama said in his statement.
The campaign trail rhetoric this week has been dominated by the economic news – putting the spotlight on both candidates to formulate a firm economic plan.
Obama Seeks 'Measured' Response Today
Obama has been critical of McCain, telling audiences in battleground states this week that while he doesn't blame McCain for the economic crisis, he does blame the hands-off, supply-side philosophy McCain subscribes to.
But the Obama campaign told reporters today the Democratic presidential candidate doesn't intend to offer a partisan attack on McCain today.
An Obama campaign official said voters will see "a measured" Barack Obama today.
"This is a serious situation and people want to see someone who is calm," an Obama official told ABC News.
"Others may be popping off" today, said the campaign official, but Obama will be repeating his economic principles, which the official say are close to what is being considered by Congress and the U.S. administration.
ABC News' Bret Hovell, Alyssa Litoff and Imityaz Delawala contributed to this report.