The acting Capitol Police chief strongly denied that her department failed to heed intelligence reports ahead of the Jan. 6 attack on the Capitol warning of potential violence on Thursday.
She said the insurrectionists weren't just interested in "attacking members of Congress" but "they wanted to send a symbolic message to the nation: ... 'Who was in charge of that legislative process?'"
At the House Appropriations subcommittee hearing investigating security failures, Pittman, during her opening statement, addressed new focus on questions about intelligence failures that have triggered finger-pointing over who was responsible, saying nothing warned of something so overwhelming.
"The department was not ignorant of intelligence, indicating an attack of the size and scale we encountered on the 6th," Pittman said. "There was no such intelligence."
"There's evidence that some of those who stormed the Capitol were organized, but there's also evidence that a large number were everyday Americans, took on a mob mentality, because they were angry and desperate," she said.
"It is the conduct of this latter group that the department was not prepared for. The department did face some operational challenges that we are addressing," she said.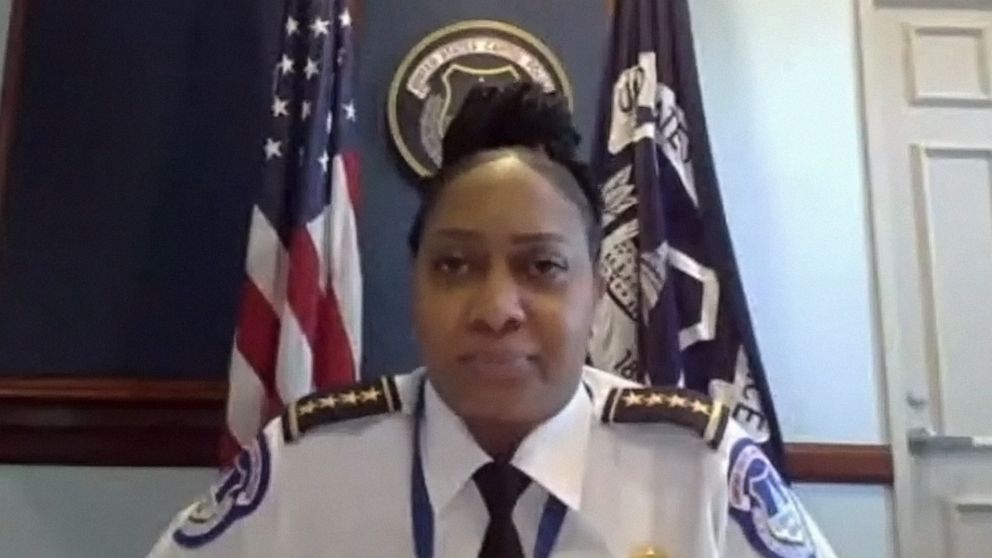 More than a month after the deadly Capitol siege that left 140 police officers injured and five people dead, Yogananda Pittman also told Congress Thursday that there are ongoing threats to disrupt President Joe Biden's expected speech to a joint session of Congress.
"We know that members of the militia groups that were present on Jan. 6 have stated their desires that they want to blow up the Capitol and kill as many members as possible with a direct nexus to the State of the Union, which we know that date has not been identified," she testified Thursday. "So, based on that information we think that it's prudent that Capitol Police maintain its enhanced and robust security posture until we address those vulnerabilities going forward."
Pittman was the assistant chief of police of the department's Protective & Intelligence Operations on Jan. 6 and was responsible for its Intelligence and Interagency Coordination Division.
She said the IICD came back with four "special assessments" about the potential for violence on Jan. 6 – all of which she said were "raw intelligence."
"Although the Department's Jan. 3 Special Assessment foretold of a significant likelihood for violence on Capitol grounds by extremists groups, it did not identify a specific credible threat indicating that thousands of American citizens would descend upon the U.S. Capitol attacking police officers with the goal of breaking into the U.S. Capitol Building to harm Members and prevent the certification of Electoral College votes," she said. "Nor did the intelligence received from the FBI or any other law enforcement partners include any specific credible threat that thousands of American citizens would attack the U.S. Capitol."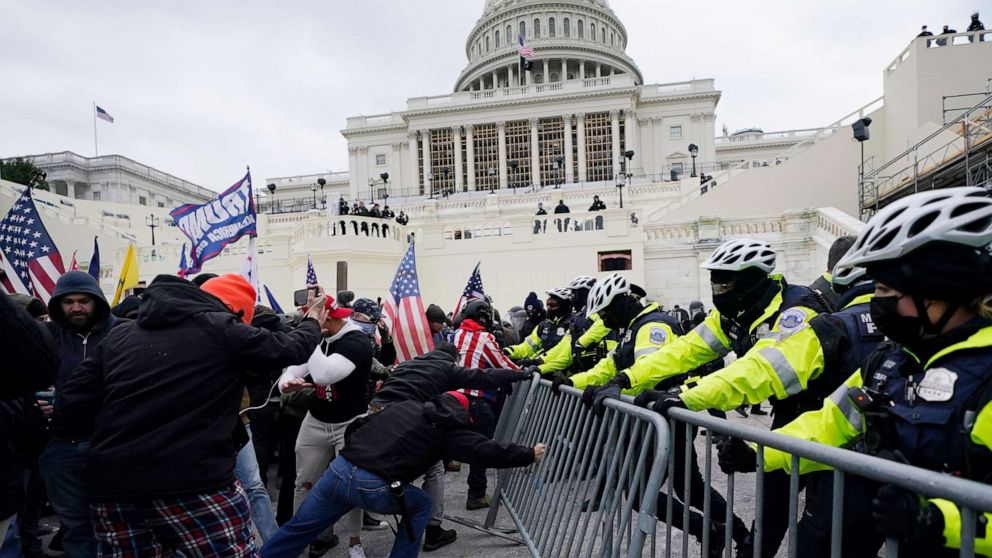 The former Capitol Police chief, Steven Sund, who resigned in the wake of the attack, testified Tuesday that he never saw an FBI assessment sent by email the evening before the Jan. 6 assault -- a description of an online threat that extremists were preparing for "war" against the Capitol as Congress met in joint session to count Electoral College votes.
Regarding the assessment from the FBI's Norfolk field office, Pittman said it was not "evaluated intelligence."
"It was being shared for informational purposes but has not been fully evaluated integrated with other information interpreted or analyzed receiving agencies are requested, not to take action based on this roll recording," she said. "We do not believe that that document in and of itself would have changed our posture we believe it was consistent with the information and intelligence that we already had that those groups were going to be violent, and they were expected to participate in unlawful activity on the campus of the one thing that we were already leaning forward and asking for was additional resources, as it relates to the request for the National Guard."
Pittman noted that during the Jan. 6 attack, while there were "well over 10,000" people on the Capitol grounds, about 800 people actually came into the Capitol.
During an intense back and forth, Rep. Rosa DeLauro, D-N.Y., repeatedly asked about the role of the four-person Capitol Police Board. "It's like your appendix -- it's just there it doesn't have any real function," DeLauro said, adding, it "seems to seems to be non-functioning."
That frustration was shared by Chairman Tim Ryan, D-Ohio, who questioned why the Capitol Board didn't take a vote on requesting National Guard assistance beforehand based on the threat assessments of potential violence.
"We need to be ready for that and I don't think saying that while the Secret Service, you know, didn't see a threat either, that to me doesn't cut it either, because who cares so they got it wrong too, like, I mean that's the underlying issue here, and really just trying to understand moving forward," Ryan said.
"Why wouldn't we have been prepared for the worst-case scenario?" he asked later.
"We were already preparing for what we knew was going to be violent acts, and civil disobedience for that day of bringing in essentially every employee we had available to us and reaching out to our law enforcement partners," Pittman replied. "We had the immediate response from the Metropolitan Police Department. We're so thankful for them as well as the U.S. Secret Service. With that said, there were those additional requests for the National Guard. So there was several security enhancements that were requested. But with that said, it wasn't enough. It was not enough."
"I don't understand why Chief Sund and yourself weren't pushing for a full vote at the board," Ryan said. "That to me, if it was such a priority for you, then why would you say I want to force a board vote."
He added that he felt that the Capitol Police didn't take the intelligence and synthesize it to realize that something bad could happen.
Ryan closed out the hearing by telling Pittman, "We've got to make sure that the leadership with Capitol Police is operating and functioning at a very, very high level, especially in this current environment."
"I know you can tell from the committee here and rank and file members of Congress who don't sit on this committee are extremely disappointed, extremely concerned," he said.
Pittman said that the results of the investigation into the conduct of Capitol Police officers will be shared when the probe is done, perhaps in 60 to 90 days.
Currently, 35 officers are under investigation and six officers have been suspended.