Air Force Moves to Ease Drone Pilot Shortfall and Heavy Workload
Drone pilots currently fly three times as many missions as other pilots.
January 15, 2015, 7:34 PM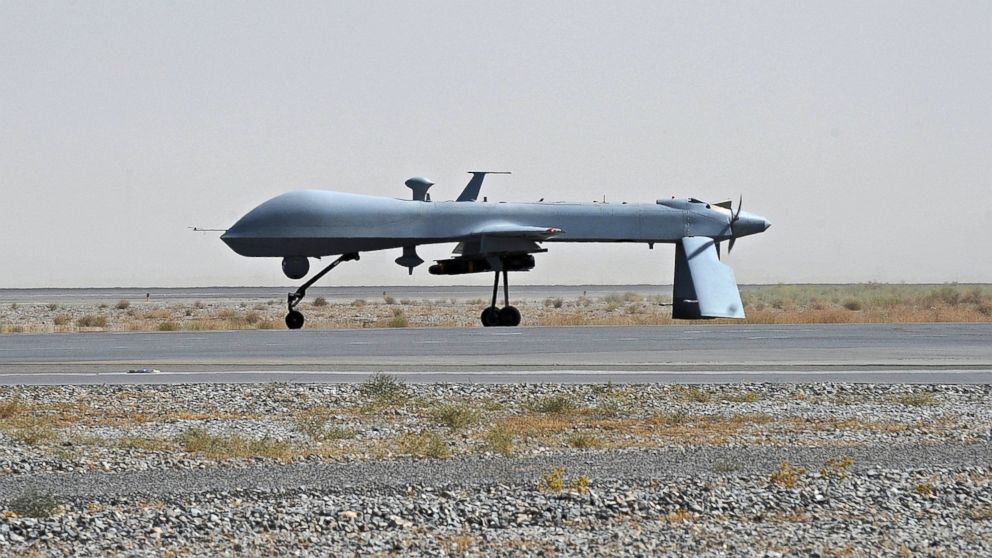 — -- The Air Force is moving to ease the "significant stress from an unrelenting pace of operations" on its Predator drone pilots who are working long hours to meet the demands of U.S. military commanders for more intelligence and surveillance from above, especially in the war against ISIS in Iraq and Syria, Pentagon officials said today.
Short-term solutions include tapping into the National Guard and Reserve for more personnel, giving incentive pay to drone pilots and asking for volunteers to fill personnel gaps.
At a Pentagon briefing today, Air Force Secretary Deborah Lee James said officers flying drones typically fly their unmanned Predator and Reaper aircraft six days a week while pulling 14-hour shifts. And they are flying those drones for many more hours than Air Force pilots flying manned aircraft -- between 900 and 1,100 hours versus the typical 200 to 300 hours for other pilots, James said.
The number of Air Force pilots needed to fly a growing number of missions worldwide has not kept up with demand. There are currently 988 Predator and Reaper pilots, but the Air Force is supposed to have 244 more drone pilots, James said, and not as many new pilots are coming in annually to replace the 240 who leave the drone force each year.
"This is a force that is under significant stress from what is an unrelenting pace of operations," said James.
Secretary James and Air Force Chief of Staff Gen. Mark Welsh IV announced three short-term solutions to help with the drone pilot shortage and overwork.
First, the National Guard and Reserve will be asked to provide more personnel for active duty service with the drone fleet. Second, former drone pilots will be able to volunteer to fly again with drone units for six month periods. Third, the Air Force is going to delay the return of pilots loaned to drone units back to their manned units -- that plan would impact 33 pilots currently flying drones.
James has authorized monthly flight pay increases that could almost double what drone pilots what are paid right now not to exceed a maximum of $1,500 per month. She also said that the Air Force is looking at other bonus incentives that would help retain drone pilots considering leaving the Air Force.
Welsh acknowledged there has also been discussion of using non-commissioned officers to fly drone aircraft as the Army does with its version of the Predator known as the Gray Eagle. As with its fleet of manned aircraft, the Air Force only uses officers to fly its unmanned aircraft.
"They're just worn out," said Welsh. "Because this is not a new problem. It's been going on since 2007, as the requirement keeps increasing and all our solutions to it keep lagging the requirement change."
It's not just the drone pilot force that's overworked, but the sensor operators, the maintenance teams and the intelligence analysts who are being overworked. There will be additional plans in the future to ease the strain on the entire Air Force drone mission.
"The crisis right now is with the pilot force," said Welsh. "We are reaching the point where some of them can go. And it is the most stressed part, because it is the lowest manned, percentage wise, part of the RPA fleet. That's why that's the focus."
Predator and Reaper drones operate in Combat Air Patrols (CAPs) that typically consist of four Predator drone aircraft. Last year, the Air Force planned to downsize its drone fleet by 10 CAPs from a baseline of 55, but high demand has led the Air Force to increase that number to 65 daily CAPs.
Welch said the demand for drone aircraft in Iraq and Syria had led to the increase and "exacerbated the problem". "That's why we have got to do something right now to stabilize this workload issue," said Welch.
James said the Air Force has no further plans to reduce its personnel numbers beyond the current 315,000 and both Air Force leaders said they won't reduce them any further. "That is where we intend to remain," said James. "If anything, we perhaps need to look about going up in terms of some of our numbers, and that goes for the Guard and reserve as well."
But sequestration still looms in 2016 which could force deeper cuts and Welsh was emphatic that the Air Force has gone as low as it can in terms of planes and personnel.
"We cannot go any lower," said Welsh. "We are getting too small to succeed, as opposed to too big to fail."