Aloha Obama: Inside the President's 2015 Hawaiian Holiday
Inside President Obama's two-week Hawaiian vacation.
Obama Returns to White House, Ends Hawaiian Vacation
— -- Sunday, JANUARY 3
President Obama and his family have returned safely to Washington, touching down on Air Force One at 11:42 a.m.
A short time later, the first family lifted off on Marine One for a brief ride to the White House, touching down on the South Lawn at 12:10 p.m.
The president's vacation spanned 15 days on Oahu.
--John Parkinson
Obama Concluding Hawaiian Vacation
Saturday, JANUARY 2
President Obama has wrapped up the 15th day of his Hawaiian vacation, flying home to Washington overnight Saturday into Sunday.
The president spent his final day in Hawaii with a visit to a family cemetery, the Honolulu zoo and dinner at a steakhouse in Oahu.
The Obamas began the day with a final visit to the beach, spending about 90 minutes at Bellows Air Force Station. Later, they ventured to National Memorial Cemetery of the Pacific at Puowaina Punchbowl Crater, also known as "the Punchbowl," to pay respects to the president's late grandfather, Stanley Dunham, who is interred at the cemetery.
Later in the afternoon, President Obama, First Lady Michelle Obama, their daughters and extended family continued on to the East-West Center to visit a memorial to the president's mother.
The group went to the Honolulu Zoo afterward, where the first family observed ring-tailed lemurs and howler monkeys. Journalists covering the president's vacation were afforded a brief opportunity to observe part of the president's trip to the zoo.
Just before boarding their flight to Washington, the president and his family enjoyed a final meal at Buzz's Original Steakhouse.
The first family departed Joint Base Pearl Harbor-Hickam on Air Force One at about 10:30 p.m. and were due to land in Washington on Sunday morning.
--John Parkinson
Obama Spends New Year's Day Golfing, Dining Out
Friday, JANUARY 1
President Obama began his new year golfing for more than four hours at Marine Corp Base Hawaii at Kaneohe with buddies from his youth -- Bobby Titcomb and Mike Ramos -- and his travel director Marvin Nicholson, who has golfed with the president more than 150 times.
In the evening, the president and First Lady Michelle Obama dined at Orchids at Halekulani on Waikiki Beach.
The president ends his vacation on Saturday night, departing at 3 a.m. EST.
--John Parkinson
Obama Plays 27 Holes of Golf on New Year's Eve
Thursday, DECEMBER 31
President Obama spent his New Year's Eve playing 27 holes of golf with his high school friends who have joined him many times this vacation.
He spent more than 6-hours playing the three 9-hole courses at the Hawaii Prince Golf Club in Ewa Beach in beautiful, sunny 78-degree weather.
This evening the president plans to ring in 2016 at his vacation rental.
So far in his vacation, Obama has read four books: The Whites by Richard Price, Purity by Jonathan Franzen, The Wright Brothers by David Mccullough, The Three Body Problem by Liu Cixin.
He spent approximately an hour and a half at Marine Corps Base Hawaii this morning for his workout.
Obama Family Attends Luau at Friend's Home
Wednesday, DECEMBER 30
President Obama and the first family enjoyed another vacation day away from cameras in Honolulu, spending more than seven hours at a luau at the president's longtime friend's home.
Obama and friend Bobby Titcomb have been friends since the were teenagers. Titcomb regularly golfs with the president, and the first family has attended luaus at his home during past vacations.
The president began the day working out as usual for about 90 minutes at the Marine Corps Base Hawaii.
Obama Family Snorkels on Hawaiian Holiday
Tuesday, DECEMBER 29
The first family spent the 11th day of their Hawaiian vacation snorkeling with friends at Hanauma Bay Nature Preserve. The park is home to Hawaii's state fish, the Humuhumunukunukuapua'a. The Obamas typically snorkel at the preserve on the second Tuesday of their vacation, since the park is closed to the public on Tuesdays.
The president began the day once again working out for about 90 minutes at the Marine Corps Base Hawaii.
The White House also announced that President Obama signed a disaster declaration for a storm that rocked Oklahoma in late November, ordering federal aid to supplement state, tribal, and local recovery efforts in the areas affected by severe winter storms last month.
President Obama was not photographed or spotted by journalists traveling in his motorcade today.
--John Parkinson
Drone Flies Near Obama's Motorcade Leaving Golf Course
Monday, DECEMBER 28
Shortly after President Obama concluded another round of golf and his motorcade drove back to his vacation rental, a recreational drone flew near the motorcade, alerting Secret Service. Although no charges were filed, the unusual incident highlights a growing security challenge for the Secret Service as flying drones become an increasingly popular activity across the country.
The president began his day by working out for about 90 minutes at the Kaneohe Marine Corps base.
Later in the morning, the president played a round of golf at Mid Pacific Country Club with his friends, Greg Orme, Mike Ramos and Bobby Titcomb.
While the president was unable to replicate his impressive 40-foot chip at the same course last Monday, Obama did allow the journalists accompanying him to watch the foursome finish the 18th hole. President Obama took three shots, missing a chip and long put before tapping in from a couple of feet out. The president rarely invites the pool to take video of him golfing, but this is the second time so far during his Hawaiian vacation.
Following golf and the drone incident, President Obama and First Lady Michelle Obama rode in their motorcade across the island to dine at Alan Wong's, a recurring favorite for the couple, to dine with friends.
--John Parkinson
The Annual Tradition: Obama Family Enjoys Shave Ice (Again)
Sunday, DECEMBER 27
It took nine days into their Hawaiian vacation, but President Obama and his daughters finally stopped by Island Snow, an annual pilgrimage to their favorite shave ice joint in Kailua.
The president said that he ordered a "melon, cherry and lime-flavored" shave ice, which is not quite the "SnowBama," which Island Snow bills as a combo of lemon-lime, cherry and passion-guava syrups.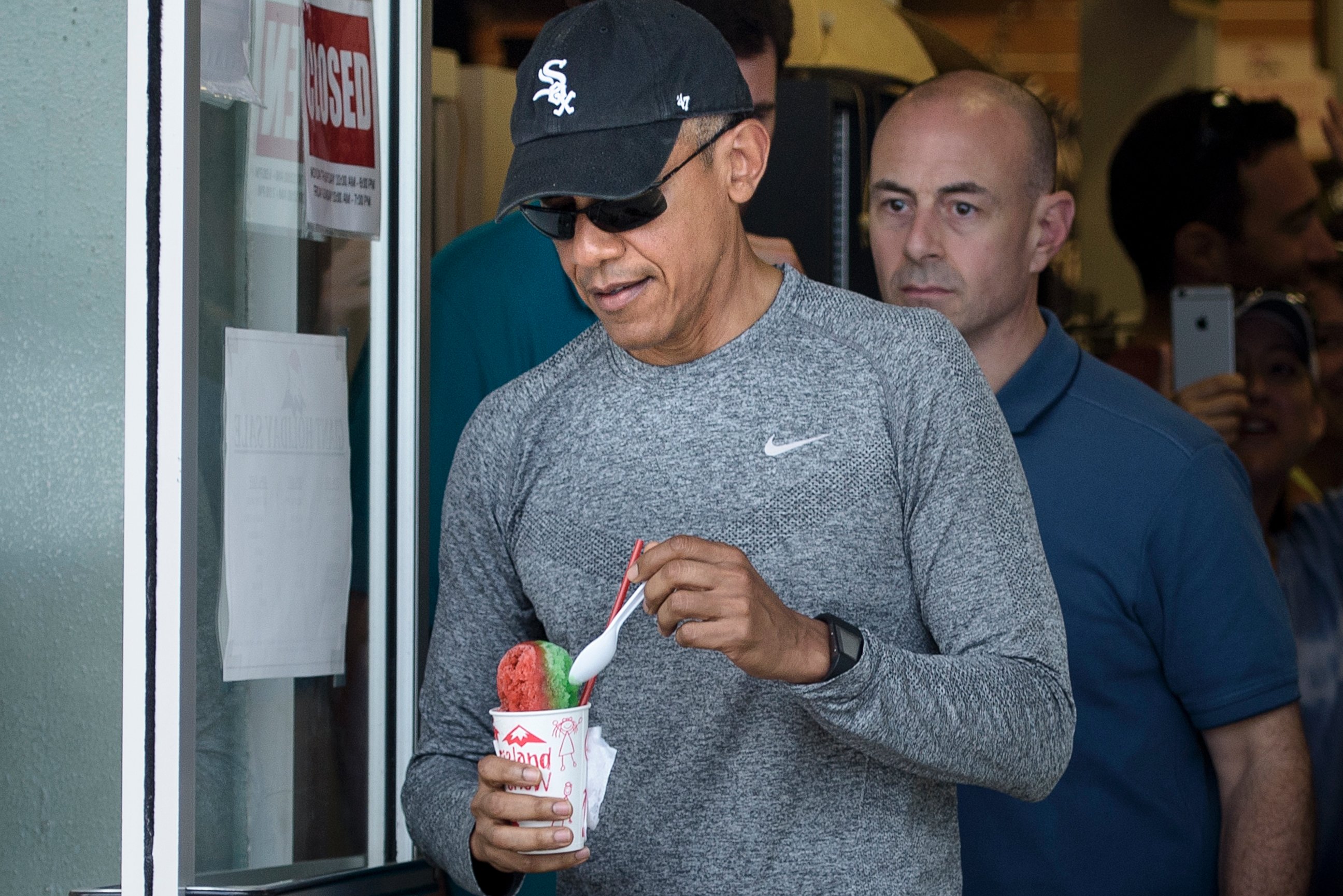 After savoring shave ice, Obama stepped outside the small store to greet about 40 people who had gathered when they realized the president was inside. President Obama told onlookers that he could not take selfies but did end up posing for a few pictures with kids, according to a press pool report.

The Island Snow stop capped off a nearly 3-hour beach day at Bellows Air Force Station, the same place they beached on Christmas Eve.
The Obamas also dined late into the evening at Hoku's at the Kahala Hotel and Resort, which boasts on its website that it's "heralded for its innovative fusion fare" -- combining Hawaiian, Asian, Mediterranean and European flavors. The eatery is widely regarded as one of Hawaii's finest restaurants and is located in perhaps the most ritzy neighborhood on Oahu.
--Jon Garcia and John Parkinson
Obama Plays Golf Through the Rain
Saturday, DECEMBER 26
President Obama began his second week of his Hawaiian vacation with another round of golf.
It was his second round at the Marine Corp Base Hawaii Kaneohe Klipper Golf Course during his vacation. He even played through a rain storm.
Thus far, the president has played four rounds of golf, gone on three hikes, went out for dinner twice, had one beach outing, and visited service members and their families at Marine Corps Base Hawaii.
--Serena Marshall
Thanking the Troops in Person on Christmas Day
Friday, DECEMBER 25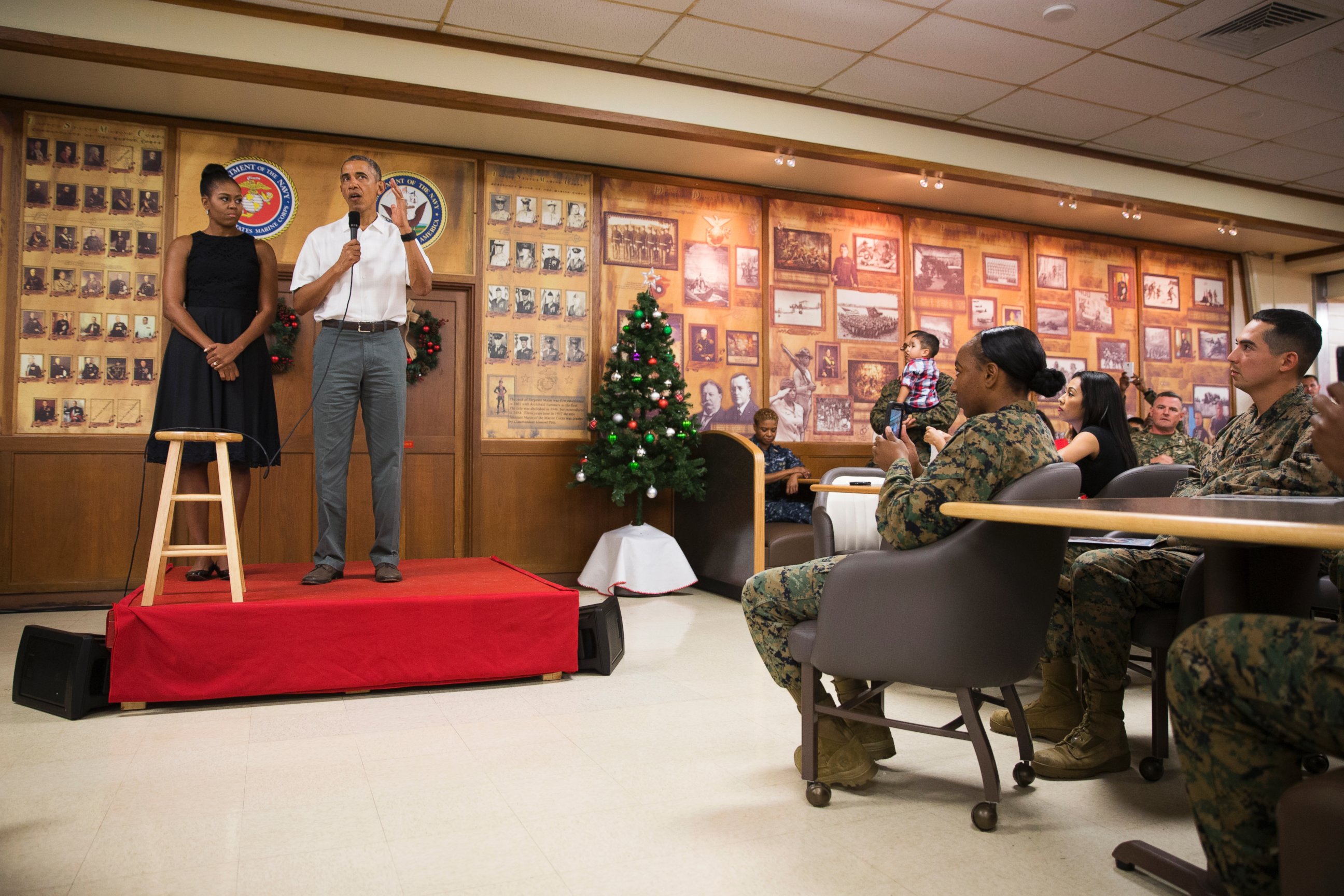 In the midst of his holiday vacation with his family in Hawaii, President Obama thanked U.S. troops stationed at the Marine Corps Base Hawaii for their service.
With his wife Michelle, Obama on Friday wished the troops at the base in Kaneohe Bay a wonderful Christmas.
"This is one of our favorite things to do every single year because not only are we in Hawaii for Christmas, but we're also able to say thank you on behalf of the American people," he said. "So many families here are serving tirelessly, and it's not just those in uniform who serve, it's also the spouses, the kids."
The president said it is tough to be deployed overseas, even as the administration has been able to reduce the number of troops serving in places such as Iraq and Afghanistan.
During his remarks, Obama referenced the six U.S. airmen who were killed in a suicide attack in Afghanistan this past Monday.
"It's still dangerous, as we saw this past week, where we had some outstanding, brave men and women who were killed," he said.
"We never take for granted what all of you do for the American people," Obama later added. "You help keep us free. You help keep us strong, and whatever service you're in, whatever branch, we are extraordinarily grateful for everything that you do every single day."
Towards the end of his address, the president joked about working out next to the Marines at the base.
"I generally feel like your commander-in-chief is in pretty good shape," he said. "Then I get next to some guy curling 100 pounds and it makes me feel small. But that's okay. It gives me some inspiration. I'm going to work harder so I can keep up with you next year."
--Jon Garcia
Christmas Eve Is Family Day for the Obamas
Thursday, DECEMBER 24
With the exception of Obama's morning solo trip to the gym, he spent most of Christmas Eve day with his family. First up was a hike up the Judd Trail with FLOTUS and the girls and friends. The Judd Trial "traverses through primarily bamboo, ironwood and eucalyptus forest" high above Honolulu, according to a local hiking website. The press didn't see them, but reporters traveling in the motorcade said it was raining up there during the hike.
After hiking the trail, which was just under a mile long, they headed directly to the beach, the beach at Bellows Air Force Station to be exact. It's not too far from their Kailua vacation rental and not only does the beach there have bright blue water and fine, soft sand, it also offers some privacy for the First Family and their friends since it's on a military installation. They spent about 3 hours there before returning to their rental.
Later that night the First Family headed to MW Restaurant in Honolulu for their Christmas Eve dinner. It's billed as a trendy spot known for using local ingredients and serving Hawaiian cuisine.
In addition to family activities, the First Lady took about 40 minutes out of her morning to take phone calls from kids and discuss Christmas and NORAD'S Santa-tracker. (http://www.noradsanta.org/) In what's become an annual tradition, FLOTUS spoke with about 22 kids (or their parents) about where Santa is in the world and what they hope to get for Christmas. The White House releases a transcript of the calls and some of the exchanges could be filed under "kids say the darndest things." This year was no exception and included this one from a child named Peyton who confided to the First Lady: "I'm probably going to ask my mom if I can take a pill that will help me sleep, because otherwise I'm going to stay up all night." Mrs. Obama replied: "Oh, that sounds -- it's a little exciting, right? … All right. Well you try to get a good night's sleep tonight. And have a great Christmas in the morning," according to the transcript.
--Jon Garcia
Morning at the Gym and Afternoon on the Green
Wednesday, DECEMBER 23
Obama spent the fifth day of his Hawaii vacation doing what we expect him to do: a morning at the gym and an afternoon on the golf course. This afternoon's choice was Kapolei Golf Course on Oahu's west side. His partners matched Monday's team of Greg Orme, Darrell Harrington and Bobby Titcomb, and the foursome spent more than five hours on the course.
Outside of their regular vacation activities, the First Couple (along with Vice President Biden and Dr. Jill Biden) released their holiday playlists. The lists, which are available through the Spotify music service on the White House's official channel, include some old standards and some new music and some new versions of some old standards. The Biden's included a Coldplay song in their list. Their son Beau was a Coldplay fan and the band's lead singer Chris Martin played at Beau's funeral in June. You may peruse the lists at http://go.wh.gov/spotify.
--Jon Garcia
Obamas Unwind With a Volcano Climb
Tuesday, DECEMBER 22
President Obama got an early start on his Tuesday, waking up earlier than he did Monday to hit the gym. After his 90-minute workout, the president, joined by the first lady, opted for a hike -- a very steep one. The Obamas scaled Kohelepelepe, or Koko Crater, a dormant cinder cone volcano on Oahu's southeast side. The trail runs about 1,000 feet up, and locals say it's a tough climb.
Commercial real estate agent Bill Froelich was surprised to bump into the first couple at the summit. "Mr. and Mrs. Obama are in great shape. I do this hike weekly and they did it very fast. I would say faster than 90 percent of people," said Froelich, who says he's been climbing the trail over the past nine years. "I was super-impressed with that. They hustled to the top and took a nice family photo."
Froelich said he exchanged greetings with the Obamas.
"Mr. Obama shook my hand. And we exchanged Merry Christmases and a shaka. [a Hawaiian "hang loose" sign]," he said.
"Mrs. Obama and I exchanged Merry Christmases. I also thanked her for her involvement in Play 60 and childhood obesity. She said, 'Thank you,'" he said.
The Obamas' hike took only about an hour up and down, and by a little after 12 p.m. local time, they were back at their vacation home and down for the rest of the day.
--Jon Garcia
Obama Has His PGA moment, Sinks 40-Footer in Front of the Cameras
MONDAY, DECEMBER 21
President Obama made his vacation debut for the press on day three while playing golf at Mid Pacific Country Club in Lanikai.
The president enjoyed a near-PGA moment as he sunk a chip from 40 feet on the 18th green. While we don't know his final score, he reveled in the moment -- tipping his cap to onlookers and high-fiving one of his golf partners before pointing toward the pool cameras, making sure the press caught the moment.
Obama's golf partners included childhood friends Greg Orme and Bobby Titcomb, as well as golf buddy Darrell Harrington.
Obama started his day with his first trip to the gym this vacation, working out for about an hour at his usual gym on the grounds of the Marine Corps Base Hawaii.
--Jon Garcia and Serena Marshall
Gun Violence Was on Obama's Mind on Day Two of Hawaii Vacation
SUNDAY, DECEMBER 20
President Obama took a pause during day two of his Hawaii vacation to take to Twitter to praise the teen victim of an apparently gang-related, random shooting in Knoxville, Tennessee.
"Zaevion Dobson died saving three friends from getting shot. He was a hero at 15. What's our excuse for not acting?" the president asked on his Twitter feed.
Dobson, police say, was trying to shield three female friends from the gunfire when he was hit in the head late Thursday night.
Obama's tenure as president has been marked by repeated incidents of major gun violence and he has been lobbying Congress unsuccessfully to pass stricter gun safely laws.
Shortly after Obama tweeted, he departed his Kailua rental home in a light rain to take his family on a hike.
First lady Michelle Obama and their two girls, Sasha and Malia, accompanied the president up to the Makiki Loop Hawaii Nature Center for a more than 90-minute hike. The Hawaii Nature Center is a nonprofit dedicated to preserving areas of Oahu and Maui for connecting children with nature.
The drive to the Nature Center took Obama by his childhood school, Punahou School, a private college prep institution where the president spent much of the 1970s.
The first family ended their Sunday with dinner at Morimoto, one of their go-to spots on Waikiki Beach. This is the fourth year in a row they've made the Asian-fusion restaurant—run by celebrity Iron Chef Masaharu Morimoto—their first pick for dinner out.
--Jon Garcia
Obama Keeps 1st Day Golf Tradition Alive
SATURDAY, DECEMBER 19
If you're a follower of the ABC News President Obama vacation blog, this might seem like a cut-and-paste of the "day one" entry of 2014.
The president went golfing with the same group as last year at the same course as last year. Staffers Mike Brush and Joe Paulsen hit the links with Obama and his long-time pal Bobby Titcomb at the Kaneohe Klipper golf club at Marine Corps Base Hawaii, and, like last year, the round lasted about four hours and the White House, once again, did not release the scores.
Obama arrived in Hawaii in the wee hours of the morning and he got a little bit of a later start this year, starting his round in the early afternoon. Journalists traveling with the president reported seeing only the motorcade cars wiz by as they joined the procession as there were no direct sighting of the president or his golfing party.
--Jon Garcia
First Family Arrives in Hawaii for Christmas Vacation
SATURDAY, DECEMBER 19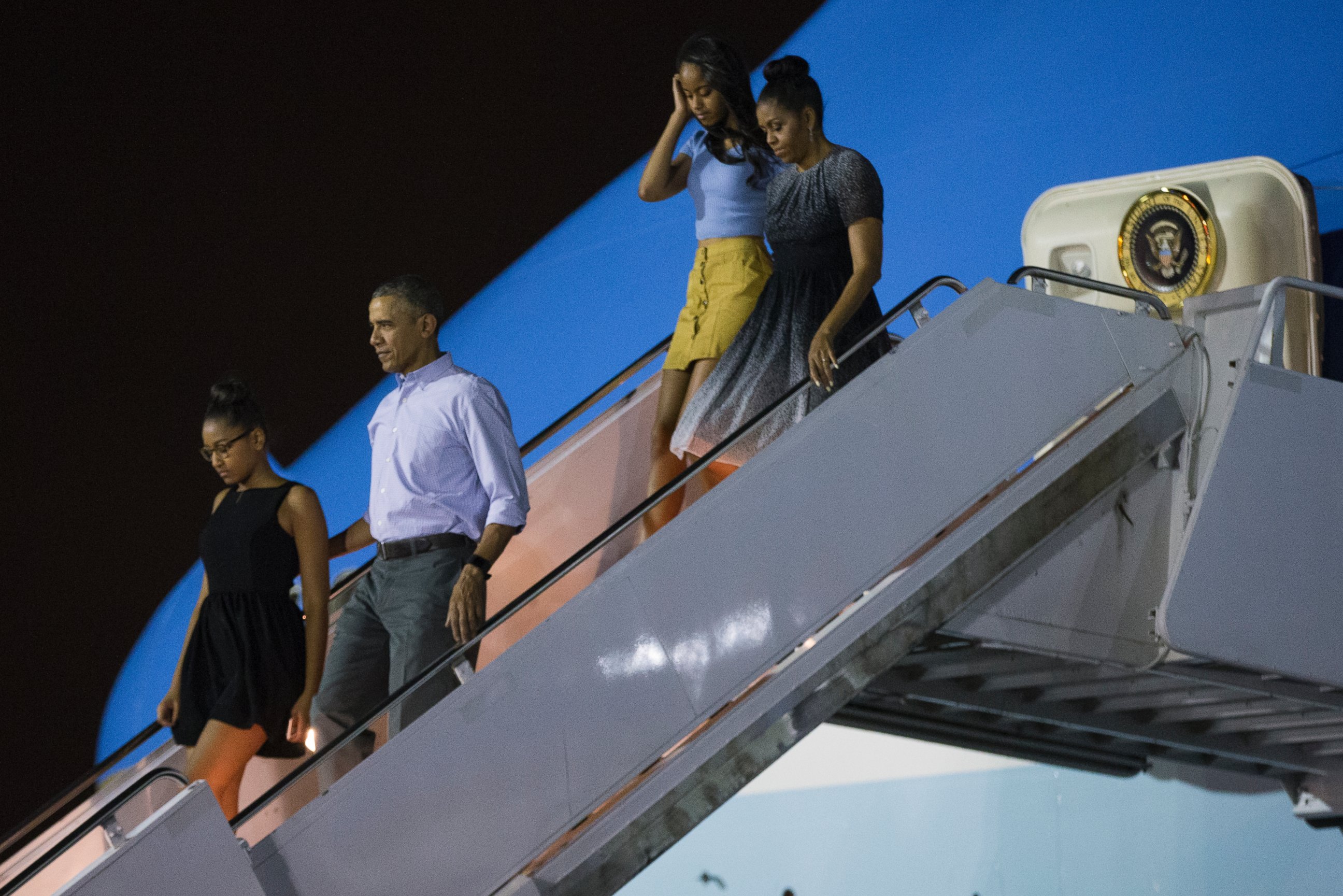 President Obama arrived in Hawaii this morning for his annual Christmas vacation with his family.
Air Force One landed early Saturday at Joint Base Pearl Harbor-Hickam. It's the family's seventh Oahu vacation since the president took office.
They plan to spend about two weeks on vacation. The president has no public events planned during the vacation.
As he stares down his final year in office, President Obama is making a bee-line for the golf course and the beach.
Obama departed today for a 16-day holiday in his native Hawaii, the first family's seventh Oahu vacation since the president took office.
President Obama's vacation away from the White House is beginning on a somber tone as the president makes a brief detour to San Bernardino, California, to console grieving families of the deadliest terror attack on U.S. soil since Sept. 11, 2001.
The White House said Obama plans to meet privately with families and victims of the attack.
"Obviously those families are going through a difficult time, not just because they've lost loved ones, but obviously, at the holiday season, I think that loss is even more acute," White House press secretary Josh Earnest said on Thursday. "So the president felt before he could begin his holiday, that it was important for him to spend some time with these -- with these Americans who are mourning."
Once he arrives in Hawaii on Saturday, Earnest added that the president's intent "is to get a couple of weeks in Hawaii spending some down time" with his family.
ABC News' John Parkinson contributed to this report.
This post will be regularly updated throughout the first family's 16-day vacation.