TOKYO -- President Donald Trump acknowledged at the start of his marathon tour of Asia that it wasn't going to be easy.
"It's grueling they tell me," the president said on Air Force One on his way to Japan on Nov. 5.
It was the longest trip to Asia by any U.S. president in more than 25 years -- 13 days, five countries and multiple time zones that had the 71-year-old president upside down, his working days happening during the overnight hours back in Washington.
But Trump insisted the schedule and pace would not be a problem.
"I'll let you know if I don't stay fresh," he said before touching down in Tokyo. "If I don't stay fresh, you'll be the first to tell me. I'll stay fresh."
Over the course of the trip, Trump frequently noted with a bit of swagger how well he was feeling and how he was proving his doubters wrong.
"A lot of people said it's almost physically impossible for someone to go through 12 days," he told me and other reporters on Air Force One Saturday. "Anybody that took the bet, pick up your money, OK?"
Trump does not have many kind words for the media but on Monday he gave the traveling White House press corps credit for its stamina.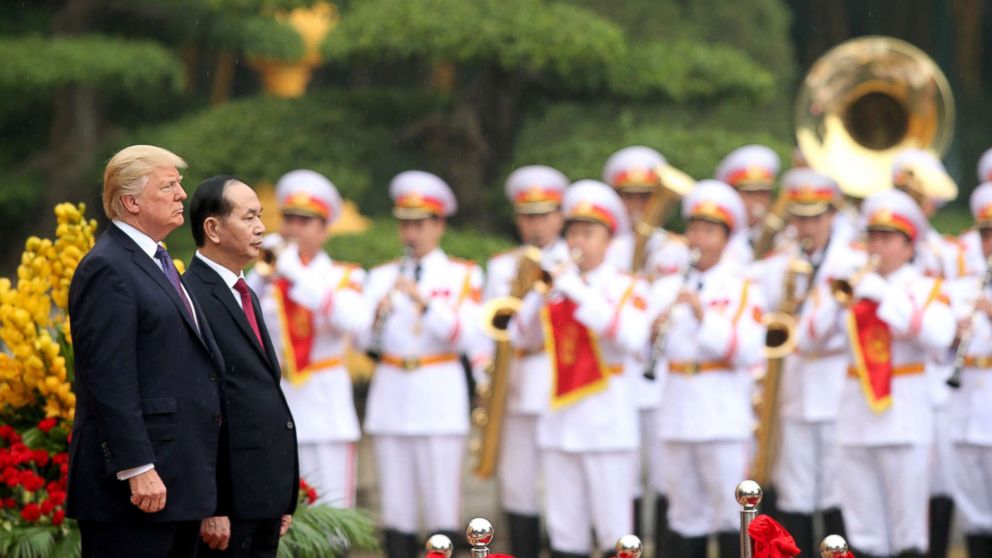 "I have to tell you, I'm very impressed – you've stayed with us," he said during a meeting with Australian Prime Minister Malcolm Turnbull and Japanese Prime Minister Shinzo Abe. "You were able to hang in there. I'm very proud of you."
There was one big reason the president may have had such a spring in his step. Just like he did with adoring crowds on the campaign trail, Trump seemed to be feeding off the warm welcome he received at every stop.
World leaders tried to one up each other, bending over backwards to impress the president and knowing just what to say and do.
There were grand arrival ceremonies at nearly every stop – military bands, cannons, young children waving tiny American flags. The president would stand at the top of the steps of Air Force One and soak in the scene for a brief second before walking down to the tarmac to kick off his visit.
There were four state dinners thrown in his honor, including a particularly ornate event in Beijing where the room was decorated in gold from floor to ceiling and lit with chandeliers. The president and first lady were also given a tour of Beijing's Forbidden City and took in a Chinese opera performance.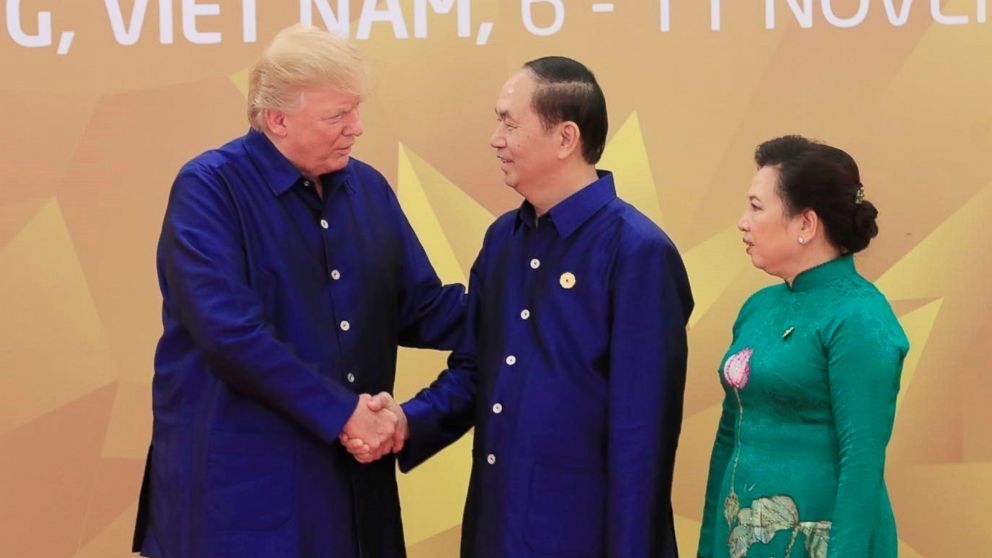 "They say in the history of people coming to China there has been nothing like that. And I believe it," the president said of the welcome he was shown.
Trump's hosts seemed to have been given the same memo on how to win him over, each going to great lengths to compliment him. The president seemed to love every bit of the flattery.
"You are already making great progress on making America great again," said South Korean President Moon Jae-in, who also noted the gains in the U.S. stock market.
Japanese Prime Minister Abe kicked off President Trump's visit to Tokyo with a friendly nine holes of golf, returning a favor the president extended at his Mar-a-Lago resort in Florida earlier this year.
"When you play golf with someone not just once but for two times, the person must be your favorite guy," Abe told the president during a toast at a state dinner.
The White House was considering dividing the trip in two and having the president fly to Asia for a couple of days, head back to Washington and then turn around a short time later to finish the agenda.
Trump rejected that plan. "What I didn't want to do was come back," he said.
So White House aides buckled up for the long haul, knowing that their boss could get cranky if tired. When the president traveled to Saudi Arabia in May, he immediately hit the ground running, not getting a chance to adjust to the local time zone. Aides acknowledged on Day 2 that he was exhausted.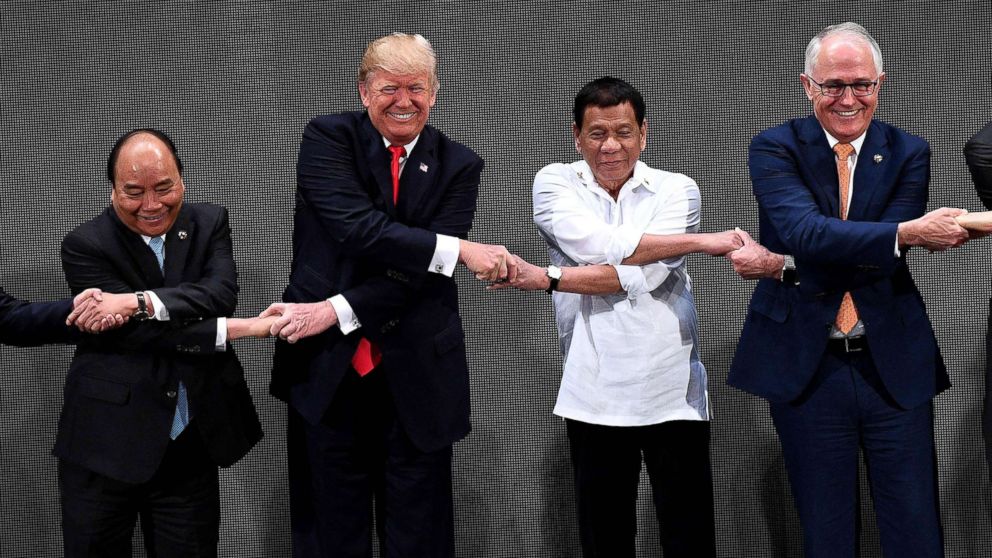 In nearly every country, he spoke about the warm welcome and the great relationship and chemistry he had with his host.
"It was red carpet like nobody I think has probably ever received and that really is a sign of respect perhaps for me a little but really for our country," he told me and other reporters on Air Force One on Saturday.
But by the end of the trip, Trump sounded eager to fire up the engines of the presidential jet and head back to the States.
In one speech last week he quoted The "Wizard of Oz": "There's no place like home." By Monday he was telling the prime minister of India he was "rounding the turn" and heading to the finish line, sharing with Mr. Modi that his flight left mid-afternoon on Tuesday.
For a notorious homebody like President Trump, perhaps all the fancy dinners, pomp and circumstance and compliments just can't compete with the comforts of home.