Andrew Yang, one of the candidates who made an early entry in the 2020 field, might not have had much name recognition at the start, but his popularity and presence netted an increased prominence among the crowded bench -- due in part to his unconventional proposals to resolve income disparity and warnings of a robot takeover of America's job sector.
Out of the running: Yang suspended his presidential campaign on Feb. 11, the night of the New Hampshire primary. Yang was widely regarded as a breakthrough candidate who surpassed the expectation of many as he outlasted sitting senators, former governors and other lifelong politicians as political newcomer. In his comments to supporters, he said that he first started running to "solve the problems that got Donald Trump elected" and said that in order to continue doing that he would support the Democratic nominee.
Name: Andrew Yang
Party: Democrat
Date of birth: Jan. 13, 1975
Age: 44
Hometown: Schenectady, New York
Family: He is married to Evelyn and they have two sons.
Education: He studied at Brown University, majoring in economics and political science before attending Columbia for law school.
What he does now: Yang is the founder of the nonprofit Venture for America, which trains college graduates interested in entrepreneurship and who seek to work for startups in cities like Baltimore, Detroit, Pittsburgh and Cleveland.
What he used to do: Yang worked a "brief stint" as a corporate lawyer before founding a failed tech startup. He later became CEO of Manhattan Prep, a test-prep company that was acquired by Kaplan in 2009.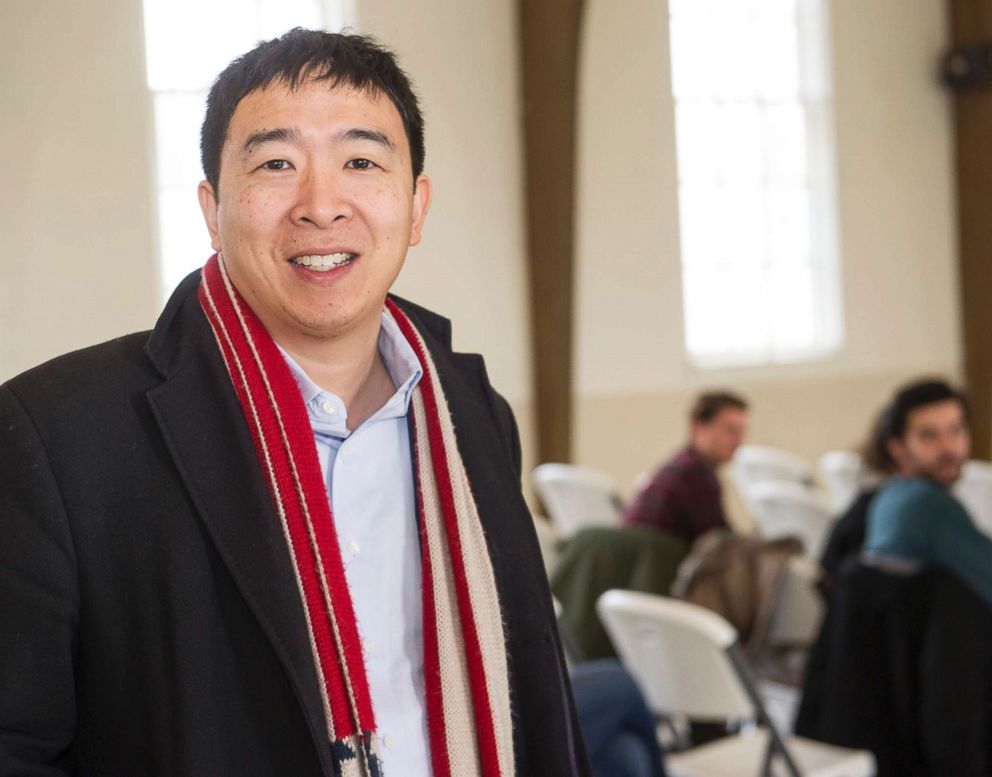 Key life/career moments:
After graduating from law school, Yang founded a failed tech startup in 2000 called Stargiving.com. He then worked at a health care software company while concurrently working at the test-prep company, Manhattan Prep.
In 2006, Yang was named the CEO of Manhattan Prep which was later acquired by Kaplan.
He then founded the nonprofit Venture for America in 2011.
Where he stands on some of the Issues:
Yang has crafted a campaign platform around the issue of universal basic income. The "freedom dividend," would consolidate some welfare programs and ultimately provide each American adult over the age of 18 with a $1,000 check from the government each month. He cited Alaska as a potential model for the proposal. There, citizens receive an annual check from the state, funded by money from oil and mineral leases in the state.
"What we have to do is we make it a right of citizenship for all Americans and do what they are doing in Alaska with oil money, with technology money for everyone around the country, he told ABC News Chief Anchor George Stephanopoulos on "This Week" in April.
When pressed by Stephanopoulos on the funding for the "freedom dividend," Yang said the cost of his plan, which is estimated to be in the trillions, could be funded by a value added tax, or VAT.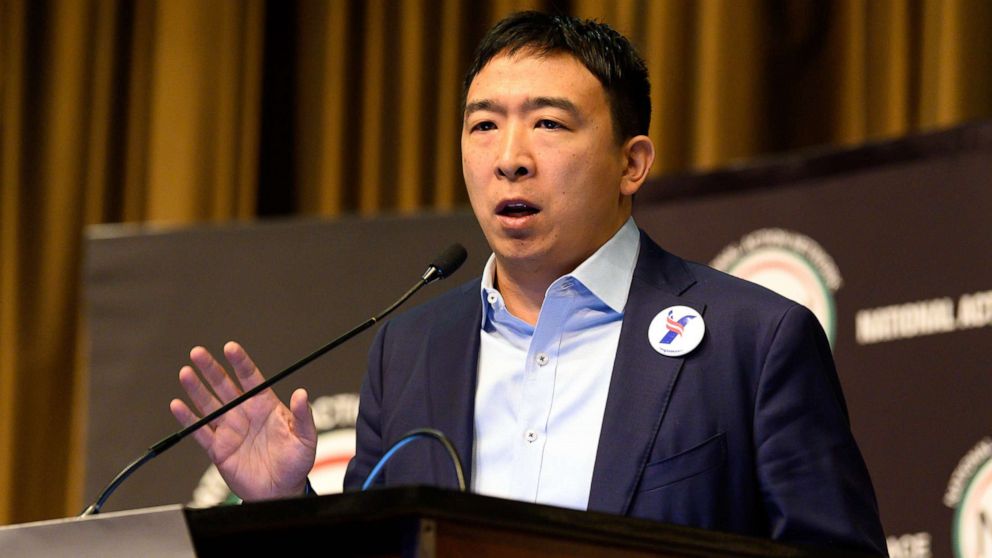 Yang has identified automation as a major issue threatening the United States' economy.
"We automated away 4 million manufacturing jobs in Michigan, Ohio, Pennsylvania, Wisconsin, Missouri, Iowa -- all of the swing states that Donald Trump needed to win and did win," Yang said at a rally in New York City. "There's a straight line up between the adoption of industrial robots in a community and the movement towards Donald Trump."
Yang said his plan would be funded, in part, by implementing more taxes on big tech companies like Google, Facebook and Amazon, the latter of which he pointed to as the cause of retail store closures across the country, resulting in widespread job loss in the retail sector.
"Amazon's like a giant vacuum sucking up $20 billion of commerce every year … pushing 30% of malls and stores to close in our country," he said.
While some of his Democratic opponents called for breaking up big tech companies, Yang hesitated on what the correct approach would be.
"I think in many cases they are too big," Yang told ABC News' Senior Congressional Correspondent Mary Bruce and Political Director Rick Klein on the Powerhouse Politics podcast in May.
In another interview, he said, "we should definitely look at curtailing the tech companies influence and part of that would be potentially breaking up some of the companies."
Separately, when talking about the negative effects of social media apps on young Americans, Yang had a different response. "It's not as simple as saying we need to break them up, those are 20th century solutions to 21st century problems," Yang said. "We need a 21st century approach to technology because technologies advanced way past our government's ability to reckon with that it means for our people."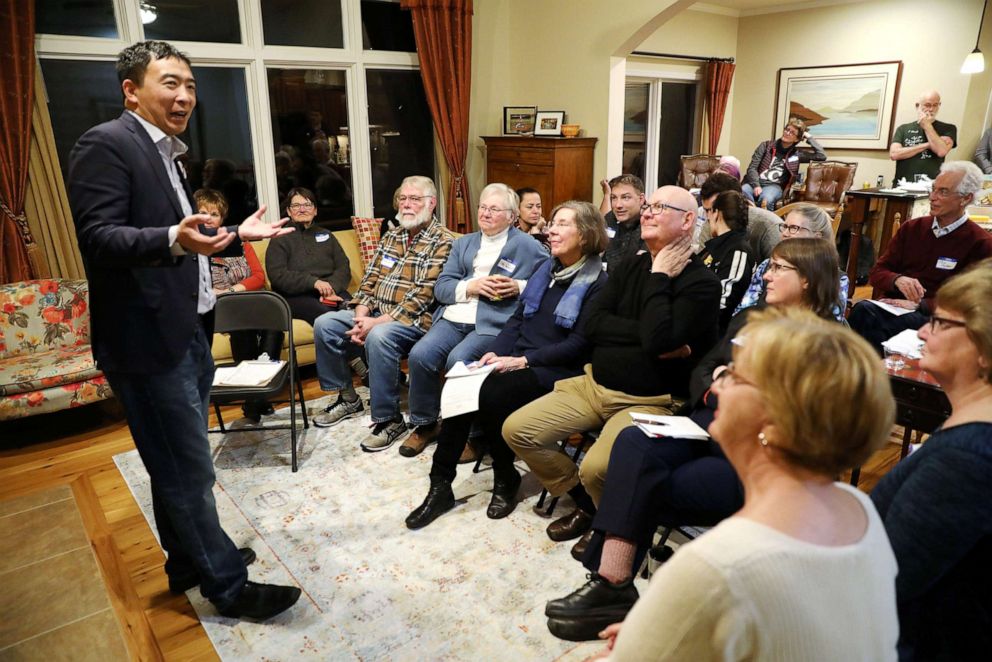 Fundraising
Despite his under-the-radar campaign, Yang raised $2.8 million in the second fundraising quarter. During February and March, Yang announced that his campaign raised $1.7 million.
The average donation was $17.92 and 99% of donations were under $200. Yang's fundraising haul came from over 80,000 donors and followed his announcement in March that he cleared the grassroots fundraising threshold of 65,000 donors to qualify for the first Democratic primary debate.
What you may not know about him:
He was named a Champion of Change and a Presidential Ambassador for Global Entrepreneurship by the Obama administration in 2012 and in 2015, respectively.
Yang grew up in upstate New York, the son of Taiwanese immigrants. He and his brother grew up "pretty nerdy," according to Yang's campaign website. While his dad worked at IBM as a researcher, who generated over 60 patents over his career, his mother worked as a system administrator at a local university.
Some additional proposals, listed on his campaign website, include: lowering the legal voting age to 16, providing free marriage counseling to all and giving every police single officer across the country with a body camera.
ABC News' Adam Kelsey contributed to this report.