Army blames strong economy for missing recruiting goal
Army misses recruiting goals for first time since 2005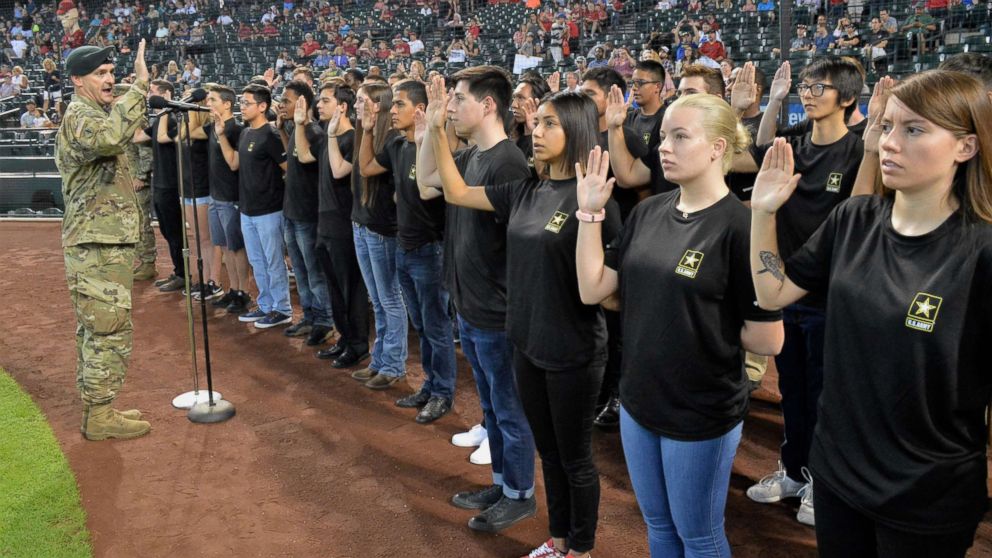 For the first time in thirteen years the Army has failed to meet its annual recruiting goal and Army officials believe the strong U.S. economy is partially to blame.
The Army failed to meet its recruiting goal of 76,500 new recruits for fiscal year 2018, bringing in 70,000 recruits — an 8.5 percent shortfall from this year's goal.
"About 70,000 Americans joined the Regular Army in FY18, the most to enlist in a single year since 2010 - and every single recruit either met or exceeded DoD standards," said Hank Minitrez, an Army spokesman. "The Army will fall short of its 2018 recruiting goal."
The last time the Army failed to meet its recruiting goals was in 2005 at the height of the war in Iraq.
The 70,000 is actually more than the recruiting goals for the three other military services combined, but as the largest service, the Army always has the biggest recruiting challenge.
What's behind the shortfall? "A strong economy, and a lower propensity among the population of 17- to 24-year-olds to enlist are challenges we face," said Minitrez.
"Only 1 in 4 [of the] 17- to 24-year-olds in the nation are actually qualified to enlist, and of those, only 1 in 8 have a propensity to enlist," said the Army spokesman. "All of those factors make for a difficult recruiting environment."
Senior Army leaders responsible for personnel management and recruiting told the Associated Press that the failure to reach this year's recruiting goal will lead to changes in how the Army focuses its recruiting.
They said there will be a greater focus on social media and more recruiter contacts with video game competitions.
Army officials have cautioned since early this year year that it was possible the service might not make this year's initial recruiting goal of 80,000 — a significant increase from recent years.
From 2013 to 2017 the Army met lower recruiting goals set that varied from 56,000 to 67,000 as the service downsized its numbers.
But a requirement to increase its total size led to a much larger recruiting goal for 2018. This past spring the goal was lowered from 80,000 to 76,500 after higher than expected numbers of re-enlistments eased personnel requirements.
But the service faced criticism that in order to meet its goals it was increasing the number of waivers granted to some recruits who would normally not be eligible to enter the Army in strong recruiting periods.
Through August, 2018, Army statistics show that the number of waivers for positive drug and alcohol tests had increased to 1.05 percent, up slightly from the .79 percent granted in 2017.
Waivers for major misconduct waivers also increased to 2.88 percent during that same time frame, up from 2.38 percent in 2017.
Army officials have maintained that the service is still committed to recruiting only qualified applicants.
"We made a decision to raise the quality of our recruits despite the tough recruiting environment," said Minitrez. "As we look to 2019 and beyond, we have laid the foundation to improve recruiting for the Army while maintaining an emphasis on quality over quantity."