WikiLeaks founder Julian Assange's health is suffering, one of his lawyers says, in conditions she compared to "solitary confinement" in the Ecuadorian Embassy in London.
"I'm very concerned for his well-being and the permanent damage that this is having on his health," Assange lawyer Jennifer Robinson told ABC News on Friday, adding that her client's legal team is trying to get him a medical assessment in the next few days.
"He's been effectively in solitary confinement for at least the last four months, and something akin to confinement of that nature for almost six years, and it is well-documented the impact it has on detainees' health care," Robinson added.
Even though she expressed fears about Assange's living conditions in the embassy, Robinson also said she's concerned about her client losing his protection from Ecuador, and possible extradition to the United States.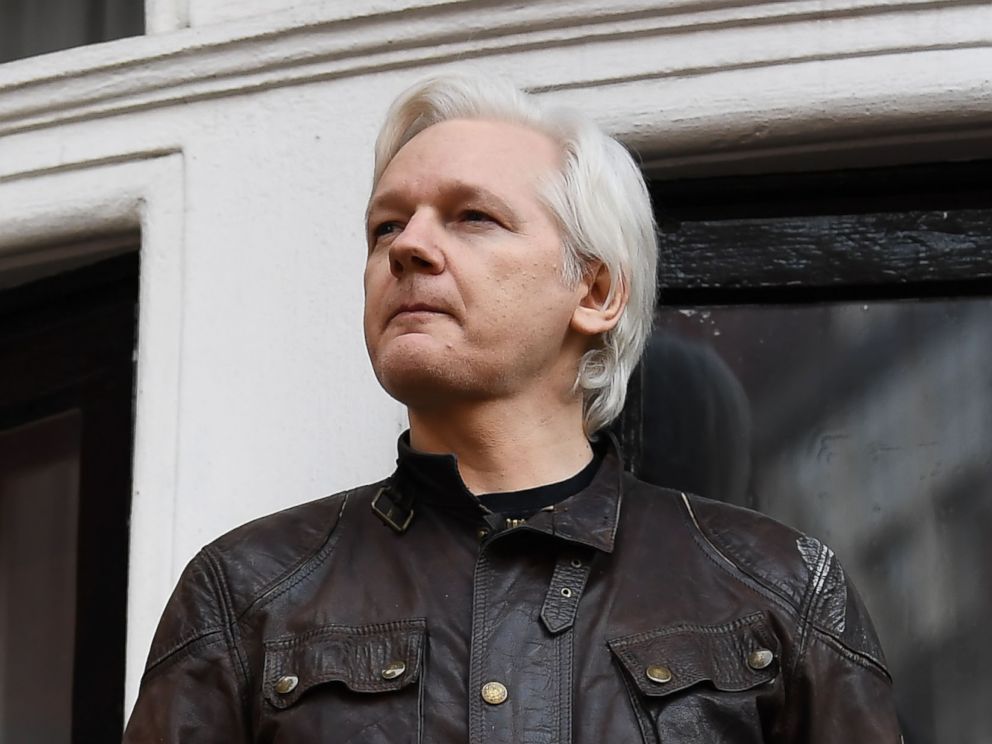 "We are obviously very concerned about the media speculation and the reports of sources within the Ecuadorian government speaking of an imminent ending of the asylum and protection," Robinson said.
"We are obviously concerned about what the terms of [continuing negotiations between the Ecuadorian and British governments] are -- we're not party to them," Robinson added. "They were updated on them and our concern is and has always been the risk of extradition to the United States so an assurance about protecting him from U.S. extradition and facing prosecution for WikiLeaks publications in the U.S. is our priority."
The Australian-born Assange, 47, has lived in Ecuador's Embassy since seeking refuge and asylum in 2012. But he ran afoul of his hosts when he publicly questioned the British government's assessment that the Kremlin was behind the nerve agent attack on a former Russian intelligence officer in Salisbury earlier this year.
Assange tweeted in March that while British Prime Minister Theresa May was right to consider Russia the leading suspect in the attack, "the evidence so far is circumstantial."
The embassy cut off his phone and internet access, as well as all visitors except for his lawyers, saying he had violated a "written commitment made to the [Ecuadorian] government at the end of 2017 not to issue messages that might interfere with other states."
That dispute was just a sign of bigger trouble for the outspoken Australian publisher. Ecuador's new president, Lenin Moreno, and his administration appeared from the start to be eager to be rid of Assange and the thorny political consequences of hosting him.
"Mr. Assange is a hacker. That's something we reject, and I personally reject," Moreno told journalists shortly after assuming office in May 2017.
Last week, Moreno said, "The only thing we want is a guarantee that his life will not be in danger. We have spoken to, and of course, we are dealing with this with Mr. Assange's legal team and with the British government."
Assange founded WikiLeaks in 2006 and rose to fame on the back of controversial disclosures of government secrets.WikiLeaks published years of U.S. combat reports from both the Afghanistan and Iraq war zones, as well as helicopter video of two journalists gunned down after being mistaken for Iraqi insurgents. The whistleblower group also revealed files from Guantanamo Bay, U.S. State Department cables from American embassies around the world and, last year, published stolen CIA hacker tools.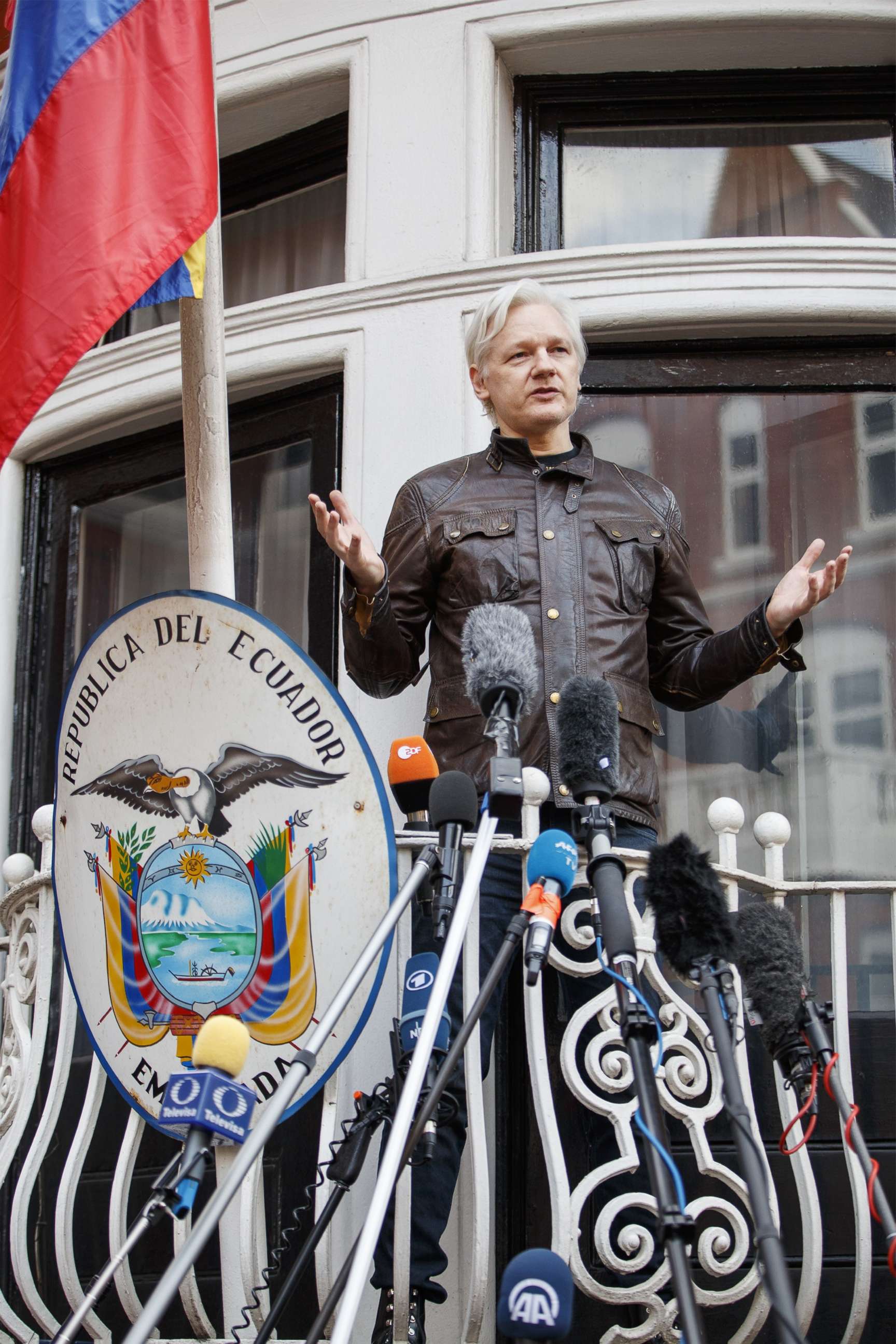 But Assange took refuge in the Ecuadorian Embassy in 2012 when he was wanted in connection with a rape investigation in Sweden. That case was eventually dropped because too much time had passed, but Assange still faces an arrest warrant from British authorities for failing to surrender in connection with that case.
Amid the heated 2016 presidential race, then-candidate Donald Trump repeatedly praised WikiLeaks, while in private Twitter messages from 2015 later leaked to The Intercept, Assange expressed his preference for a GOP victory and called Clinton a "sadistic sociopath."
In July, special counsel Robert Mueller indicted 12 Russian GRU military intelligence officers on charges of conspiring to interfere in the 2016 U.S. presidential election, alleging they had orchestrated a sustained effort to hack into the networks of the Democratic National Committee, the Democratic Congressional Campaign Committee and the Hillary Clinton campaign.
WikiLeaks is not named in the indictment, but it is clearly referred to as "Organization 1" in court documents, officials told ABC News. The indictment accuses "Organization 1" of receiving the stolen material from hacker "Guccifer 2.0."
"All I can tell you is what I've been told by Mr. Assange himself -- and as he said very publicly -- that the source of the information was not the Russian state and he has maintained that position throughout," Robinson told ABC News on Friday.
Raj De, who was a general counsel at the National Security Agency during the Obama administration and now chairs the national security practice at the Mayer Brown law firm, said that if the government offers convincing evidence of Mueller's allegation that WikiLeaks weaponized information for political purposes — by discussing the timing of publishing the hacked DNC emails with the GRU persona Guccifer 2.0 — it will undercut Assange's credibility running a whistleblower organization.
"The organization portrayed itself as an anti-establishment, pro-transparency media outlet," De told ABC News. "If it turns out they were coordinating with the Russian government, those ideals ring pretty hollow."
In a January 2017 interview with Sean Hannity of Fox News, Assange denied that Russian operatives had provided the hacked Democratic emails, insisting, "Our source is not a state party. So the answer -- for our interactions – is: 'No.'"
Current and former senior national security officials confirmed to ABC News in recent weeks that U.S. law enforcement officials want to question Assange. He could be subject to criminal prosecution for the theft and publication of U.S. military and intelligence secrets, though Reuters reported in July that there are no sealed indictments of Assange in the U.S.
Australia's High Commission visited the Ecuadorian embassy in June in an effort to broker a deal for Assange to be treated justly if he's handed over toU.K. authorities and then, presumably, to American authorities, sources close to WikiLeaks told ABC News.
Last month, The Intercept co-founder and Assange supporter, Glenn Greenwald, wrote that Assange's days in the embassy were numbered, predicting that Ecuador would rescind his asylum and "hand over Assange to the U.K. within the next several weeks."
"Now, Julian has always said he's very happy to face British justice but not at the expense of having to face American injustice," Robinson told ABC News.
Margarita Simonyan, editor-in-chief of Russia's state-owned media outlet RT, echoed Greenwald's assessment, tweeting, "Like never before, I wish my sources were wrong."
Editor's note: This story has been updated to correct that Assange was under investigation in Sweden but no charges were filed against him.