Former Alabama Sen. Jeff Sessions' comeback bid is officially over.
Tommy Tuberville, former Auburn head football coach, is the winner of the Alabama Senate Republican runoff, according to an Associated Press projection.
Though President Donald Trump has seen a rocky record on his endorsements in down-ballot primaries thus far, his dedicated endorsement of Tuberville -- and his determination that his former attorney general did not win the race -- had weight in this race.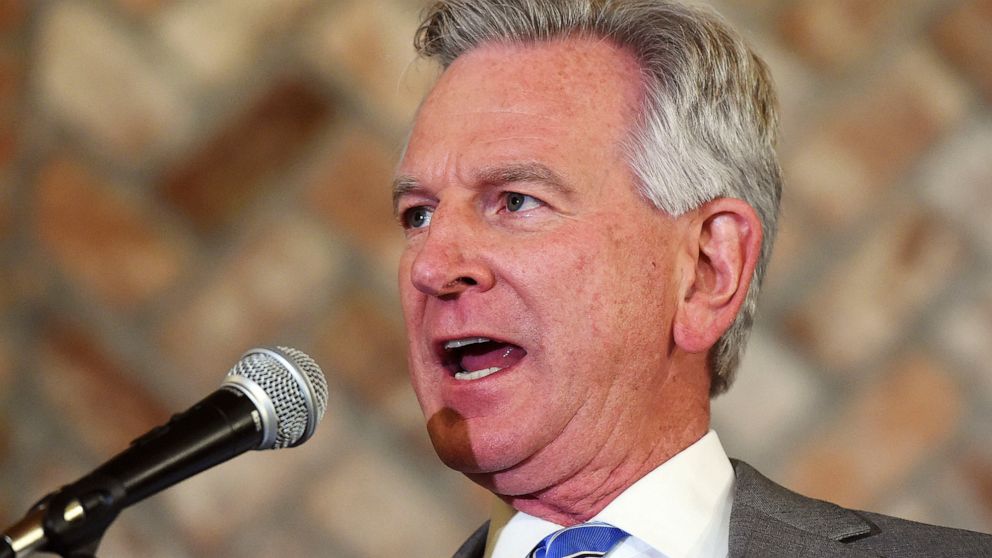 Tuberville was largely quiet on the trail in recent weeks, while Sessions ramped up his campaigning. Despite Sessions' aggressive action on the trail, with 33% of the vote reporting, it seemed he was unable to improve from the primary. At this point, he doesn't lead in a single new county, and has fallen behind in some that he won on Super Tuesday.
"I want to congratulate Tommy Tuberville. He ran a really firm, solid race," Sessions said Tuesday night.
"He is our Republican nominee," Sessions continued. "We must stand behind him in November."
Tuberville will take on vulnerable Democratic Sen. Doug Jones, widely seen as the senator most at-risk of losing his seat come November.
Trump celebrated Tuberville's win on Twitter, writing, "A GREAT WIN!"
The president made an early entry into the race, endorsing Tuberville over his former attorney general, who left the administration after recusing himself from investigations headed by special counsel Robert Mueller into Russian interference in the 2016 election.
Trump hasn't been shy about his attacks on Sessions, calling him "a disaster who let us all down," in a Saturday tweet.
Gideon projected to win in Maine, will face Republican Sen. Susan Collins in November
Sara Gideon, the speaker of Maine's House of Representatives, has won the Democratic Senate nomination, the Associated Press projected at 9:32 p.m.
She will face Sen. Susan Collins, the only New England Republican still serving in Congress, this November.
"If we are going to come together and make real progress to improve the lives of people here in Maine and across the country, then we need new leadership ... as President Trump continues to divide our country, we remember all of the times when Sen. Collins enabled and excused his attacks on our democracy. Sen. Collins has changed and Mainers deserve better," Gideon said during her election night remarks streamed over Facebook Live.
Collins' reelection bid is the toughest she's faced since she was first elected in 1996, and will be one of the most closely watched Senate races this cycle as national Democrats eye it as one of their best pick-up opportunities this November. Gideon was backed by the Democratic Senatorial Campaign Committee just a day after announcing her campaign in June 2019, and essentially ran a general election campaign throughout the primary, contrasting herself with Collins over her Democratic challengers, attorney Bre Kidman and businesswoman Betsy Sweet.
"It should come as no surprise that Chuck Schumer's hand-picked candidate won the primary," Maine GOP Chair Dr. Demi Kouzounas said in a statement. "Considering Sara Gideon's D.C. run campaign has been flooded with out-of-state money and staff, the primary was never even a fair fight. ... While Senator Collins has worked tirelessly to pass legislation that saved over 240,00 Maine jobs, Sara Gideon stayed home and left Mainers in the lurch. When November comes, Mainers will remember who had their back when they needed it the most."
Gideon has outraised Collins by millions so far this cycle, and she's about to receive a flood of even more campaign cash.
Partnering with Mainers for Accountable Leadership and the Maine People's Alliance, the Be A Hero Fund -- a group founded by health care activist Ady Barkan, who is dying of ALS -- has been raising money for Collins' Democratic opponent since before she even cast her vote in favor of now-Supreme Court Justice Brett Kavanaugh in 2018. Ahead of that vote, the groups said if Collins did not vote for Kavanaugh, the money would go away and be returned to the original donors, but if she did vote for him, it would go to her opponent. Collins voted to confirm him.
Now, there is more than $4.1 million in the pot from over 130,000 donations. Campaign finance laws must still be followed, though, so the maximum donation amount of $2,800 per person per election applies.
Ronny Jackson, ex-White House physician, advances to November with Trump's backing
Dr. Ronny Jackson, the former White House physician and political novice, defeated Josh Winegarner, an agriculture lobbyist, in Texas' 13th congressional district, the Associated Press projected.
Jackson, who tethered his campaign to his close relationship with President Trump, who endorsed him back in March, is all but assured of winning the seat in November, since the district is rated as the most Republican in the country, and replace retiring GOP Rep. Mac Thornberry.
The soon-to-be-former congressman lined up behind Winegarner, but in the north Texas race, Trump's endorsement proved most effective.
The president even gave Jackson a last-minute boost of support in a call with supporters on the eve of the election, according to the Dallas Morning News.
In the March primary, Jackson finished nearly 20 points behind Winegarner in the Texas Panhandle. But Jackson campaigned on his personal ties to the president over the last few months, contending that it will boost his clout in Washington.
Jackson said in a tweet that he spoke with Trump late Tuesday shortly after he was declared the winner, and the president congratulated his former doctor, writing in a tweet he "will be a fantastic Congressman."
At the time of the projection, Jackson was leading 56%-44%.
He will face Democrat Gus Trujillo in November.
M.J. Hegar topples rival Royce West to advance to general election
In the race to take on GOP Sen. John Cornyn, M.J. Hegar, a former combat veteran who is backed by Senate Democrats' campaign arm, defeated state Sen. Royce West, the AP projects.
About 40,000 votes separated Hegar and West at the time of the projection.
Hegar entered the night widely considered the front-runner, as the top finisher in the March primary and the leading fundraiser in the race.
West, who tapped into the energy of the recent national upheaval over racial inequality, saw a late boost in the campaign. He sought to become the first Black senator to represent Texas in the Senate.
Hegar is advancing to the general election in a state that has not elected a Democrat for statewide office in 25 years. In 2018, Beto O'Rourke received more votes than any Democrat has in the history of Texas in his narrow loss to GOP Sen. Ted Cruz.
Now Hegar, and the national Democratic establishment that got behind, are hoping to put the state in play again this year, and finish what O'Rourke started.
But she still faces a tall order against Cornyn, a three-term Senate veteran who secured Trump's endorsement early. But the two Democrats in the closely watched primary are fiercely competing to pick up where O'Rourke left off.
"People talk about how unliked Ted Cruz is and how nobody likes him, when really the fact of the matter is, Ted Cruz had higher approvals than John Cornyn because people on the right love Ted Cruz, whereas, they're very lukewarm on John Cornyn," Abhi Rahman, a spokesperson for the Texas Democratic Party, said.
This cycle, Trump is also on the ballot and Cornyn has spent most of the primary season tethering himself to the president, in the hopes of being buoyed by the pro-Trump flank.
But Hegar argues that Cornyn is out of touch with voters in the fast-changing battleground of Texas.
"Texas is ready to lead again," Hegar said. "We're tired of people like John Cornyn that are more D.C. than Texas. We're looking for leaders that are going to take on tough fights head-on and put the well-being of Texans first."
This is a developing news story. Please check back for updates.