— -- Sen. Bernie Sanders announced his presidential candidacy a year ago today. And over the past 12 months, his campaign has followed an almost poetic arch: taking the country by storm (and surprise), amassing a staff of over 1,000 people, breaking fundraising records and drawing some of the largest and most energetic crowds of this election cycle.
But the momentum continued to slow this week after big losses along the eastern seaboard and his chances to secure the Democratic nomination closed considerably. Sanders' team also announced they were shrinking their staff as the primary calendar nears its end.
Until then, here's a look back at some of the highlights of Sanders' run:
Bernie Sanders' First Campaign Announcement on Capitol Hill -- April 30, 2015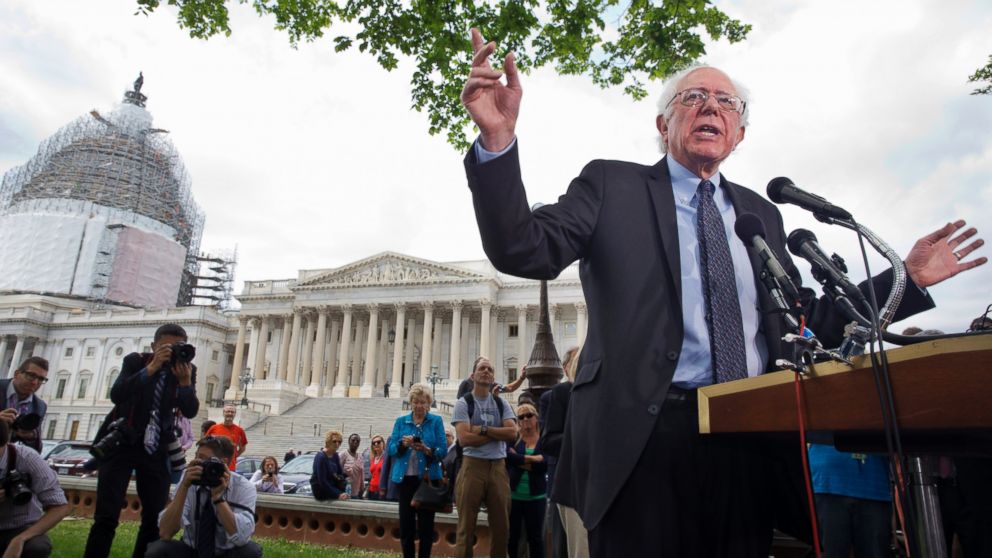 The longest-serving independent congressman held a makeshift news conference on the Senate lawn to inform reporters that he was challenging former Secretary of State Hillary Clinton for the nomination. "How do we create an economy that works for all of our people, rather than a small number of billionaires?" he said, his words almost identical to those delivered in every one of his speeches over the next year.
The Vermont senator was noticeably in a rush that day, almost uncomfortable or dismissive of the event. With his now infamous messy hair blowing in the wind and the far-from-thought-out shot for the cameras, it's easy to see why many people were a little dismissive of the announcement, especially those unfamiliar with his significant social media presence.
Bernie Sanders' Campaign Launch in Burlington, Vt. -- May 26, 2015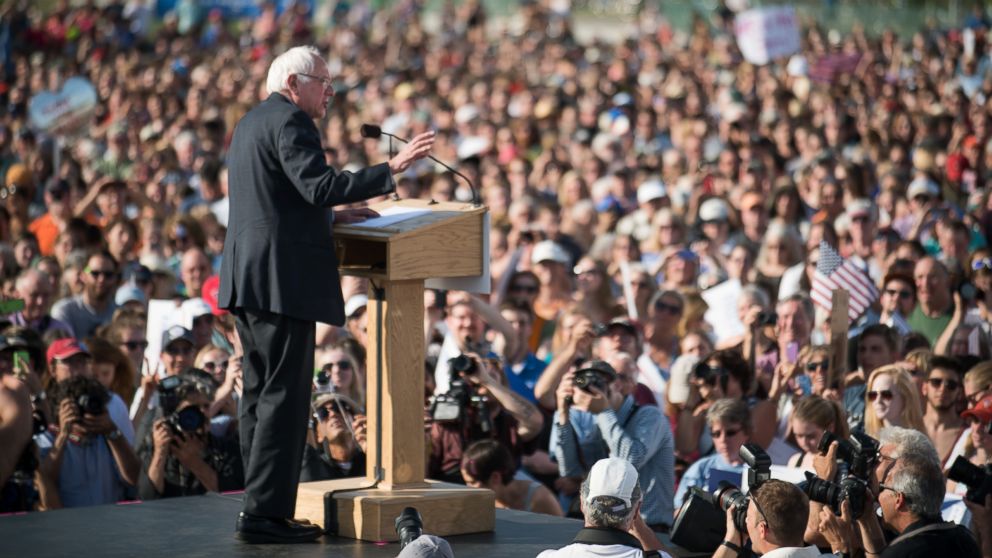 A month later, the senator look another stab at his announcement and formally launched his campaign on the shores of Lake Champlain in his hometown of Burlington, Vermont, where he had served as mayor, before being elected to Congress in 1990. The free-spirited, tie-dyed sunny event felt as much like a musical festival as a political event. The Woodstock generation and young hipsters there ate free Ben and Jerry's ice cream and talked of the 74-year-old's authenticity. It was a sendoff in some ways -- a celebration -- and the senator would return to a hometown hero's welcome the next March on Super Tuesday, when he would win Vermont with 86 percent of the vote but lose seven out of the 11 states that voted that day.
Bernie Sanders' Rally in Los Angeles Featuring Sarah Silverman -- Aug. 10, 2015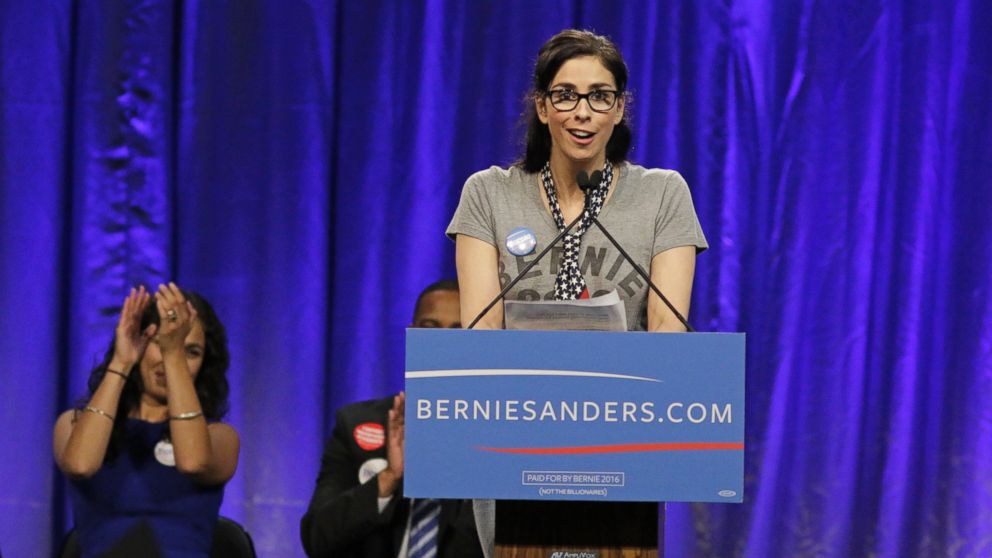 The hallmark of the Sanders' campaign quickly became his huge rallies. From city to city, college campus to college campus, the senator surprised everyone (reporters, party leaders, his opponents and even himself) with his ability to bring out tens of thousands of people to hear him speak. His first rally in Los Angeles, pictured here, featured some Hollywood star-power and signaled to the country and the Democratic Party that a "movement" was building.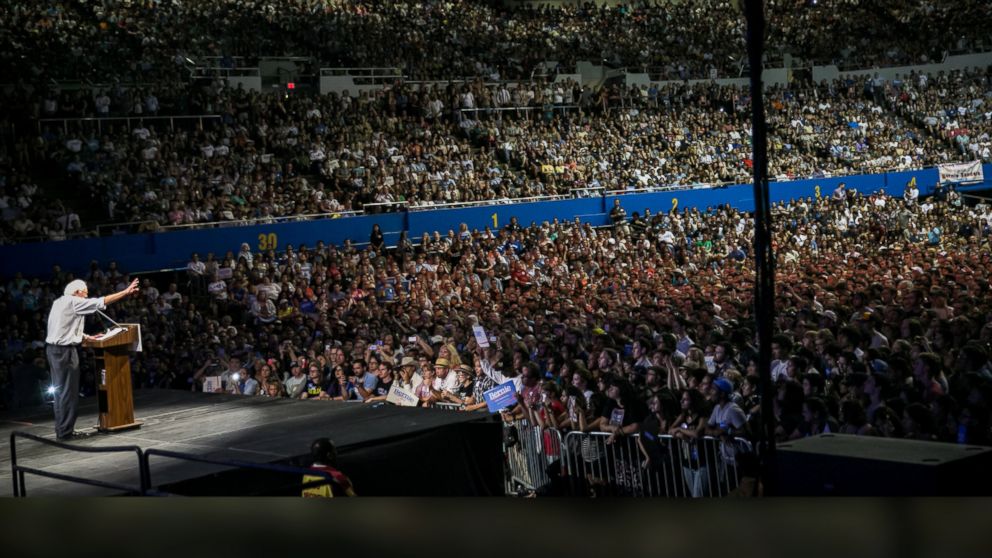 The senator's unbelievable doppelganger, comedian Larry David, solidified one fact: Sanders was now cool. David's debut of his role on NBC's "Saturday Night Live," delighted fans and the senator himself, who referenced the character and David's impression from that point forward in almost a meta-comedy Sanders-doing-Sanders bit of comedy.
The Vermont senator is interviewed on "This Week."
Feeling the Bern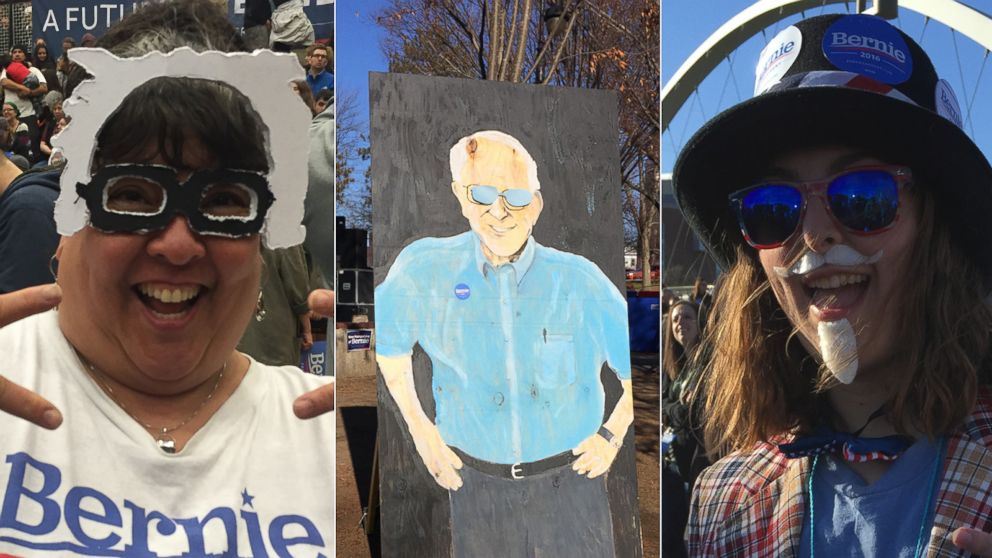 OK, we're cheating here. Dare we say a yuuuuuuggggge part of Sanders' campaign existed outside his formal staff. His bid for the White House was supplemented by grassroots activists and superfans who brought color to his events. Homemade signs were a staple of his events, not to mention Bernie-beer, doughnuts, earrings and shirts.
"Does it look like I am here for the boys, Gloria," one particularly snarky sign in Oklahoma read, referring to a controversial statement from Gloria Steinem about Sanders' female fans.
Coin Flips at the Iowa Primary -- Feb. 1, 2016
Sanders lost the first state to vote by 0.3 percent. On Election Day, several caucuses were so close they were decided by the flip of a coin. Diehard Sanders fans still talk about that fact as they lament party rules and regulations. On the flipside, Sanders emerged from Iowa with almost exactly the same number of delegates as Clinton.
Bernie Sanders Celebrates Win in New Hampshire -– Feb. 9, 2016
Sanders told ABC News' Cecilia Vega days after the New Hampshire primary that it was his biggest victory to date and, yet, he barely had time to enjoy it.
"Biggest political victory of my life, I haven't had a chance to read it," Sanders said.
The Vermont senator won his neighboring state by an astonishing 22 percent, more than either side had predicted. He celebrated by playing basketball with his grandkids before a victory rally in the state. Less than three weeks later, he would be trailing Clinton by 26 pledged delegates after losing Nevada and South Carolina.
A Bird Lands on Sanders' Podium in Portland, Ore. -- March 25, 2016
Yea, Portland literally put a bird on it. During a rally in the town in March, a small sparrow landed on the senator's stage. He seemed to almost beckon it with a flick of his hand and then stood in happy disbelief as it landed right on his podium. "Birdie Sanders" broke the Internet that day and spawned subsequent cultish artwork. Sanders himself called it a hopeful sign for world peace, because ... again ... Portland.
Bernie Sanders Lights Up New York City With Washington Square Park Rally -- April 14, 2016
Clinton won a resounding and decisive victory in New York, beating Sanders by 16 percentage points and all but clinching the nomination. Still, with an eye-popping event in the city's iconic Washington Square Park, Sanders reinforced the fact that young people flock to him. With over 27,000 people, according to the campaign, filling parking space and surrounding blocks, the Brooklyn-born Sanders had an undeniably memorable night.
His Campaign Today
Despite his overwhelming delegate deficit and mounting pressure from the Clinton campaign and some voters to concede and begin the process of unifying the Democratic Party, Sanders has instead pledged in recent days to fight on until the last vote is cast.
While he has scaled back his team, he has not yet scaled back his travel plans. The senator flew this week out to Oregon for a day of events, before heading back to Indiana to keep campaigning as the Tuesday primary approaches.